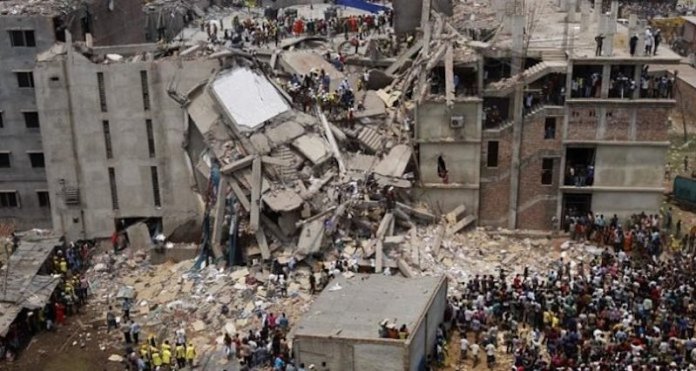 Exactly six years after the collapse of a six-storey building belonging to Synagogue Church of All Nations (SCOAN), killing more than a hundred people, its founder and General Overseer, Temitope Joshua, has continued to claim his innocence and that of the church.
On Thursday, the adoption and final written addresses in the trial of two engineers who built the collapsed six-storey building will hold at a Lagos High court sitting in Igbosere.
"I was on the mountain in the morning. I received a phone call immediately when I got here. There was a jet moving around that spot. It was mentioned to me over the telephone.
"I told them I was in the church. Before I knew it there was a jet here at the same church," Joshua said in a documentary by Emmanuel TV.
The church has repeatedly attributed the tragic collapse of the building which killed at least 116 people to an aeroplane hovering around the building while the Lagos State Government believed it was due to failure to observe necessary building protocols.
The view that an aircraft was caused by the collapse was reinforced in an article published by the International Journal Of Scientific Engineering And Research (IJSER) which questioned the verdict of a Lagos State coroner's verdict that collapse was due to a structural failure.
The article, 'Elimination Of Structural Failure And The Placement Of Chemical Explosives For The Infrasonic Weapon As The Cause Of The SCOAN Building Collapse,' written by a weapons expert, Paul Iguniwei, claimed that the way the building came crashing down was like a controlled demolition.
"As it is, it can be concluded scientifically that there were no
explosives in the building when it collapsed upon the post-blast analysis done. It can also be true to safely say the said
building didn't come down as a result of structural failure.
Because its collapse was not consistent with known cases of building collapsing structurally. Coupled with the fact that the foundational pillars showed no sign of stress so far," Iguniwei argued in the article.
Being prosecuted by the Lagos State government for manslaughter in the collapse are the two engineers – Messrs Oladele Ogundeji and Akinbela Fatiregun.
Ogundeji and Fatiregun, alongside their firms, Hardrock Construction and Engineering Company and Jandy Trust Limited, are facing 110 charges of manslaughter.
Lagos State is also prosecuting the trustees of SCOAN with one count of building without approval, arguing that the defendants violated Section 222 of the Criminal Law of Lagos State 2011 as well as Section 75 of the Urban and Regional Planning Law of Lagos State 2010.