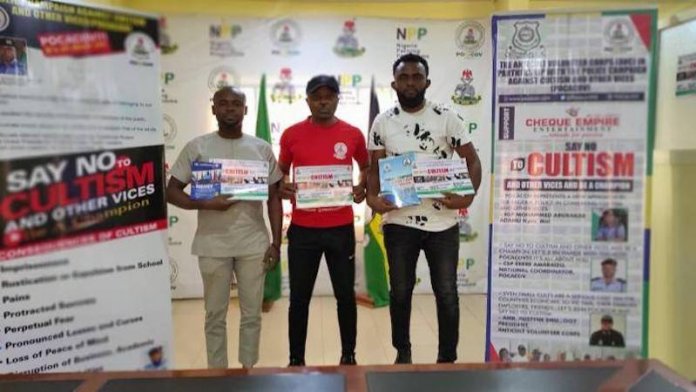 Vanessa Obioha
A youth development initiative, Passion for Excellence (PAFEX), has partnered with Police Campaign Against Cultism and Other Vices (POCACOV) to promote its cause.
POCACOV is an initiative of the Inspector-General of Police (IG) Mohammed Adamu, who launched it five years ago during his tenure in Enugu State as a commissioner of the police.
In a recent courtesy visit to the National Coordinator of POCACOV, Ebere Amaraizu, at the Enugu State Police Headquarters, PAFEX founder, Amobi Madu, professed his support for the initiative and commended the IG for conceiving such a unique policing programme, with broad community inclusion strategy, easy to replicate and very effective in the fight against cultism.
Amaraizu expressed their unalloyed willingness to partner with brands like PAFEX, who serve as positive change agents in society and have the core mandate for community development.
He further offered ambassadorial status to representatives of PAFEX present at the meeting, stating that POCACOV represents a new approach by the Nigeria Police in combating cultism and other vices, where proactive policing strategy is adopted and encouraged over-reactive policing.
"The project which seeks to drive the development of local solutions to such local problems like cultism has hence led to the adoption of community policing amongst other policing strategies as key to community stakeholders cooperation and participation in the fight against this evil wind that blows nobody any good," he added.
Amaraizu reassured the commitment of the Nigeria Police Force to this timely project and urged all well-meaning citizens and stakeholders to join hands with the police to save the youth and in extension, the entire society from the claws of cultism, which he described as an envelope containing many crimes and vices.
PAFEX takes pride in discovering initiatives that revolve around the development of young people. It boasts a portfolio of partnerships with leading brands such as Treasurewells Film Academy, Google, Ogelle and All Africa Media Network. It is working towards holding a SmartPhone Filmmaking Workshops in Accra, Kigali and Capetown soon.