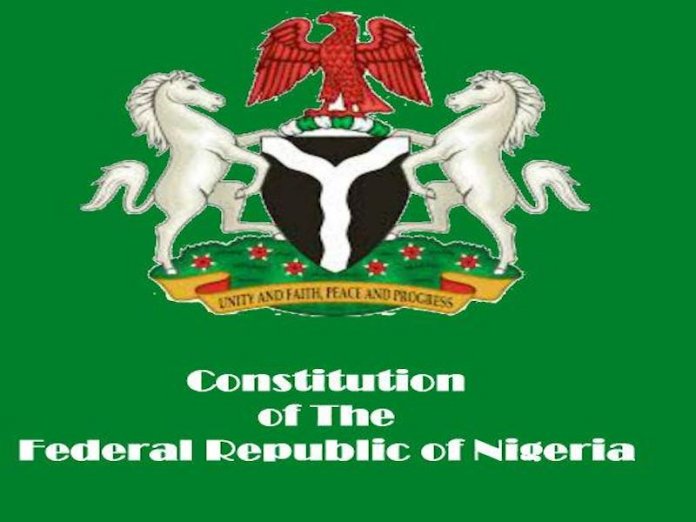 Constitution making or amendment process in any democratic polity is a herculean task due to its participatory modality – listening to people of different ideas, values and aspirations. A unanimous constitutional arrangement is unrealistic even in the most homogeneous sovereign state. The integration of everyone's purview into constitutional configuration is impracticable.
Invariably, every multifaceted state would always encounter more cumbersome controversy on constitution review exercise. And Nigeria can't be an exception in this respect. The review committee should just maintain a high level of commitment, sincerity, openness and due process in carrying out the proposed exercise.
Nigeria needs a well – deserved constitutional framework than the current document, even considering the regular challenges that usually bedevil other multifaceted sovereign states in nation-building. Although Nigerians are unanimous in the quest for constitution review, the absence of a unified modality for the task has been a persistent obstacle. This exact challenge has also begun to rear its ugly head. Once and for all, the committee must fashion out a workable modality for the assignment ahead.
Having found this workable ground, the following provisions of the 1999 Constitution, as amended, should be reviewed. The argument that national security is subservient to the rule of Law as determined by the president is a threat to the entire provisions of the 1999 Constitution. The democratic institutions created by this constitution as well are liable to suspension at will. The provisions in Sec 6(b) and Sec 36(1) and (4) should therefore expressly subject national security- related matters to court determination.
The unenforceable proviso of fundamental objectives and directive principles of state policy under Sec 6(c) should be rescinded. The proviso subjects the constitutional objectives of Nigerian government at all levels to their whims and caprices. The Nigerian government has chosen mis-governance contrary to the dividends of democracy enshrined in the objectives of state policy under Chapter two. Therefore, the provisions in Chapter two should expressly be enforceable in the court.
Immunity Clause in Sec 308 must be removed to strengthen Nigeria's democracy. The inclusion of state police in provisions under Sec 214 is essential to complement and revamp the moribund internal security architecture in the country.
Lastly, the Nigerian constitution is inconsequential if government officials continue to choose the court's order to obey. On the grounds of contempt of court, there should be provisions that empower the court to declare the seat of any erring public officers vacant.
––Binzak Azeez, Faculty of Law, Obafemi Awolowo, University, Ile Ife.