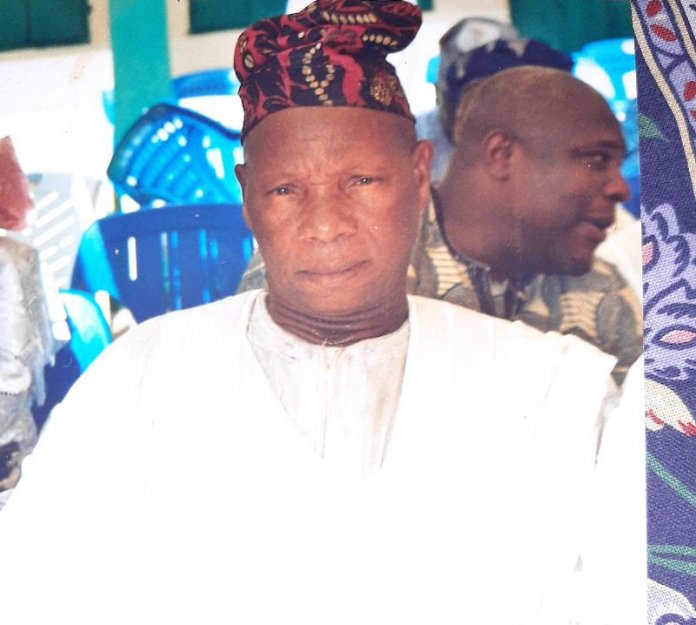 To the family of Late Alhaji Yahaya Moronfade Oladimeji, a frontline carpenter, businessman and philanthropist par excellence, his exit to the world beyond in the early hours of last month in Ilorin after a brief illness has continued to sadden them in view of his inestimable fatherly roles, writes Hammed Shittu
The demise of Alhaji Yahaya Moronfade Oladimeji came as a rude shock to many who in one way or the other benefitted from his humanitarian gestures. The deceased who hails from Iwo in Isin Local Government Area of Kwara State was a famous philanthropist that used all his life to better the socio well being of his people and the entire society. His exit has created a big vacuum that no one can fill. Born in 1935, his adventures in life witnessed a tremendous successes to the extent that, his life sojourn was deemed worthy of emulation. Though, the deceased was not born with a silver spoon, but he used his resources to make life bearable and meet the needs of his immediate family and entire members of his home town and indeed other adjoining towns and villages of the state.
No wonder, his eight-day Fidau prayers held at his country home, Gaa Akanbi area of Ilorin was well attended by who-is-who in the society. The prayer was led by the Seriki Malami of Kwara State, Sheikh Sulaimon Danboronu. He used the occasion to advise people to do good and stay away from wicked acts. He was born to the family of late Alhaji Yusuf and Alhaja Asimamu Ajoke Oladimeji in Elemure compound Iwo in Isin local government of the state. He attended Iwo-Owu Primary School and later went into business with his father at Oke-ode town in Ifelodun Local Government Area of the state.
In 1959, he went to Igbaja to learn carpentry work under late Chief James Salako, where he became his first certified apprentice. He later moved to Aba-kajola Owode in Ondo State, stayed there for years, and got married. As a trained carpenter, late Oladimeji in the early 70s moved to Ilorin where he started his business of buying and selling building materials and became a major distributor for various companies like G.N.L Bed, United Foam and UNIFoam companies.
Late Oladimeji strived harder in his chosen business which led many apprentices to join him so as to learn the career. These apprentices today have become wealthy and known in the society. Among them is the Chief Executive Officer and Managing Director of KAM Wire industries, the multi billionaire, Alhaji Kanoru Yusuf. This company has engaged thousands of unemployed youths in the manufacturing of wire products like nails, asbestos and other house building materials in the country.
Others include Alhaji Ganiyu Zubair, the Chief Executive Officer of Shojik Motors located along Offa Garage area of Ilorin, Late Muqtar, Mr. Kehinde Muhammed, Mr. Lekan Oladimeji (Hammex Motor, Lagos), Mr. Nasirudeen Ayoola and many others.
As a building material merchant, late Oladimeji was honest, trust worthy and showed high sense of sincerity in dealing with members of the public which manifested in his success in the business. As a practicing Muslims, he combined his disciplined life in his business which assisted him in dealing with people thereby helping him to get things done promptly which endeared him to many people of the state.
During his lifetime, Late Oladimeji made a lot of contributions to the development of Iwo community and neighbouring villages. Apart from this, many people across the length and breadth of the state have also benefited from his humanitarian assistance. He was honoured with the chieftaincy title of the Otun Aare MusuIumi of Iwo, Biobagunwa of Iwo, Bobagunwa of Oke-ABA and also the Patron, Iwo Famous Club, among others.
Speaking to THISDAY in Ilorin, one of his children, Alhaji Mukaila Oladimeji, a motor dealer in Ilorin, described his late father as a good father that always looked after the welfare of his children and other members of society. He said that he remained a philanthropist par excellence to the extent that many people came to him for assistance.
Also speaking, the childhood friend of the deceased, Alhaji Idris Salaudeen, said that late Oladimeji lived an exemplary life that every human being should pray to live.
Salaudeen who is also the Kwara State chairman, of Iwo Development Association, said that he used all his wealth to better the lives of many people. According to him, late Oladimeji was a disciplined Muslim that practiced the ways of Allah and prayed to Almighty Allah to forgive him his sins and grant him eternal rest.
Late Oladimeji was survived by two wives, children, brothers, sisters, grand-children and other relatives.