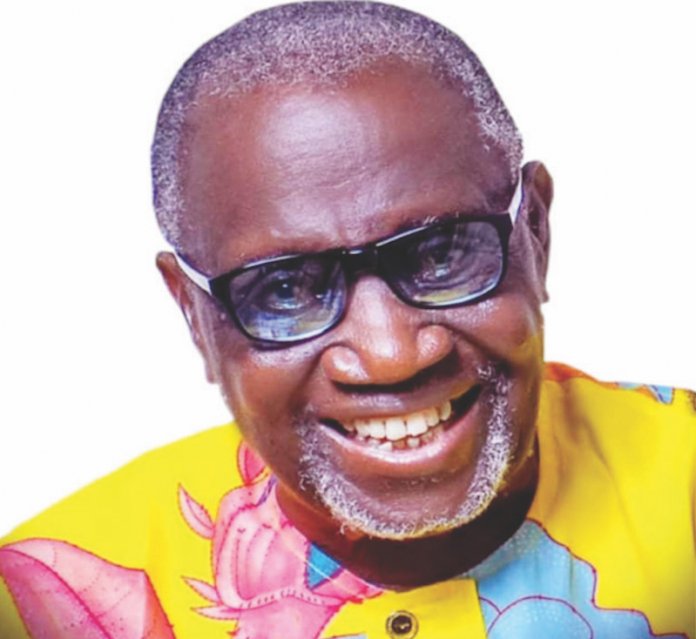 By Okwudili Ozumba
On Sunday 29th December 2019 a great Iroko Tree fell in Enugwu Ukwu Njikoka Local Government Area in Anambra State. It was on that date that Okeichie Sir Simon Okonkwo Ozumba (OPPA), a man full of accomplishments, a man of wisdom, mission and vision, the Chairman of Enugwu Ukwu Traditional Council bid the world farewell at the very ripe age of 93 years.
Sir Simon Okonkwo Ozumba fondly referred to as ''Oppa'' was born in Enugwu-Ukwu in the year 1926 to the family of Late Okogwu Ozumba and wife Mary Mgbafor Ozumba (Nee Ada Uduefi). As a young boy he had his early education at Immanuel Church School Enugwu Ukwu from 1933 – 1935. He proceeded from Immanuel Church School to Central School Abagana (now St Peters Anglican Church) where he completed his primary school from 1936-1942.
After his Primary Education, he waited for 3yrs as a result of lack of funds before going to secondary school. By divine intervention, two of his uncles (late Benson Uffoh and Paul Nworah) during this waiting period observed his rare gifts of immense intelligence, tact and wisdom and jointly undertook to sponsor his Secondary Education.
He justified this confidence reposed in him by his dear uncles by becoming the fourth person in his village Uruekwo, to pass the prestigious Junior and Senior Cambridge school certificates. The previous scholars before him were Late Daniel Okafor, Linus Nweke and Ben Okolo.His exceptional brilliance also rubbed off on all his children as they are all graduates of various professional disciplines at both first and second degree levels. If availed the opportunity today, there is no doubt that, with his rare gift of retentive memory he would have the capacity to obtain Doctorate degree in any course of study of his choice.
He briefly joined the medical line at the General Hospital Enugu as a senior nurse but quickly opted out and joined the Nigerian Railway Corporation in the early sixty's because he could not withstand seeing human blood when injection or other medical procedures were administered to patients. Just before the Civil war broke out in 1967 he rose in rank to the position of Senior Station Master. His job took him to various cities in Nigeria including Abeokuta, Enugu, Ibadan and Lanwa in llorin present Kwara- State where he sojourned for 17years. His stay in Western and Northern Nigeria exposed him to different Nigerian Cultures and he spoke the three Nigerian languages fluently, an asset that was well utilized as an Administrator during the Civil war.
The Nigerian Civil war broke out in 1967 and Oppa, along with all the members of Ozumba family moved to Osumenyi. His tact, immense intelligence and high sense of organization ensured his being awarded the Co-ordinator Directorate of Relief materials for the refugees in Amichi, Ekwulummili and Unubi. Himself, late Innocent Akametalu, Mmoo Dike and Felix Nworjih were the leading lights. for the refugees in their camp at Osumenyi from 1968 till the end of the Civil War in 1970.
A man of ideas and principles, he was elected the Financial Secretary of Uruekwo Development Union under the leadership of the late Ichie H.C.I Abana, a position he held for seventeen years. He was also the Financial Secretary and National Patron and as well as an astute defender of the Chief Chikelue Omesuh-led Executive of the Enugwu Ukwu Community Development Union (E.C.D.U). With ''OPAA na-Enugwu'' you had reason, logic, strategy and justification for any cause you were defending. He was an active member of the defunct National Party of Nigeria (NPN) during the Alhaji Shehu Shagari regime between 1979 and 1983, Chairman Enugwu-Ukwu Traditional Council, since its creation six years ago until his death recently, National Patron Enugwu- Ukwu Community Development Union (E.C.D.U, and Patron E.C.D.U Enugu branch for over 50years. He was also Member College of National Patrons E.C.D.U, and a member of strategic standing Committee during Engr. Chris Okoye-led Executive of E.C.D.U between 1993 and 1996
Oppa met and married his first wife- Mrs Grace Anosike (Nee Okponyia) from Enu-Abomimi village in Enugwu-Ukwu in 1959. The marriage was blessed with two children. He was later remarried to late Lady Ngozi Philomena Ozumba in the year 1966. The marriage was blissful and was further blessed with six children. His commitment and contributions to the educational pursuits of all his children is evident in the fact that they all excelled in their various disciplines which include Medicine, Accountancy, Engineering, Design and Real Estate Consulting, Languages, Business Consulting/Contracting and Building Construction. He loved his children dearly and was instrumental to their academic excellence and career choices. Furthermore, he was a guardian, mentor and benefactor to his siblings as well as their children who relied on him for the fatherly role he played in their various lives. He was a peace maker and an advocate of sound Education, and encouraged his peers to give same to their Children.
OPPA was one of the pillars of St Andrews Anglican Church and Immanuel Church Enugwu-Ukwu. His Contributions to the growth of both churches, along with the unwavering support of his dear late wife led to his being knighted by the Bishop of Awka Diocese Anglican Communion in the year 2011. He was a member of the church committee for many years and his ideas and suggestions added to the growth and progress of both churches, especially St Andrews Church Enugwu-Ukwu his home church. He acted as the church treasurer with integrity, due diligence, and dedication.
He was also a Synod delegate and Head Archdeaconry Board of Finance for many years in St Andrews church. Referred dearly as the Father of St Mark's group, he worked relentlessly to ensure the functionality of the group. His truthfulness and integrity, assertiveness and progressive nature, spirit of togetherness and deep love for his Community and family will be missed by all he left behind.
A man of impeccable character who stood for Justice, Equity and radiated deep love for his community has left the scene. Indeed, Enugwu-Ukwu Community and Uruekwo village and the Nigerian nation at large has indeed lost one of their titans.
His remains will be laid to rest on today, September 12, 2020 after funeral service at St. Andrew's Anglican Church Enugwu Ukwu. May your noble soul continue to rest in peace, Okeichie Simon Ozumba, Oppa Enugwu until we meet to part no more.
Pix: Simon Ozumba.jpg