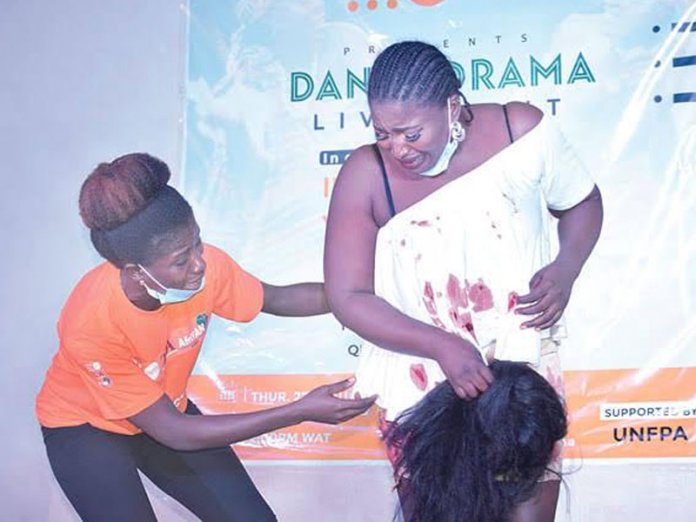 Yinka Olatunbosun
It was not a Greek drama yet all the cast of the youth-oriented propaganda drama on sexual reproductive health had to wear masks on the stage during the virtual premiere of "Protect Yourself.''
The filmed stage production organised by the United Nations Population Fund (UNFPA) is a timely one in the COVID-19 pandemic given the reports of the rise in the cases of sexual violence and unprotected sex in Nigeria.
The nine-minute drama done in conjunction with AFRIYAN Nigeria and Tru Dance Art Abuja kicked off with a dance scene followed by very short scenes with dialogues that broke the fourth wall. With its use of Brechtian technique, the drama encapsulates the audience without making them being too emotionally involved but to provoke them to action. The characters delivered their lines, addressing the audience directly to drive the theme for the 2020 International Youth Day Celebration namely, "Youth Engagement for Global Action.''
The artistic director of Tru Dance Art (TDA), Wale Alebiosu observed that the embedded messages of the drama include protecting self from the COVID-19 as well as other sexually transmitted diseases.
In her opening remarks, the UNFPA Nigeria Country Representative, Ms. Uller Mueller spoke on the need to actively involve the youths in the movement towards societal change.
"This year's youth engagement and action really demonstrates the importance of young people as they take action to solve problems and also for their voices to be heard.
"COVID-19 presents unique challenges for the Nigerian youth. Lack of access to contraceptives as well as sexual violence is on the rise. We must ensure that young people are prioritised in order to access education and other services that are necessary for all to reach their potential and participate in democratic processes. This is something we say very often and it is fine words. It is time to find out what it really means. May be we can start by using the language that resonates well with all youths,'' she said.
In a special statement for the International Youth Day, the Executive Director of UNFPA, Dr. Natalia Kanem encourage the youths to continue as catalysts of change despite the constraints of the COVID-19 pandemic.
"To reach and engage young people in this pandemic, we must share information, clarify information and we must equip them to take action to contain the spread of the virus. We must validate the leadership of young people and uphold their human rights," Kanem said.
With the dance drama that articulates the theme of love, rape and the consequences of unprotected sex interwoven with contemporary dance steps and accessible language, albeit noisy, the youths urged the audience on the responsible use of contraceptives.