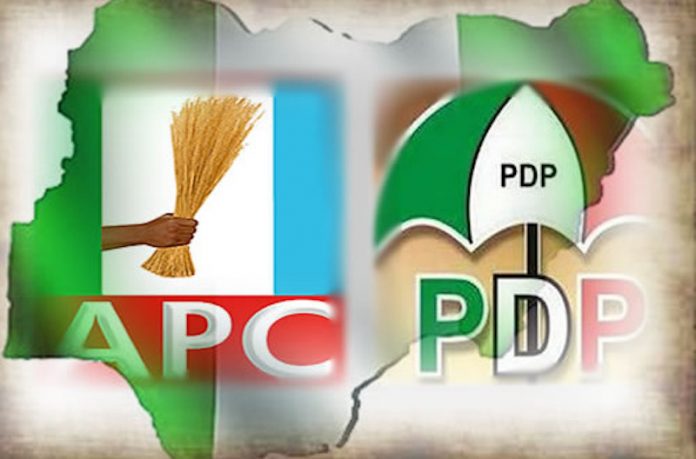 By Eddy Odivwri
The Edo gubernatorial duel is just about two weeks away. And the ground is already shaking and quaking.
There is no ground shaking and quaking anywhere. There is no earth tremor in the whole of Edo State. All is calm. There is a determination to sustain peace and maintain order before, during and after the contest. Look, you nay sayers will be disappointed.
You are suffering acute delusion. You cannot read the handwriting on the wall? Can't you see the gathering storm? How many times has the Inspector General of Police raised the alarm over the issue of stock-piling of arms? Didn't you see the rain of bullets on PDP campaign convoy recently? Have you not been hearing how there have been attacks and counter attacks? And you say there is no earth tremor? I pity you.
Most times you people in the media exaggerate these insignificant incidents just to create fear in the minds of the people. I can tell you it is an act of great disservice.
Media men are supposed to report and reflect the realities on ground. If you don't trust what you are hearing ignore it at your own peril.
The people of Edo State are wiser now. They are no babies. They know who is deceiving them, or those they cannot trust. In short, they know who they will vote for. No coercion or intimidation will change anything radically.
You speak as if it is such a jolly ride. You think the battle for Osadebey House is Igue festival?
Ok, did you hear of the new conspiracy theory being spinned in the state?
Conspiracy theory? By who? From who? About who?
Calm down! You see, you are not even aware. Look, it is war. And in this matter fair is foul and foul is fair. Take it from me. Everything, I mean everything, is being put into this war. Every form of strategy, trickery, metaphysics and more are being applied.
Did you not hear that the respected Akwa-Ibom Resident Electoral Commissioner, Mr Mike Igini, was accused of hobnobbing with the PDP in Edo State with the ultimate intent of manipulating the electoral process in favour of the party?
Yes, I heard the story. What was Igini doing with PDP stalwarts in a hotel room? Does he not know the meaning of expediency? That such a meeting cannot be expedient at this time?
Gush…. I am surprised you can even reason like this? First, it was a chance meeting in the restaurant of a hotel, not a private room. Pray, are you saying that a REC does not have a life anymore? Because of a coming election he can no longer exchange greetings with an old friend, regardless of whatever political party he/she belongs? Do you know Mike Igini?
Stop sounding like Femi Fani-Kayode! Is Mike Igini not a Nigerian, and so susceptible to the viral effect of corruption? Or is he an angel?
Look, you must understand that certain persons have stellar qualities that are clearly transcendental from the plain of mere mortals. Without sounding immodest, Igini is a tested and trusted Nigerian patriot. Did you follow all the shenanigans that took place in Akwa Ibom in the last general election? Did you not hear of how Igini stood his ground, despite all the threats and intimidating tendencies and declared that he was sent to Akwa Ibom State to count ballot papers, not count Naira? At the end of the day, could he be cowed? Didn't you follow how the election went in Akwa Ibom? Is it that kind of man that will seek to manoeuver and manipulate an election in a distant state?
And come to think of it, even if such will happen, will the INEC not seek to support the party at the centre which is the APC? Why will it seek to support and promote an opposition party? Truly, common sense is not common
What are you trying to say? Are you implying that the election in Edo State on September 19, will not be susceptible to manipulation with the active or inactive connivance of the INEC? Is it not this same INEC that is notorious for inconclusive elections?
It doesn't matter what people like you think. You can spin and weave all sorts of weird and usual conspiracy theories about how the election will be held. It will not change anything. The INEC will strive to conduct the election in a fair and transparent manner, no matter whose ox is gored.
I am aware that even the political parties not visible right now, but are on the ballot, as also-rans, will still turn around to blame INEC when they eventually lose, having sown and watered the seeds of defeat all along.
That is not the point here. People are concerned that the umpire may not exactly be neutral in its officiating.
Don't blame the people. They have seen many things in the past. Don't forget this is the home state of the legendary …Mr Fix It . In Edo State anything can happen.
Not under this dispensation. The mantra is for One-man-one-vote. The myth of a godfather has been dispelled and buried. There is no room for rubbish. The law enforcement agents will swarm on Edo State. There will be no room for misnormer.
Keep talking like a class room theorist. By the time people like, em em thingamabob … em em kaba…, appear on the streets, you will forget these your smooth theories.
I think we should ask the royal father to invoke the power of the gods as well as the churches to declare fasting and prayer for a peaceful poll.
Now you are talking.