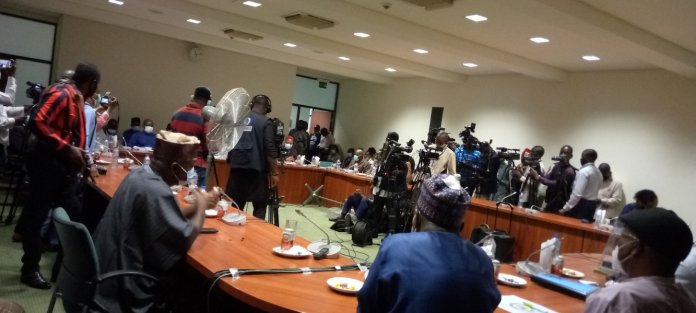 By Adedayo Akinwale
The House of Representatives Committee on Treaties, Protocols and Agreement on Tuesday threw caution to the wind as it flagrantly flouted the Covid-19 protocol put in place by the government.
The committee, at its resumed hearing on loan agreements between Nigeria and China, had to settle for a smaller hall as opposed to the bigger hall used for the investigative hearing on Monday.
The Ministers of Federal Capital Territory (FCT), Mohammed Bello, and Police Affairs, Muhammad Dingyadi, who were invited to the hearing, did not help matters as they came with a retinue of aides.
The hearing scheduled to start by 12 noon, eventually kick started by 12:55pm.
However, the Chairman of the committee, Hon. Nicholas Ossai, said some documents were just submitted to the committee which the members needed to study, while also adding that the committee would like to have the Minister of Finance who is in charge of signing the loan agreement and Minister of Justice in attendance.
The Committee therefore adjourned till Tuesday next week.
At the hearing on Monday, the committee had accused government representatives of signing empty pages of loan agreements repayment schedule and other key documents required for the loan agreements to become effective.
It was also revealed that the Ministry of Transport alone obtained over $33 billion loan from China for the construction rail project without any clear cut financing arrangements.
The committee also lamented that most of the commercial contract agreements didn't have local content clauses and more witnessed by non-properly designated and authorized officials.
The Chairman of the House Committee on Treaties, Protocols and Agreements, Hon. Nicholas Ossai, disclosed this at the resumed hearing of the committee on review of bilateral loan agreement and commercial contracts agreements by MDAs on Monday.
But the Minister of Transportation, Rotimi Amaechi, denied obtaining $33 billion Chinese loan as claimed by the committee, saying his ministry only obtained $1.6 billion contract for the Lagos-Ibadan rail project.