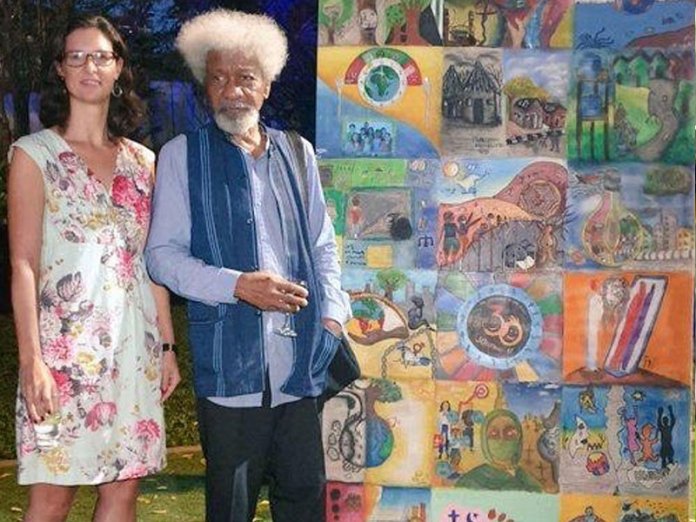 Chiemelie Ezeobi writes that for the British Deputy High Commissioner in Lagos, Ms Harriet Thompson, who just concluded a four-year posting in Nigeria, her achievements in strengthening the relationship between the UK and Nigeria far outweighs any challenges she might have faced
Four years ago, Ms Harriet Thompson, arrived Nigeria as the British Deputy High Commissioner fully charged to lead a large and growing mission covering the full spectrum of the UK's work in Nigeria, with a particular focus on commercial and economic development.
After nearly three years in Abuja, she was in July 2019 moved to Lagos to continue her diplomatic work. Prior to her appointment in Nigeria, she had enjoyed a varied career working across the British Government, leading policy and programmes across trade, energy, climate change and other areas.
Now that her tour of duty is over, the diplomat recently shared her joys, achievements, challenges, honest assessment of Nigeria and of course her acquired taste for Nigerian cuisine, especially jollof rice.
Spectrum of Work
On her spectrum of work as British Deputy High Commissioner, she said: "I started out with three years as the Deputy High Commissioner in Abuja, where I covered the full breadth of the British Government's work in Nigeria in order to be able to cover for the High Commissioner. That ranges from development to security to visas to organised crime to politics. But my particular focus was on security. And on keeping the office running smoothly – a big job as we have one of the largest diplomatic missions in Nigeria.
"Since moving to Lagos just over a year ago, my focus has been on our Prosperity agenda – that's the commercial relationship between our two countries, and our work to support economic development, economic reform and growth of the private sector in Nigeria. All these are essential to creating the jobs Nigeria needs and realising the huge potential of this amazing country. I also loved doing more with culture and arts in Lagos, celebrating the strong people links between our two countries."
Strengthening UK/Nigeria Relationship
Given that her career path spreads across trade, energy, and climate change, she further divulged how she was able to bring that to bear while carrying out her duties in strengthening the relationship between the UK and Nigeria.
According to her, "those issues are so important in Nigeria, central to Nigeria's path towards prosperity, to bringing people out of poverty and addressing the underlying causes of tensions and conflict in certain parts of the country. They are areas in which the UK's interests and Nigeria's interests are aligned, so by working together we benefit both of our countries.
"It's been a privilege to have led our Prosperity team and the work they've done for example to support the development of the Nigerian Investment Promotion Commission's investment guides or the concrete movement towards essential power reform, to understand the challenges that both Nigerian and British companies face in trading between our countries and then work with Nigerian government counterparts to address some of those issues.
"That cooperation is strong: even through the current pandemic we've maintained regular ministerial level dialogue on these issues, we've brought businesses into that dialogue. From the Nigerian Investment Showcase we hosted in London in November last year, through the UK-Africa Investment Summit in January, we've continued to work towards business partnerships that will boost growth in some of Nigeria's key sectors."
Still on the extent of what she achieved while strengthening the economic ties between both countries and factors that can be used to sustain it, she said the starting point was already pretty good! "Nigeria is the UK's second largest trading partner in Africa, and our bilateral trade was £4.4bn in the four quarters to the end of Q4 2019.
" In the year I've spent in Lagos, back in November we organised the Investment Showcase to give a wider range of British investors a better sense of what's happening commercially in the country, then we had the UK-Africa Investment Summit in January, where as well as the £324million (over ₦153.4billion) Nigerian deals signed, we were also able to connect people and begin conversations that I believe will lead to many more.
"We've maintained our regular ministerial Economic Development Forum, and introduced a business dialogue to that event so that our ministers can hear directly how it is to operate in Nigeria. On top of that, significant programmes of support will help create the conditions in which we can further strengthen our economic ties and Nigerian economic growth.
"A couple of examples would be the LINKS programme, worth about £70m, or the recently concluded survey to support the Nigeria Tech ecosystem as the world goes virtual due to COVID19, as well as a range of technical assistance, financial support and programme activity. I was delighted to see that HE President Muhammadu Buhari, just last week signed into law amendments to the Companies and Allied Matters Act, which will improve the business environment in Nigeria.
"We've supported the development of some of those enabling policies, and we continue to work for example to strengthen the finance sector, helping entrepreneurs across diverse sectors to secure the finance they need to grow, to develop the tech sector, which already contributes more to Nigerian GDP than oil and gas, and to accelerate Nigeria's clean energy transition. Through all of that, we look to harness the power of the private sector for social development, through job creation, improved livelihoods, and particularly supporting women and young people in business".
Assessment
On her honest assessment about Nigeria and its people she noted that it is a topic for long debate, late into the night! "But in brief, Nigeria is a rich and diverse country, home to incredible innovation, resilience and commitment. I have been absolutely humbled – on many occasions – by some of the inspiring Nigerians I've met. Leaders in their fields, passionate about their country.
"But the challenges are also great, in terms of the tensions that pull at the social fabric and create conflict in some parts of the country. Despite the challenges, I leave feeling optimistic about Nigeria's future. If bit by bit things continue to improve, all those people already doing brilliant things will eventually break through and this country will take off".
Advice for Successor
Addressing this she said: "My successor, Ben Llewellyn-Jones, already knows and loves Nigeria, having been our Political Counsellor in Abuja until summer 2017. So he doesn't need a lot of advice. He hasn't lived in Lagos yet though, so I'll encourage him to make the most of it – embrace the buzz and the energy, explore, try the many new experiences there are to enjoy, dive into the art scene, learn from the world class business reps. Above all make friends."
Challenges
On challenges faced while on tour of duty she said: "Too much pepper for my poor oyinbo mouth! That's one I haven't overcome I'm afraid, I just have to ask for less pepper. More seriously, when I first arrived I remember an older male colleague taking me to meet various people, some of whom he also had never met.
"A few of them reached across me to shake hands with him, assuming he was the new Deputy High Commissioner! I was a bit put out, but came to realise that if people don't see women in senior positions, it isn't surprising they assume the male is the senior.
"I'm glad to have challenged some assumptions in the time I've been here. And I'm very glad to see things changing in Nigeria, with some really impressive female leaders in politics, civil society, business and the arts. But there's a long way to go – as there is in the UK and most countries of the world, frankly. The more female leaders people see doing a great job, the faster the progress we'll see."
Spectacular Moments
On the particular moments that stood out for her she disclosed: "There have been so many highlights it's hard to choose a couple. Nigeria's impressive presence at the UK-Africa Investment Summit would be one: they had more businesses participating than any other country, and many brilliant speakers across a range of themes; Nigeria signed £324million (over ₦153.4billion) of deals at that summit.
"Then the range of inspirational people I've been able to meet and share ideas with, across politics, business, the Arts. If I had to choose one, meeting Wole Soyinka was perhaps my most "star struck" moment! Also being able to help nearly 2800 stranded Brits get home when the airports closed in March and seeing how much it meant to them to get back to loved ones.
"And on a personal note: the beauty and diversity of the landscape and natural environment; visiting the dye pits in Kano and a bronze foundry in Benin City; watching a durbar; seeing how quickly my kids developed Nigerian accents when speaking with their school friends; buying fabrics at markets across the country; special moments with friends in homes, restaurants, the beach; all the amazing arts festivals I've been lucky enough to attend – these are some of the treasured memories I'll take away with me."
Plans
Speaking on the next thing to do after her tour of duty is over, she said it will be "back to the UK first, looking forward to seeing my husband and children again and spending more time with family and friends there. Then another posting – it hasn't been announced yet so I can't tell you where, but I'm happy about it".
Nigerian Idiosyncrasy
Speaking on the Nigerian idiosyncrasy she imbibed while here she said: "I've learnt a few phrases in Yoruba, Hausa and Pidgin. It's a good job this interview is for print media as people can't laugh at my pronunciation! I love the way that at a party everyone goes straight for the dance floor, no holding back like we tend to do in the UK, not wanting to be the first person dancing. And I love Nigerian fabrics – adire, ankara – I'll be taking a small stash back!
On the Nigerian cuisine that stood out for her she said: "Nigerian Jollof, of course. In my last few days I have to learn how to make it as it's all my kids ask for when I ask what they want for dinner! Also suya (I now sprinkle the spice mix on pizza instead of chilli oil), dodo (plantain), but I think my favourite is akara (bean balls) Yum.
On what she will definitely miss she said: "I'll miss so much. My wonderful colleagues and endlessly fascinating work – the people I've met and conversations I've had have been an absolute privilege. The music, food, dancing, art. The beach. But above all else the friends that I've made – I leave feeling very confident I'll see them – and Nigeria – again."