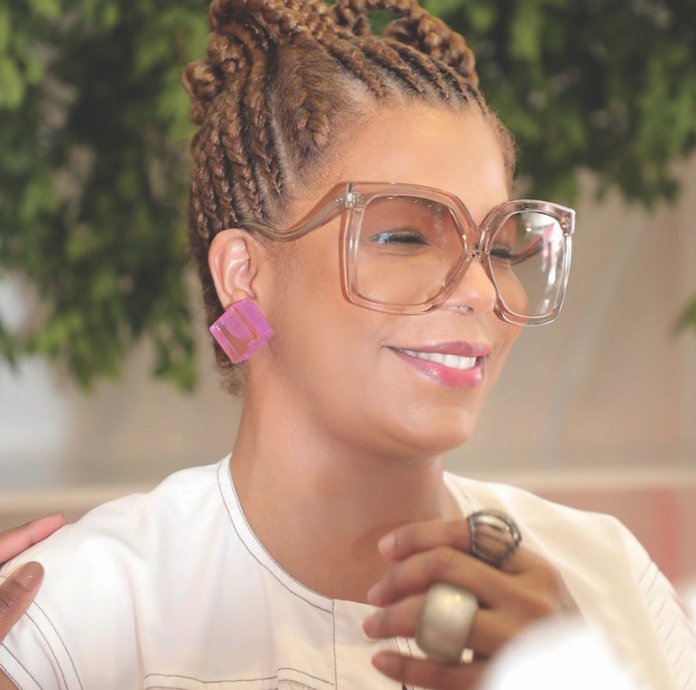 Nana, the beautiful wife of billionaire businessman, Femi Otedola turned 50 last Sunday with a birthday party limited to family members at their London home. Ferdinand Ekechukwu captures the glitz at the event
What better way to celebrate one's birthday other than with family? You may ask. Well that's exactly what Nana Otedola did. This beautiful wife of billionaire businessman, Femi Otedola, turned 50 last Sunday. In the mood of celebration, Otedola hosted his wife to a private party same day. Not because he fancies showing off his enormous wealth; far from it; but because he cherishes Nana, the mother of his children and the one who adds plenty sheen to his glowing and glorious being.
The businessman had earlier taken to his official Instagram page to celebrate his wife of 28 years. Referring to her as darling, Otedola shared a picture of Nana, which he accompanied with a romantic message. "Happy birthday to darling Nana.…F.Ote $," he wrote on Instagram.
Then the messages from her children to Nana, the shrewd entrepreneur behind Garment Care, followed. For Florence Otedola, "It's my mum's birthday. Wish her a happy birthday," she wrote, with a love emoticon attached. Also Tolani, Femi's eldest child expressed her birthday wishes thus. "Happy Birthday to the most vibrant human I know. Loving, creative, kind and just all round amazing. Love you to the moon and back mummy."
"Mama mia!!! Happy birthday to @nana_otedola the most golden and loving woman I know. You guide me through everything in life. Period. I still dream of being as intelligent, compassionate, cool and beautiful as you mama!! Iya mi, love you so much!" the youngest of her daughters, Temi, wrote as wished her "mama mia" a heartfelt birthday wishes. They all shared sweet birthday messages as well as photos and videos from the intimate celebration.
However, one needs not be there to know it was a beautiful ceremony. The 57-year-old billionaire appeared in good spirits and danced his heart out as seen in videos he shared from the celebration.
In one of the videos, one could see Otedola and his wife dancing to the evergreen song, "The Merciful God" by Sunny Ade. One could hear DJ Cuppy cheering her parents. Another voice was heard saying that the gathering looked just like a Lagos party. In another video, Nana was spotted blowing off the candles on her cake as some family voices in the background cheered on. In another short video post, the billionaire businessman could be seen showing off his moves while dancing on the occasion of his lover's birthday.
In the video, Nana could also be seen dancing while the lovebirds were being cheered by voices behind the camera. Nana is well known for living a high standard lifestyle with her family. She was born in London and also holds both British and Nigerian citizenship. She started her business career in 2005 in the United Kingdom.
Currently, she owns a dry cleaning business in Lagos called "Garment Care" where she deals with many hotels and restaurants. Moreover, she is less active on social networking sites such as Instagram Twitter. Besides, Nana is often seen traveling with her husband and children across the world. From time to time, one can see their photos from such countries as France or Italy. She also keeps up with the latest trend in fashion.
Half a century is a long time in anybody's life and Nana understands this.
She appreciates how far she has come in life. She is however not unmindful of the fact that at 50, life now seems shorter but in words and deeds. She evinced her gratefulness to God for the grace and good health to daily wake up without any aches and anxieties. Interestingly, one of the major sources of joy of Femi Otedola is Nana, his beloved wife and eternal soul mate. Otedola family exemplifies a successful family life with good parenting despite success in business. His marriage to Nana has been blessed with lovely children.
Nana is beside herself with joy for being privileged to witness yet another glorious addition to her inspiring days. She is celestial; the one who can wish away the crippling stress of running a conglomerate with just the soothing poetry of her voice. Nana understands that turning 50 and still remaining fit and fabulous is an indubitable reminder of how far one has come in life – the many storms weathered; the vicissitudes, the tragedies and the joys; everything in the mix.
Those who know the family intimately said Otedola was ready to open the vaults to celebrate his wife's milestone birthday with a party that would be talked about for a long time but for the COVID-19 limitations. Happy birthday to a celestial woman at 50.