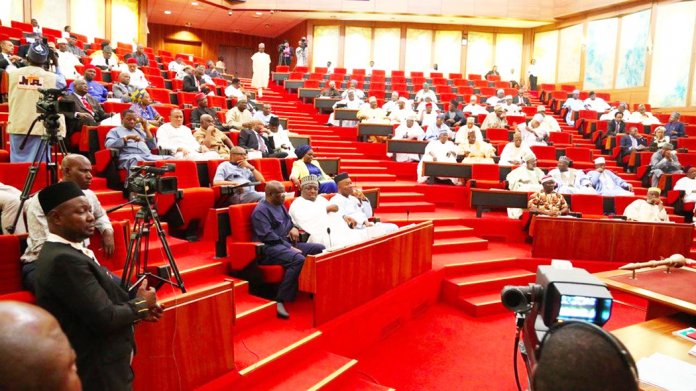 Bennett Oghifo
The independence of existing anti-corruption agencies needed strengthening, including enhanced security of tenure of the chairpersons, greater financial autonomy of the commissions and the establishment of strong and credible advisory boards.
This consensus was dominant during a brainstorming session where the Senate Anti-Corruption and Financial Crimes Committee called for the strengthening of the independence and effectiveness of anti-corruption bodies, stakeholders, seeking review of anti-corruption strategy for effective outcome.
Recently, the Senate Anti-Corruption and Financial Crimes Commission in partnership with the National Institute for Legislative and Democratic Studies and the United Nations Office on Drugs and Crime gathered stakeholders from all three arms of Government, as well as civil society to discuss the need for critical legislative reforms in the fight against corruption, according to a statement by Sylvester Tunde Atere, National Project Officer, Outreach and Communications, UNODC Nigeria Country Office, Abuj.
Under the chairmanship of Senator Suleiman Abdu Kwari, the diverse group of representatives of anti-corruption agencies, parliamentarians, judges and members of civil society debated key issues which have occupied the minds of anti-corruption experts and the public alike in recent times.
The statement said, "Discussion centered around three key topics: Does multiplicity of corruption related laws create obstacles in the fight against corruption? Do we need a legal basis for the improved management and disposal of seized and confiscated assets? And, is the independence as well as oversight of anti-corruption bodies sufficiently secured to ensure their effectiveness?
"Cognizant that Nigeria had received recommendations as concerns all three areas during its review against the requirement of the United Nations Convention against Corruption, participants felt strongly that developing and finally adopting a legislative framework for the transparent and accountable management and disposal of domestically and internationally recovered funds should be prioritised by the National Assembly.
"In this context, many felt that the option of assigning such functions possibly to an existing public sector entity already engaged in the management of public assets should be explored also considering the proliferation of MDAs as well as fiscal challenges."