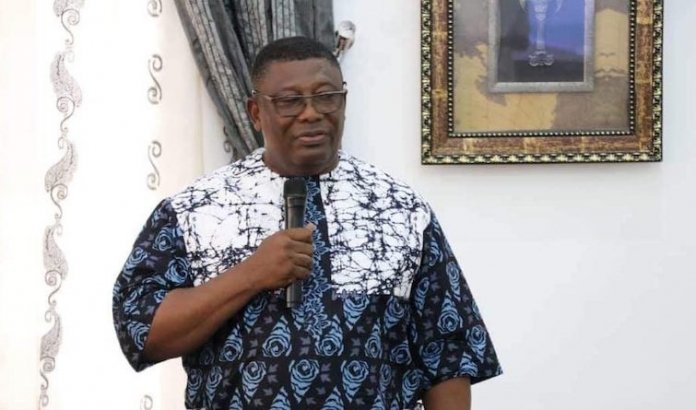 Chuks Okocha in Abuja
Amid complaints of allegedly inflating the ad-hoc delegate list with 'fake' delegates, the Peoples Democratic Party (PDP) has constituted Local Government Congress Electoral Committee for the Ondo State governorship primaries.
PDP National Organising Secretary, Col. Austin Akobundu (rtd), said in a statement in Abuja yesterday that the committee would be chaired by former Deputy President of the Senate, Ike Ekweremadu.
Akobundu added that the National Working Committee (NWC) of the party has also approved the appointment of Dr Bolanle Ogundiran, Alhaji Akhor Idoko, and Senator Obinna Ogba as members of the committee, while Alhaji Aminu Yakudima will serve as the secretary.
According to him, "The committee is mandated to elect one national delegate and one representative from Persons Living with Disabilities (PLD) in each of the 18 local government councils for the governorship election in Ondo State.
Meanwhile, the storm generated by stakeholders in the state PDP continued as they rejected a delegates' list for the proposed July 22 governorship primary election believed to have been doctored by one of the aspirants.
The delegate list is fundamental to the July 22 governorship primary election as it forms the bases of the delegates to vote at the primary election.
The list, which was rejected by the Clement Faboyede-led Caretaker Committee, party elders and seven governorship aspirants, had reportedly featured 101 strange names in the line-up of party delegates.
Speaking before a three-man probe panel raised by the national body of the party headed by a former Governor of Gombe State, Alhaji Ibrahim Dankwambo, Faboyede said he was ambushed by the secretary of the ward delegates' screening committee, Mr. Kingsley Chinda.
"Chinda presented the list to our committee without allowing me to vet it, and I think this is not right," he complained.
Faboyede denied any complicity in the list-doctoring saga.
However, at yesterday's sitting of the Dankwambo-led panel, the embattled deputy Governor of Ondo State, Agboola Ajayi, a governorship aspirant in the eye of the storm over the list-doctoring scam, was conspicuously absent.
Speculations buzzed that he stayed away for fear of being mobbed by angry party youths.
Other aspirants such as Mr. Eyitayo Jegede (SAN), Mr. Banji Okunomo, and Dr. Eddy Olafeso, however, arrived early to honour the panel's sitting.
Speaking with journalists shortly after the panel's closed-door verification exercise, Okunomo said one of the governorship aspirants was found to be the brain behind the alleged doctoring of the initial delegates' list.
"This aspirant, who is new in our party and trying to destabilise the party, should be suspended immediately, as we can't move on with such a character.
"In addition, the aspirant should be disqualified from contesting in the primary election because he will be a bad influence in a political party that cherishes good name and integrity," he demanded.
Meanwhile, the Eyitayo Jegede Campaign Organisation yesterday lauded the leadership of the party both at the national and state levels, "for not allowing any negative influence in the run-up to the governorship primary election."