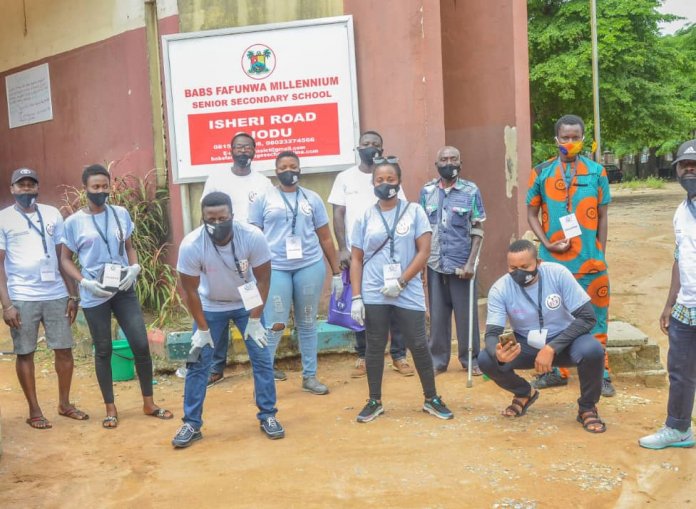 Rebecca Ejifoma
When the economy slid into hardship, many – individuals and firms – were affected negatively. This was orchestrated by the outbreak of the COVID-19 pandemic and the immediate lockdown. Consequently, many citizens began to battle for survival.
In a bid to shrink their anguish, Tiffany Care Foundation, a non-governmental organisation, came to their rescue. It provided essentials like foodstuff for about 100 individuals in Ketu and Ogba communities in Lagos.
For the beneficiaries, who are the very needy in the two communities, their glorious intervention packs contained rice, beans, cassava flakes (garri), onions, maggi, noodles, beverages, cooking condiment and spices.
Mr. Albert Uzoka is one of the recipients. He is a Radiologist, widower and father of three in Ogba area. He shared with THISDAY how he eloped from home when he could no longer live with chronic hunger amid the lockdown.
He recounted: "It's a no-go area, my sister. I cannot explain what I witnessed that time of COVID-19 lockdown. I even ran away from home to find where someone would be taking care of me. My wife is late, and I have children to cater for."
While sniffling and shielding tears rallying in his eyes, Uzoka expressed, "I am very happy today. I am more than happy. It's something I never expected. I even looked at the card twice and asked myself which organisation this is and where it is from".
Among the 100 beneficiaries sat Mrs. Calista Innocent. She is pregnant and already has three mouths to feed.
"I feel happy," she heaved a sigh. "I saw COVID-19. It affected my husband and I so terribly that nothing has been going well again. We struggled to even feed the children, who are home everyday".
Noting that her husband is a commercial bus driver couldn't work for long, Calista bemoaned the earlier days of Covid.
She lauded Tiffany Care for the show of love. "I appreciate these people. It is God that touched their hearts to help us here today, to help people like us who are in need. God will keep helping them so that they will reach more people in need".
Having fed up of frustration and inevitable thoughts, Calista pleaded to the government put an lift the lockdown. "Please, stop the lockdown. It is okay. It has affected us enough. Hunger is too much".
Speaking to THISDAY, the Founder and CEO, Mrs. Tiffany Okunola, a US citizen married to a Nigerian, said she could not turn a blind eye to the devastation of Nigerians.
"We are an NGO that attends to the basic necessity for Nigerians to rise above hardship. We are here for the less privileged, the homeless and the elders in the communities," she enthused with passion.
Formerly called BNT, Tiffany Care Foundation was founded in 2015. Since its existence, it has toured communities in Lagos like Maryland, Pen Cinema, Ayobo, Agege and Lekki rural community among others.
"I do everything out of my pocket for now, hoping that sponsors would come in. We are not only giving them food, but teaching them skills to sustain them. I said to myself that if I could teach others how to make things life will be better.
Tiffany Care Foundation has more plans for the country. "When I return to Nigeria, we plan to do a walk – females only – to bring more awareness that women are tired of being raped. We are very transparent and show our donors the receipt for each donation and what it is used for," the founder noted.
During the palliative exercise, the Operations Manager, Mark Obinyan, expounded that they set out to reach some families in dire need in the communities.
He added: "It's a surgical move; reaching out to those who are really in need – families and households. We are giving to 50 families in Ketu and 50 in Ogba."
We are giving them food items that would last them for weeks, at least. "We have people who are familiar with the people in the society who are below middle-class. We are identifying them by familiar people in the society to help however we can.
Continuing, the operations manager acknowledged that this period is a tough time. He said a lot of people are in need and unable to go about their normal businesses like they would have on a normal day.
"No matter how much we help, there is always somebody out there that also needs help. So, we do the little we can and we keep identifying the needy. Hence our slogan, 'No one is left behind. We keep smiles on people's faces'."
He, however, noted that the more people reached the lesser the problems, Obinyan welcomes prospective sponsors. "We implore other organisations to key into what we are doing. We are open to donations, sponsorship and grants. We are very transparent".