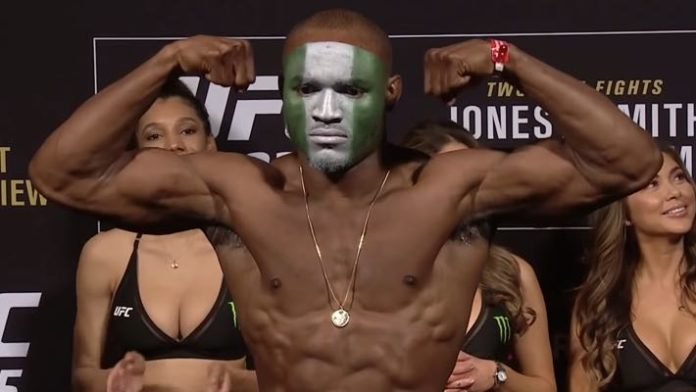 Nigeria-born Kamaru Usman is considering the 'BMF Belt' on the line this Saturday night in his fight with Jorge Masvidal, after he feels the contender has portrayed the one-off title as a legitimate trophy.
Usman meets Masvidal in the main event of UFC 251 in Abu Dhabi, and already it's shaping up to be an incredibly anticipated encounter.
Despite the well-known grudge between the pair, the Auchi-Edo State born champion Usman is maintaining his calm ahead of the fight and claiming Masvidal's late introduction doesn't shake him.
"At the end of the day, when you're in training camp, the way that I train, you see no face," Usman said, speaking to TMZ Sports. "At the end you see no face. I have to be ready that when I cross into that Octagon, I have to turn on the 'Nigerian Nightmare' and leave Kamaru Usman on the outside. And, so I see no face by the time I'm in there anyway.
"Now it's a little extra push to go in there and really do some damage. It didn't make no difference.
"The fight will go a specific way and that's the way I want it to go. I'm dominant from start to finish in each and every one of my fights and I say that.
"Even in that last Covington fight, yeah, I took some licks but I was still dominant in every way. I controlled the fight until I put him out. That's how I fight," boasts the prized fighter.
As for the BMF belt, Usman said they should bring it because he thinks Masvidal and his team have done talking about it.
"They're saying it's a BMF — they're really considering this a real title. Kind of like an interim thing, they're really considering this a title. So you know what? After I go out there and beat his a-s and ragdoll him, that sh-t is coming home with me so I can throw it in my closet," concludes champion Usman.