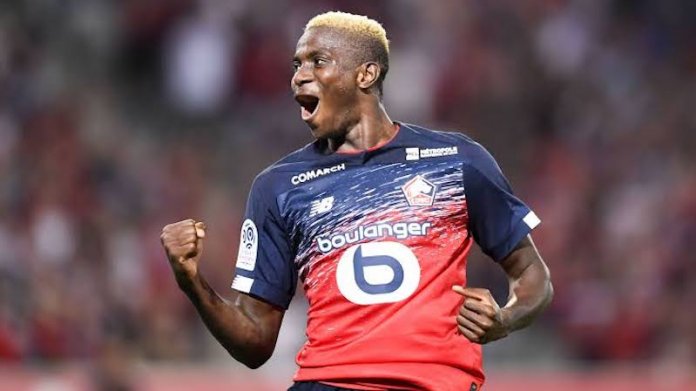 When in the summer of 2019 the management of French Ligue 1 side signed Victor Osimhen as a replacement for their 22-goal hero, Nocolas Pepe, who moved to Premier League side, Arsenal, many Lille fans were left in anguish because they felt the Nigerian international does not possess requisite skills to fill Pepe's 'big' shoes. Osimhen, however, went from being Lille's new cult hero to Ligue 1 best players
Victor Osimhen announced his arrival in Ligue 1 with a brace for Lille in his first game despite having only trained for just five days with his new mates.
Many had expected Osimhen to struggle to fill the shoes left by Pepe but he showed no signs of pressure and had gone on to become the new star of French football.
The Nigerian forward proved his goalscoring prowess in France with a return of 18 goals for the Great Danes across all competitions this season culminating in the club boss, Christophe Galtier to describe Super Eagles star as a cross between Arsenal striker Pierre-Emerick Aubameyang and PSG star Edinson Cavani.
The Nigerian striker was on Tuesday named the top African player in French Ligue 1 season to become the youngest-ever recipient of the Prix Marc Vivien-Foé, named in honour of the late Cameroon player who died aged 28 in 2003.
"It's something I'll treasure forever," Osimhen told RFI in a telephone interview. "I'm really proud to have this award with Marc Vivien Foé's name on it."
With 13 goals in the 2019-20 Ligue 1 campaign and 18 in all competitions, Osimhen beat opposition led by Monaco's Islam Slimani of Algeria and Moroccan Yunis Abdelhamid who plays for Reims.
Galtier, in his reaction to the honour, was full of praise for Osimhen and lauded his ability to score goals, by comparing him with Cavani who won the Ligue 1 top scorer in 2016–17 and 2017–18.
The Nigerian star shone in his maiden season in Ligue 1 before the campaign was cancelled due to Coronavirus pandemic, with his contribution of 13 goals and four assists which helped Lille finish fourth on the league table.
"He has a great determination to want to score. He is obsessed with the goal as Cavani can be," Galtier told RFI.
"He is a player who has great athletic potential, who is able to repeat efforts. He gives a lot of depth and speed to his game. He is a very important asset for a team. He improved in associations when we went to 4-4-2 to be able to combine with his partners.
"He is an axis player, powerful, who goes fast and who is quite skillful in front of the goal. Obviously, he will have to continue working to improve all these qualities, and also his offensive head game." Galtier has helped three African stars, including Osimhen, win the Marc Vivien Foe prize in his coaching career.
The Frenchman was Saint-Etienne manager in 2013 when Aubameyang won the coveted award, and he also guided Nicolas Pepe to clinch it before his move to Arsenal last summer.
In his assessment, he rates Osimhen as a similar player to the Gabonese star because of their hard work to achieve success while Pepe was a natural talent.
"You mentioned Pierre-Emerick Aubmeyang who also received the Marc-Vivien Foé Prize when he played with me in Saint-Etienne," he said.
"But if I have to compare Victor Osimhen with Nicolas Pepe and Pierre Emerick Aubameyang whom I directed, I would say that Nicolas has an innate, intrinsic technical quality. It's a gift.
"Aubameyang is a little bit like Victor. Aubameyang has worked a lot to reach a very very high level.
He had the intelligence to go through an intermediate club with Dortmund and it was there that he integrated what was the very highest level.
"In Saint-Etienne, we managed to make it grow, to hatch it. I think Victor has this same profile in the character, in the human relationship, but also in the intrinsic qualities. In the choice, he will have to make for his future club – because we will not hide our faces."
Thanks to his fine form in front of goal, Osimhen has been attracting interest from a number of European clubs and is reportedly nearing a Lille exit.
Galtier confirmed the transfer situation around the 21-year-old and he is confident he will adapt to any league he finds himself.
"He is a player who is in great demand by many European clubs," he continued.
"In the club project, there is the economic aspect but also in the player's mind, it is important. If the club is happy, the president is happy, and the player too, it is that we will have worked well.
"We are all in the same state of mind. Victor wants to see what is happening at the highest level, it also fits into the club's economic model.
"Victor will adapt to all championships. He's a very good player. I am convinced that he can play in all championships."
The 21-year-old is the second Nigerian player, after goalkeeper Vincent Enyeama who also played at Lille, to clinch the award which crowns the best African player in the French top-flight every season.
In his congratulatory message, former national team coach, Sunday Oliseh, acknowledged Osimhen's hard work in Christophe Galtier's team but cautioned him to remain professional as he aspires for more success.
"First of all, I would like to congratulate Victor Osimhen for being elected winner of the Marc-Vivien Foe Prize. This trophy is important since it rewards the best African player in the French Championship. It is important for us Africans," Oliseh told RFI.
"I find his victory even more surprising when we see the competitors that Victor had to surpass to win this title. Many people will wonder if he deserves it if he is stronger than these players.
"But what Victor has done this season is truly exceptional. Thanks to him, his team managed to make a magnificent season.
"I think Victor frankly deserves it because he brought a lot to his club. We really saw the difference when Victor was on the field and when he was not. We see the possibilities he offers his teammates to go forward. We also see the weight it places on the enemy's defences.
"Frankly, congratulations Victor! You deserve it. But I advise you my little brother to always remain humble and ambitious at the same time.
"Stay professional and good luck. Congratulations again, little brother!"
He disclosed that Osimhen was the closest to former Eagles striker, Rashidi Yekini, who is Nigeria's all-time top scorer with 37 goals in 58 international games.
"When I was coach, I was trying to assemble a new team. In fact, the bases of the current national team are made up of players that I put together. For me, it was important to have young people of the future who were hungry for national team matches," he continued.
"Victor Osimhen was playing at the U-17 World Cup at the time. I had watched the meetings with my assistants, including the final won by Nigeria. He had done it with such ease, the way he eliminated his opponents.
"We had planned to invite him to the national team but I left the selection. Otherwise, I would have invited him.
"Because since Rashidi Yekini left the selection, we have not had a player of the calibre of Victor Osimhen. My plan was to integrate him very slowly into the Super Eagles, to give him a few minutes, before launching him 100 per cent as we did with Wilfred Ndidi or Alex Iwobi at the time."
Like his predecessor, Pepe, the sought-after Osimhen is expected to be lured to a new club next season.
"I have planned for some time that Victor will no longer be here next season," conceded Galtier this month.
Osimhen has not resumed training with his current side as he is in Nigeria following the death of his father.