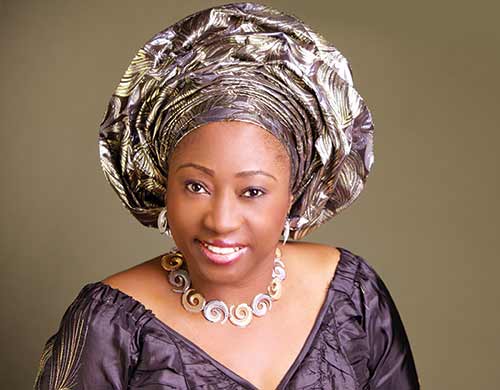 Ekiti State is often credited with having two very dynamic individuals. These are none other than the Fayemi duo, Governor Kayode Fayemi and his peachy First Lady, Erelu Bisi Fayemi.
Recently, while her husband has been offsetting the burden of the COVID-19 pandemic in Ekiti, the first lady had been noticeably absent—until now.
The COVID-19 pandemic has torn down countless plans and expectations, and the substructures of government and administration are not exempt from its cancerous touch. Regardless, leaders like Fayemi have taken more than a cursory approach to the virus and its spread. The latest report along these lines is the voluntary donation of ₦48.71 million from Ekiti State'S civil servants and top government officials. This is a first-of-its-kind and commendable beyond words. Still, with the First Family missing a crucial member, the excitement accompanying the donation was only at half-mast.
Since her husband assumed office in 2019, Erelu Bisi Fayemi has been one of the most committed advocates and overseers of the Fayemi vision. As a renowned feminist activist, gender and development specialist, social entrepreneur, policy advocate, communications specialist and writer, Mrs. Fayemi has much to contribute—and she has.
She has been the voice of the oppressed in Ekiti and beyond for donkey years. Her peerless passion for the underprivileged got her involved with organizations with similar interests, including Akina Mama wa Afrika (AMwA) and African Women's Leadership Institute (AWLI). This was all before she co-founded the African Women's Development Fund, (AWDF) in 2001 and served as its first Executive Director for nine years.
Little wonder many people wondered where the lady who championed numerous policies for grassroots empowerment and social inclusion must be hiding at such a critical time.
The rumour mills had reported that Erelu Fayemi wasn't at the peak of her health at the moment, and has therefore retired from the public scene. This had impacted on the people's morale in the face of the COVID-19 pandemic—especially since she is a favourite character in Ekiti State administration. The consensus was that nothing short of a frail health condition could have kept Erelu Bisi Fayemi away at this time.
Happily, the woman at the centre of the curiosity emerged to dispel all the rumours of her whereabouts. Walking with a spring in her steps and determination in her eyes, she was spotted in the company of fellow women's rights advocates as they made their way to the Ekiti State Women Social Inclusion Centre.