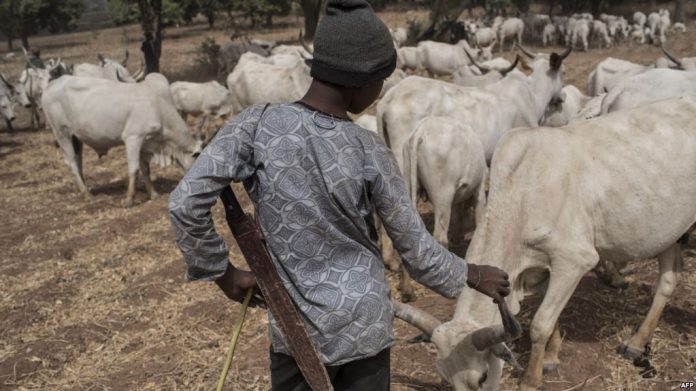 Omon-Julius Onabu in Asaba
Tension is mounting around Asaba and environs in Delta State following the killing yesterday of two members of a vigilance group in Okpanam, a community adjoining Asaba, the state capital, by suspected armed herdsmen.
A third member to of the vigilance group, which was on a rescue mission, survived the attack by the gunmen with gunshots wound in the leg.
THISDAY learnt that the two members of the community's volunteer security group were gunned down yesterday morning when they went on the trail of kidnappers who reportedly abducted a female resident in the area along with her young daughter at night.
The local security outfit members had taken it upon themselves to comb the nearby bushes for the abductees by apparently walked into the waiting hands of the armed criminals.
The incident was coming a day after Hausa traders resisting the demolition of illegal structures in the popular Abaraka Market in Asaba by officials of Oshimili South Local Government Council, beheaded one of the environmental sanitation officials.
On the Wednesday killing, the Chairman, Oshimili South LGA, Mr. Uche Osadebey, was quoted as saying that traders in the market, which is considered by the state government as an illegal market site and a hideout for criminals, had been duly notified of the demolition order about two months ago.
However, the killing of the two men in Okpanam in Oshimili North LGA triggered spontaneous reaction as angry youths of the community barricaded the Benin-Asaba-Onitsha expressway, disrupting vehicular and human traffic and halting social and economic activities for several hours yesterday.
Although, the protesters were eventually dispersed by a detachment of police and other security personnel deployed in the area, they vowed to avenge the death of their kinsmen, and this has created uneasy calm in the area and the surrounding areas, including Asaba.
One of the deceased, identified simply as Emeka, was said to be one of the leaders of the local vigilance group in Okpanam.
Nevertheless, the whereabouts of the kidnapped woman remained unknown as at the time of filing this report on yesterday evening.
Meanwhile, the Delta State Police Command spokeswoman, Mrs. Onome Onovwakpoyeya, (DSP), who confirmed the incident to journalists in Asaba, said the two deceased vigilance group members were unarmed when they join the pursuit of the kidnappers.
She said no arrest had yet been made as the killers of the men were still at large.
"The vigilance group members were in search of a woman and her daughter who were abducted earlier by the suspected kidnappers," the police spokeswoman said, while assuring the people that the police would do everything possible to rescue those abducted and apprehend the criminals.