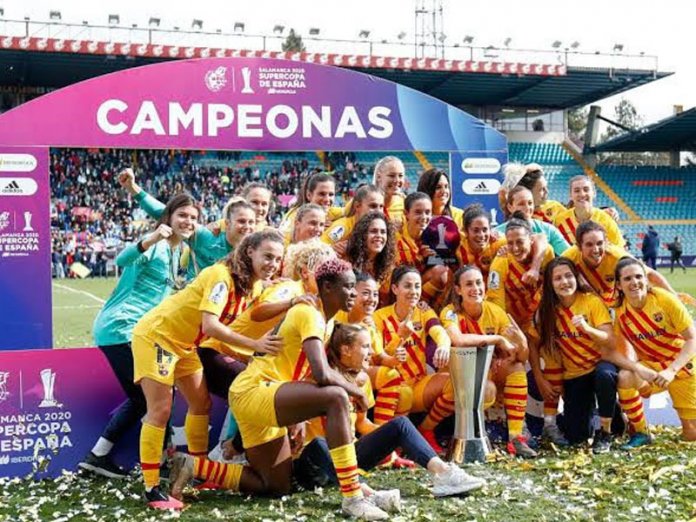 Claims her first league title in Europe with Barcelona Femeni
Duro Ikhazuagbe
Super Falcons' Captain, Asisat Oshoala who on Wednesday earned her first Europe league title along with FC Barcelona Femeni in the Spanish Primera Iberdrola, has picked four-time African Player of the Year, Perpetua Nkwocha, to lead her dream five-a-side team.
Speaking on NFF's Instagram Live Page yesterday, Oshoala who last year matched Nkwocha's African feat, admitted that she has always been an admirer of the coach of Clemensnäs IF in the Swedish women's division two league.
"My favourite players ( in the Super Falcons) were Mercy Akide and Perpetua Nkwocha," Oshoala announced.
She also admitted to be a big fan of Nkwocha's style of playing her role in the senior national team.
"I love Perpetua's style of play. I followed her closely when I was first called up to the Super Falcons camp and I learnt a lot of things from her," the former Dalian Quanjian forward in the Chinese Women's League further stressed.
Oshoala insists that Nkwocha will be the link between the midfield and attack in her dream team.
"She will be the link between the midfield and attack. She plays more like a No 10, she likes to get the ball and bring it forward," Oshoala further eulogized the power player who dominated the African crown until this her compatriot matched her feat, winning her fourth crown in 2019.
A fifth African title is now almost within the touching distance of Oshoala following this first league title achievement I. Europe.
Oshoala completed her dream five-a-side team with the inclusion of Akide, Onome Ebi and former Falcons coach and captain Florence Omagbemi.
Oshoala won the Spanish league title with Barcelona Femeni following the abrupt ending of the 2019-20 season by the Royal Spanish Football Federation on Wednesday.
Barcelona emerged champions with 59 points from 21 matches and Oshoala made an incredible mark for Luis Cortes' team as she scored 20 goals in 19 outings.
RSFF made attempts to complete the 2019/20 season but the inability to meet the government's health protocol dashed their hopes, hence the termination.
The announcement saw Oshoala's team reclaim the league crown for the first time since 2015 despite being unable to see out their remaining games due to the Covid-19 crisis.
Oshoala, who won her fourth African Women's Player of the Year crown in January, made an unsuccessful bid to win a league title on her previous spells in Europe with Liverpool and Arsenal ladies.She also suffered on her initial loan spell at Barcelona in 2019.