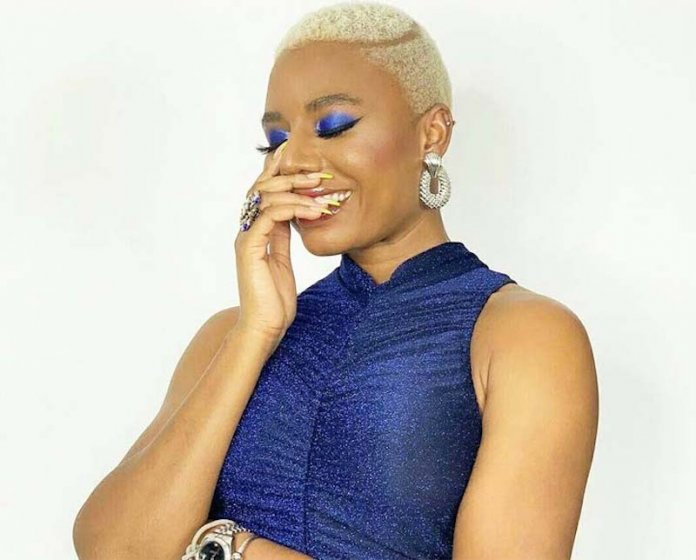 New Nollywood movie, "Kambili: the Whole 30 Yards" is a story of a wastrel whose quest is to be married before she turns 30. But she must convince her boyfriend that she could be his dream woman. Ferdinand Ekechukwu reports
The refrain "Her name is Kambili and she will go the whole 30 yards to become his wife material…" sums up the snippet for a recent teaser released for an upcoming movie, 'Kambili'. This is actually the first teaser for the movie which features a crop of talented actors, old and young. The lead, Kambili Maduka, is played by Nancy Isime.
Alongside Nancy Isime is AMVCA 2020 trailblazer Jidekene Achufusi (Swanky Jerry). Almost a year after filming together on a different project which gave Jidekene his breakout role, both Nancy and Jidekena are back together onscreen. The fast rising actors look good together as onscreen couple judging from this teaser, fans all over are in for an exciting show.
Nancy gets scolded in the opening teaser by a potential suitor. "You really going to make me say this aren't you? Wife material…okay you are not exactly wife material. Someone who is actually responsible you know and focused and prudent; maybe someone who is a little driven." The relatable story also stars Mawuli Gavor as John and Sharoon Ooja as Linda, and a host of other stars.
Other cast of the movie includes Elvina Ibru, Koye Kekere-Ekun, BBNaija Vanessa Akpofure and Uzor Arukwe whose roles make exciting scenes. Speaking on the film's casting, the producer of the movie had earlier revealed that her team sought to create a film that people could connect to and that influenced the choice of the cast. They also tried not to typecast the actors by letting them show their individual strengths.
According to the makers of the cinematic project, the movie is one of the first full production projects undertaken by its distribution company in its bid to create more inspiring Nollywood content. 'Kambili' is scheduled to debut in cinemas across the nation on June 12, 2020, if the Covid-19 pandemic eases up.
The romantic comedy movie follows the story of Kambili Maduka, an irresponsible, spoiled, spendthrift age desperate 28-year-old woman who's turning 29 in a few weeks.
The only thing on her mind is how to get married before she turns 30.
However, after getting suspended from work due to her incessant lateness, she goes on a date with her boyfriend and he breaks up with her as he thinks she is not 'wife material' due to her lifestyle, dashing her hopes of getting married before 30. She decides that what she needs to do is prove to her boyfriend that she can be everything he wants her to be which is – responsible, driven, focused and wife material with the help of her best friends.
"Kambili: The Whole 30 Yards" is produced by Mimidoo (Achineku) Bartels, and directed by Kayode Kasum whose directorial credits include "This Lady Called Life", "Love Is Yellow" "Sugar Rush" and many more. The upcoming film is Filmone's first feature film sponsored by South Africa's Empire Entertainment and China's Huahua Media's $1 million collaboration launched last December.