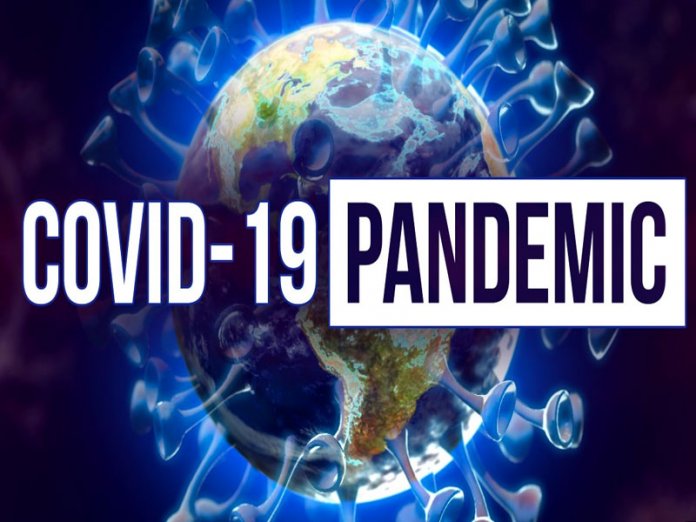 As COVID-19 pandemic continues to sweep across nations, grinding the world to a stand-still, thought leaders who were panelists at the recent Arise TV Channel Global Briefing explored the issues, challenges and options in the days ahead. Eromonsele Abiodun, Chinedu Eze, Oyebuchi Ezigbo and Martins Ifijeh, who monitored the discuss, write
There appears not to be a slowing down in the COVID-19 pandemic which started in Wuhan city in China since December 19, 2019 and currently sweeping across almost all nations of the world.
As at the last count, it has affected 189 countries, infected 786, 545 persons, and killed about 40,000 persons in six continents; a scenario that has brought the world to a standstill with countries making concerted efforts to halt its spread and the accompanying devastations it carries along.
One of the countries presently battling the virus is Nigeria which has recorded 131 confirmed cases and two deaths; forcing the federal and various state governments to declare stringent measures against its spread.
It is in addressing the pandemic in Nigeria that the Publisher, Arise TV Channel, the broadcast arm of THISDAY Newspapers, Prince Nduka Obaigbena, brought together health practitioners around the world to discuss the issue and suggest roadmaps that would help in defeating the public health challenge.
Among the contributors were the Minister of Health, Dr. Osagie Ehanire; an entrepreneur and contractor to Obama's White House, Mr. Alex Lightman; Commissioner for Health, Lagos State, Prof. Akin Abayomi; Emeritus Professor, Chinese University, Hong Kong, Siam Griffiths; Chairman, ANAP Foundation, Mr. Atedo Peterside, one of Nigeria's leading internal medicine practitioner, Yemi Johnson, Head of News and Media, British Medical Association, Helen Robinson-Gordon, among others
Contractor to the Obama White House, Alex Lightman:
The COVID-19 pandemic is a very expensive problem far more than what we had during the time of the Spanish flu outbreak in 1918 and 1920. At that time, the world was not as interconnected as what we have now. But now the world is a global village. With technology it is easy to anywhere.
With this pandemic and the restrictions across the world, we are having three big problems economically. First, ships and other carriers moving things within countries have been shut down. The second is that industries have shut down. The third is that markets are shut; people have stopped buying and selling because they are looking for safety.
Another crisis we are experiencing is lack of information to survive. During shutdown how would the vulnerable take care of their homes? Hospitals are being overwhelmed globally so people need information on alternatives.
I have a lot of friends in Nigeria and I have seen the movie, 93 days where the country showed resilience. There was Ebola in Nigeria in 2014 so Nigerians are more experienced than the United States on disease outbreaks because we have not had this problem for 100 years.
Nigeria is handling the pandemic better than the US. It took the US President Donald Trump thousands of confirmed cases before issuing a lockdown but with less than 100 cases, the Nigerian government has done what is needed in halting the spread of the pandemic in any country.
I watched President Muhammadu Buhari's broadcast and I think the two weeks lockdown he declared in Abuja, Lagos and Ogun State is a very smart move. Nigeria is smarter than US because we had thousands of cases before we had a lockdown. If we did this on time, things would not have been this bad in the US.
The lockdown in Nigeria is a game changer. If people adhere to social distancing and stay at home, the virus will not spread.
Commissioner for Health, Lagos State, Prof. Akin Abayomi:
We here people ask why we are not deploying the rapid diagnostic test, but what I tell them is that molecular test is still the benchmark for COVID-19 testing because it is very precise. The test is only done in reference laboratories. We have three of such laboratories in Lagos, and we test about 100 persons every day. In the coming weeks, this will triple it.
The problem with rapid diagnostic test is that it hasn't been validated in this environment even if validated in China or in Europe. There are certain compounding factors which apply to this environment that may not apply to China.
If you test 10 people and your inaccuracy is 50 percent, it means five out of 10 times you are going to get a wrong result which could have a devastating implication for us. For example, if you test someone who is negative and your result says positive because of some environmental factors, you will then admit that person into an isolation ward where there are other positive people. Within hours, that person can become infected. Similarly, if the patient is positive and the test result shows negative, you will end up sending that patient to the community where he or she will infect other persons.
The Federal and the Lagos State governments are offering testing free of charge and there are limitations on what we can do because of the complexity of the testing, however, there are other institutions that have that capacity and just like in Europe and America, they have decided to have a small charge for their test. This helps them have a bit of sustainability which is a widely spread practice all over the world, and so if you are willing to pay for a test then you can access these laboratories.
With the combination of our medical endowment and a bit of luck, we were able to overcome Ebola. We learnt a lot from that experience and we were not ready to go through a similar experience in the future. We have been watching the global space and seeing that a lot of infectious diseases are increasing in nature and complexity. We hear of the World Health Organisation (WHO) talking about agent X all the time and COVID-19 is an agent X.
We know that our health system has some weaknesses, but when you know what your weaknesses are then you can defend yourself appropriately. We have been building a bio-security capacity in Lagos for five years and we have got a very complex network of medical intelligence, we have built bio safety facilities, we have been training personnel, practicing simulations for the introduction of agent X or any other pathogen of high consequence for several years now.
Governor Babajide Sanwo-Olu initiated what we call the incident command structure with him as the commander, and we started putting things in place, screening all flights coming into Lagos, making sure we are watching the landscape, the dynamics of the global outbreak, changing our focus from country to country and watching the inflow of air traffic from one part of the world to another as the outbreak was moving from East Asia to the Mediterranean to Europe. We were also anticipating Nigerians will start coming back so we started watching them as well.
For our index case, who came from Italy on February 27, we were able to track all his 179 contacts very effectively and we only manage to experience one transmission from him. It didn't result into any transmission in the community.
On the resources we need right now to contain the disease, I will say the most important is how to sensitise and teach the vulnerable population about best hygiene practices to help them avoid being infected.
We are studying this outbreak very carefully and we are thinking ahead on strategies to adopt because if we get overwhelmed in the course of dealing with the outbreak, and our hospitals cannot cope with the sick, we might change our strategy to managing things at community levels and deploying personnel at people's homes. In that case we will reserve the facilities that we are building now for the very sick. Everyone talks about flattening the curves but I think what all that means is trying to interrupt the virus infection while buying time to enable us build the needed capacity.
Medical Director, First Consultant Cardiologist, Dr. Yemi Johnson:
While COVID-19 is often said to affect the respiratory system, evidence has shown it does affect the heart. It first presents itself as fever, cough and shortness of breathe, and then in some persons, you see myocarditis which means the heart is infected. From there the heart is inflamed and then all sorts of things can happen, from pancreatic failure as well as sudden death.
New York is now overwhelmed with COVID-19 patients and so you can't do with a heart attack now in that city or in London, because you are going to be assumed to have a COVID-19 until proven otherwise. So the best treatment for heart attack won't even be given because they are scared of getting infected by COVID-19 patients, so they give medications and stabilise the patients and wait for the COVID-19 test results.
Even in London and New York, test results don't come out immediately. It takes some time, which may elevate the cardiac problem. Now, talking about cardiac treatment in Nigeria, we have been seeing some sick patients but the concern is if this thing gets out of hand, and we end up like New York of London, the hospitals that have critical care beds will now be overwhelmed with COVID-19 patients and when someone comes with a heart attack, stroke or heart failure, there won't be any space for him. That is why in our facility what we are doing is separating the intensive care unit and critical care unit from the rest of the hospital so that when we start treating coronavirus patients we will be able to isolate them to protect our staff and everybody.
Head, News and Media, British Medical Association, Helen Robinson Gordon
One of the most important things needed in fighting pandemic is information. There should be a very clear and concise messaging both for the general public and healthcare workers. The public has to understand why they are being asked to stay at home and observe social distancing.
I think particularly for the UK, we have seen unfortunately a lack of trust and this has caused some issues. Nigeria should learn from our mistakes.
While government is making plans for the people, it should also think of health workers because they are at the frontline. They need enough Private Protective Equipment (PPE) so they do not become infected as well. Not all UK's 200,000 have PPE, but efforts are been made to address this. Nigerian government should also do same because if you don't, it may hamper fight against the pandemic.
Medical Director, Premier Hospital, Dr. Abiodun Aluko:
Nigeria's private sector is putting efforts in place to assist the public sector in containing the virus as well as providing capacity. The problems are not only about isolation centres, but about misinformation. There is a lot of panic and fear.
Private practitioners actually provide about 70 per cent of the healthcare offered in Nigeria and so we have a great role to play. We found ourselves in the middle of this pandemic essentially not prepared; having to do things without the required manpower that we need. We do not have the PPE that we need for our people. In the system we have, patients just walk into the hospital. We don't have the system like in the US where the emergency room is clearly delineated and the clinics are by appointments.
So we have a situation where patients will just walk in. Some of these patients have travel history to high risk countries. Our health workers feel threatened because they are not protected enough by the protocols in place.
Emeritus Professor, Chinese University of Hong Kong, Prof. Sian Griffiths:
The virus is passed over from animal species into man and successfully transferred between human beings. There is a lot Nigeria can learn from Wuhan city on this virus. The knowledge will be very useful in containing the spread in Nigeria.
The lockdown instituted by President Buhari is a good measure, but you also need to think of the economic impact. People who are self-employed are struggling to survive. Government needs to put in place adequate support for the vulnerable groups. Where would the unemployed get their next meal?
On how long curbing this disease will last, I think it is getting worse in some countries, and I am sure before it got better in some other countries it got worse. China and South Korea announced relative successes, but before then, it got pretty bad. It's a mixture of many factors, part of it with be pure luck of how many incident cases, and index cases you have got. And also, the style and strategy you employed in managing it.
We want to pursue very aggressive contact tracing and be able to identify those who might be at risk. We believe that if we do that, we reduce the possible loads of patients and reduce the problems we have to deal with. If your health system is not strong, you better be quick.
Minister of Health, Osagie Ehanire:
One of our biggest worries as a team is the grey areas and shadow zones. These are the areas you do not know. These could lead to community transmission. So the earlier we identify them and their contacts, the better for everyone.
That is why we had all those who came in the country, fill in forms, ask they call us if they are not feeling well and self-isolate for 14 days. This gives us the opportunity to identify as many of them as possible. It might not be 100 per cent, but the more we identify them and have them isolated, the fewer they are who threaten the society.
We are calling on influencers, political, religious, community leaders and other gate keepers to help us prevail on their people to observe the stay at home measures. It is important we all comply with the advisories.
We are fighting an invisible enemy. This is an enemy that has done havoc in other countries. We would be happy not to have that repeated here, therefore, all measures that needs to be taken to avoid such scenarios needs to be taken. Hard situations demands hard responses.
…with additional reports from Rebecca Ejiforma, Ayodeji Ake and Sunday Ehigiator