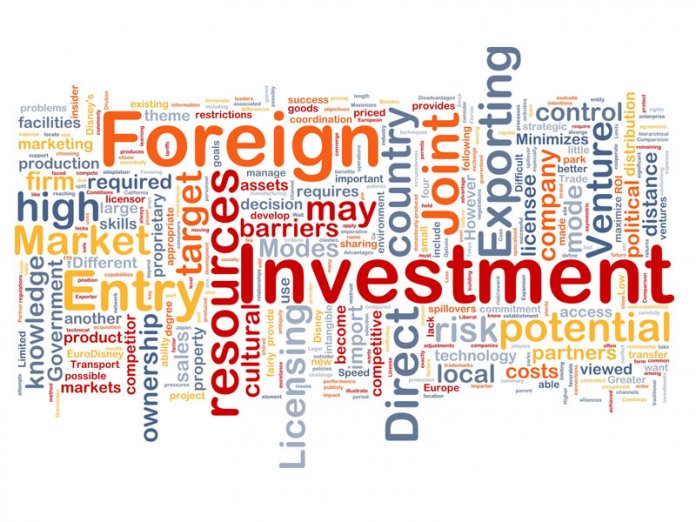 Foreign direct investment (FDI) can be a catalyst for Nigeria's sluggish economic growth, by bringing in new inputs, technologies and knowledge to the country, a report by the Financial Derivatives Company Limited has stated.
FDI increases the amount of physical capital and augments human capital. According to the United Nations Conference on Trade and Development (UNCTAD) 2019 World Investment Report, Nigeria was the third largest recipient of FDI in Africa, behind Egypt and Ethiopia.
This is largely thanks to its strong fundamentals such as natural resources, a large market and a young population.
Nigeria's Gross Domestic Product (GDP) grew by 2.27 per cent in full-year 2019, compared to 1.91 per cent recorded in the preceding year.
According to the FDC report, many problems, including poor investment climate and a huge infrastructure deficit, continue to pose huge threats to long-term investors. It pointed out that in third quarter 2019, not only did the value of FDI flows to Nigeria decline, its share of total capital flows fell by 0.10 per cent, to 3.73 per cent, from 3.83 per cent in the second quarter of 2019.
"The good news is that Nigeria has finally signed the African Continental Free Trade Agreement (AfCFTA) which creates a larger market and will facilitate the free flow of goods within Africa. Nigeria stands to gain from AfCFTA on three fronts.
"Firstly, its large market (accounting for roughly 17% of Africa's population and GDP) makes Nigeria an ideal place for business headquarters. Secondly, once these headquarters are established, Nigeria could see a further increase of FDI as companies invest heavily to export from within the AfCFTA and avoid tariffs.
"Thirdly, as the largest country in Africa, Nigeria offers a cheap labor force, which is a compelling opportunity for investors and should also contribute positively to Nigeria's unemployment problem. However, if Nigeria is to leverage these new opportunities and attract more FDI it must first address its underlying challenges," the report stated.
According to the report, many economic and social factors have discouraged foreign investors in Nigeria, thereby reducing the flow of FDIs into the country.
It pointed out that between 2014 and 2018, FDI flows fell by 57.36 per cent from $4.69 billion to $2 billion. The two key factors that led to this drop were a poor investment climate and the significant infrastructure deficit.
"Nigeria's stringent government policies, bureaucratic bottlenecks for securing permits, high finance costs, low foreign exchange availability, and weak legal framework continue to deter investments. The other key challenge to investments in Nigeria is the country's huge infrastructure deficit. The level of infrastructural development in a country plays a key role in attracting foreign investors.
"The epileptic power supply, poor road and rail infrastructure, and gridlocks at the ports have all increased the cost of doing business in the country. Manufacturers must resort to alternative energy sources and pay more on demurrage due to delays at the port.
"There is a need for clear and transparent policies as well as a strong legal framework to improve the investment climate," it added.
The Presidential Enabling Business Environment Committee (PEBEC) initiatives such as e-registration of business, e-filing for taxes, and the elimination of lawyer's services in registering a business, among others, had helped to save time and reduce the cost of registering a business.
In Kano for instance, businesses can now be registered in less than two days compared to months, previously. However, the PEBEC programming is currently limited to Lagos and Kano.
Therefore, the FDC report stated that expanding the programs across the country should be a crucial next step.
"In addition, foreign exchange policies are vital to attracting foreign investors. It enhances easy entry and exit. Nigeria currently adopts a multiple exchange rate system which creates room for arbitrage, increases transaction costs, and douses investor confidence.
"For Nigeria to attract more investment flows, an efficient forex market priced in line with market fundamentals is imperative. This will make transaction settlement seamless, reduce transaction costs, promote transparency in the forex market and boost investor confidence.
"Vietnam, in a bid to attract more FDI flows, provided a legal framework suitable for both domestic and foreign investors. Its foreign investment law makes the investment environment favorable and narrows the policy gap between domestic and foreign investors.
"With this policy, foreign trade restrictions were relaxed gradually, regulations on registration procedures, access to land, capital and foreign exchanges were improved, and tax incentives were initiated to promote greater presence of foreign-invested enterprises. The impact of these initiatives was massive on FDI flows into the country. FDI flows jumped to $4 billion in 2005 from $320 million in 1988," it added.