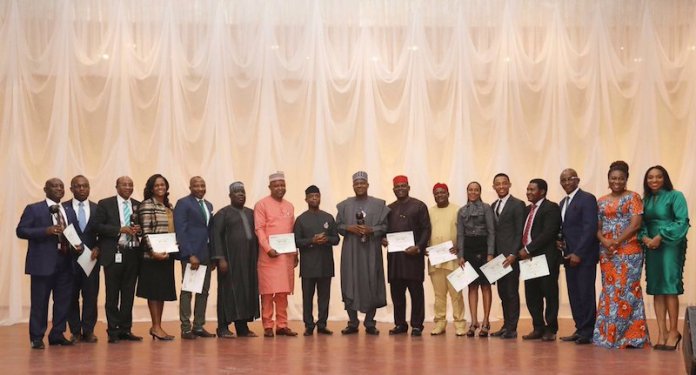 Oando Plc, First Bank, and other private sector companies were recognised at the recently concluded Presidential Enabling Business Environment Council (PEBEC) awards ceremony held at the State House Banquet Hall in Abuja, for their support of the PEBEC initiative.
The awards ceremony recognised MDAs and sub nationals that implemented impactful and landmark reforms in 2018; as well as key members of the private sector who particularly contributed to driving PEBEC's overall reform initiatives.
Speaking at the occasion, the Vice President, Prof. Yemi Osinbajo, commended the Hon. Minister of Industry Trade and Investment, Dr. Okey Enelamah, for his focused and forthright leadership, and also the Senior Special Assistant to the President on Industry Trade and Investment, Dr. Jumoke Oduwole, and her team for their tireless efforts in ensuring the implementation of the ease of doing business reforms in the country.
Osinbajo said: "In the past three years of inaugurating PEBEC, Nigeria has implemented more than 140 reforms to make doing business in Nigeria easier and improve overall competitiveness in line with a key strategic objective of the Economic Recovery & Growth Plan (ERGP).
"It is a pleasure to celebrate the phenomenal successes of the PEBEC reforms, but more importantly to recognise specially some of those who made it all possible – our incredibly selfless and committed private sector partners and the sterling performance of many in the public sector. The private sector partners referred to include Oando, First Bank of Nigeria, Crownscourt Attorneys, World Bank Group, KPMG, amongst others."
Oando was recognised for its role in capacity building, specifically providing strategic communication support as well as team-building and marketing communications training for the Enabling Business Environment Secretariat (EBES) team.
Speaking on the event, Chief Operating Officer, Oando Energy Resources, Dr. Ainojie Irune, who received the award on behalf of the company said "While it is clear that the government, through PEBEC has done a commendable job in aggressively driving reforms to ease the process of doing in business in Nigeria, it's imperative that we in the private sector continue to proactively look for opportunities to collaborate amongst ourselves and with the Government to bring about sustainable solutions that will move the country and economy forward.
Other private sector awardees in categories such as Legislative Support, Technical Support, and Capacity Building Support included the NBA-SBL, NASSBER, Nigeria Economic Summit Group (NESG), Nigerian Stock Exchange (NSE), the World Bank Group, DFID Nigeria, Financial Derivatives Company, Aelex Legal Arbitrators & Solicitors, Crowncourt Attorneys and First Bank of Nigeria.