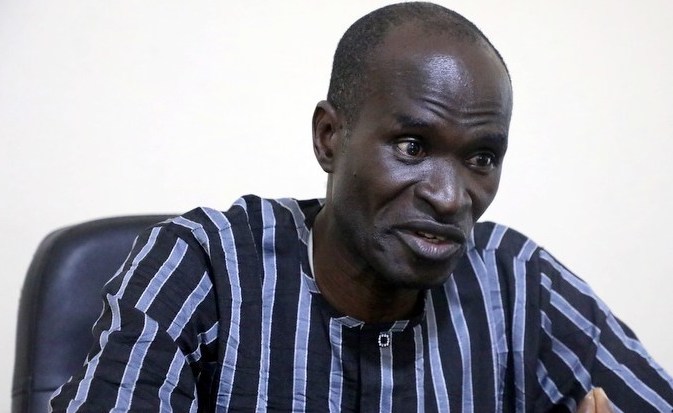 Emmanuel Addeh in Yenagoa
The Publishers of Weekly Source Newspaper, Mr. Jones Abiri, has been re-arrested, about eight months he regained freedom the detention of the Department of State Services (DSS).
Abiri, a Bayelsa-based journalist, was re-arrested at Ayabowei Plaza in Yenagoa by security operatives suspected to be the operatives of the DSS.
The fully armed men reportedly stormed the premises with a white Hilux and black SUV while Abiri was discussing with his colleagues at the secretariat of the Bayelsa Publishers office, before whisking him away.
An eyewitness account said the armed men jumped out of the Hilux van threatening "to shoot Abiri if he moved, only to be forced into the Hilux.
"They then zoomed off while the other jeep closely followed behind. The guns they carried were similar to those of the secret service".
"The men jumped out of the vehicles in a gestapo fashion while he was chatting with his friends and shouted 'you are under arrest'. While he was demanding to know his offence, he was forcefully pushed into a waiting vehicle at gunpoint. Currently, his whereabouts are unknown."
Abiri was detained for over two years without trial by the DSS and was only released in August last year after local and international pressure mounted asking the agency to obey the order of the court.
The Minister of Information, Lai Mohammed, at the time claimed that Abiri, editor-in-chief of Weekly Source Newspaper, was not a journalist.
The DSS had in 2016 arrested Abiri, alleging that he was a militant and leader of the Joint Revolutionary Council of the Joint Niger Delta Liberation Force, which had separatist inclinations and maintained ties with criminal gangs.
A high court also in a related case awarded Mr. Abiri N10 million judgment against the DSS and the federal government for the two years detention without trial. It's not clear if the judgment award has been redeemed.
His younger brother, Lucky Abiri, said he received a phone call that armed security operatives had taken his brother away and demanded his release.