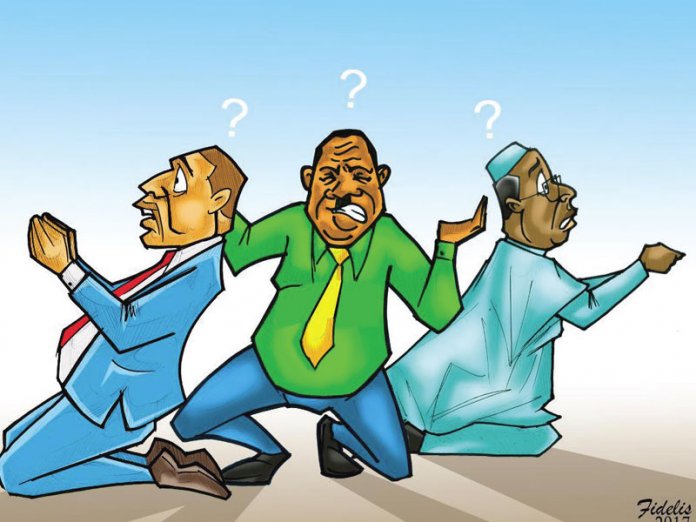 Raheem Akingbolu revisits the issue of payment of pitch fee to marketing communications agencies and wonders if its agitators have been defeated
After winning the indigenisation war, which was made possible by the promulgation of the indigenisation law of the 70s, advertising practitioners have faced many other challenges.
Of all, getting required recognition from government and corporate organisations appear to be the greatest challenges the practitioners are currently contending with.
The Association of Advertising Agencies of Nigeria (AAAN), the umbrella body of advertising agencies, has, from inception been concerned about deepening professionalism in the industry.
While they checkmate their members from involving in sharp practices and other acts that can tarnish the image of the association, they also point out global standard to clients.
It was the need to redefine the agency/client relationship to tally with the international standard that brought up the issue of payment of pitch fee, which is mandatory at the international level.
In most of the advanced markets, pitch fee has been adopted as a standard order that cannot be contested. In the last 10 years, associations of advertising agencies in Asia, Malaysia, Singapore, Taiwan, Korea, Indian and Japan have fought the issue of payment of pitch fee to logical conclusion.
Speaking on the justification for the fee, a former Chairman of the Advertising Practitioners Council of Nigeria, (APCON), Mr. Chris Doghuje, had in a recent interview with THISDAY, said payment of pitch fee is not alien to the profession.
He likened pitching exercise to a situation whereby a client walks into a lawyer or a medical doctor, for consultation, after which the lawyer or the medical doctor is paid, even without handling any legal brief in the case of lawyers or perform any operation or administer any drug in the case of medical doctors.
"Don't we pay consultancy fee to see lawyers or medical doctors, I know it may not be the same, but money exchanges hands for the service rendered.
"Any brand owner that wants the best result must prepare to invite as many agencies as possible. At the end you settle for one, but to make sure you don't waste the time of those who came for nothing, pay them their pitch fee. That is the international standard that cannot be contested.
"Come to think of it, it takes the same time to do a pitch and campaign, in some cases you spend more time and money to do a pitch than the campaign.
"When it happens like that, do we expect the agency to bear the brunt alone? We shouldn't forget also that things done for free are not appreciative," he said.
AAAN's Move
Few years ago, having employed all form of persuasions and dialogues with little or no result, the AAAN issued a memo with which it ordered its members to stop attending pitches that would not recognise the need for the payment of pitch fee.
According to the memo, as approved by the executive board of AAAN, copy of which was made available to THISDAY then: "With effect from Tuesday February 27, 2007: strategy representation, N500, 000; creative presentation, N500, 000; below the line (logos/look and fill etc) now cost N100, 000.00, while profile presentation is left at clients' discretion."
It went further to state that; "recent development have necessitated the Executive Board revisiting the issue of proper remuneration for member agencies during pitch exercises. It has became clear the current figures do not take into cognisant the value and volume of efforts that go into pitch exercise".
The board also discussed with some concern the prevalent issue of members not advising prospective client on the need to pay pitch fee and cases where members still go ahead and participate in the pitches when the prospect indicate there would be no pitch fees.
While stating that it was a clear valuation of existing rules of the association and that it was a sanctionable, the board according to the memo urged members that the issue of pitch/rejection fee must be discussed and agreed with prospect/client before a pitch, and where the prospect or client is unwilling to pay, members were told to decline participation in the exercise.
The memo further enjoined heads of member-agencies to inform their association of any unprofessional conduct by client or colleagues, before, during or after a pitch exercise.
A former AAAN President, Lolu Akinwumi, under whom the issue can be said to have been mostly debated and reviewed, was optimistic when he commented on the issue in an interview with THISDAY that the two parties would soon agree finally on it.
He said the association intensified the issue of compliance in respect of pitch fees few years ago and has managed to create a higher level of industry awareness about the reason and the need for it.
Akinwumi, also stated that AAAN then empowered and educate members on the need to and how to comply
To this end, he disclosed that the association has instituted tougher sanctions against erring members
and educated clients on various types of pitch processes and how to go about each one
within the year under review.
"Over the period, we have therefore recorded a measure of success, some which were well reported in the media. As an association we continue to pursue this objective responsibly. .
"We are however aware that we are not likely to record 100 per cent compliance record immediately; clearly there will still be a few leakages every now and again.
"As determined, as the AAAN is to ensure a higher level of compliance, the association at the moment hardly possesses the capacity for a more effective monitoring.
Overall, the situation today is better than a few years ago and it will continue to get better" he said.
To another former president of the association and the Managing Director of SO & U Saatchi and Saatchi, the payment and nonpayment of the fee by clients is the yardstick to judge if a particular client is responsible or not.
"All good and responsible clients pay pitch fees. At worst, they request a negotiated settlement. Problems is that most times, agency representatives at first contact meetings forget to raise the issue, or are too timid about it, or lack supporting arguments to justify, or just too desperate for the business to insist on things being done according to the rules."
With his experience as a former leader of the association, Ufot said that once agencies bring AAAN into such disputes, and lined up firmly behind the leadership, clients eventually cooperate.
The Chief Executive Officer of TBWA/Concept, Kelechi Nwosu also toed this line.
In his reaction, he stated that the professional marketing savvy clients usually pay pitch fees, while the group that avoids it is the not savvy and experienced companies. While urging AAAN to continue with the education of both practitioners and agencies on the issue, he added that; "far more important is the need for pitches to be merit driven and depend less on nonprofessional consideration.
Operating Environment
On the question of whether the Nigerian environment is not ripe for the payment of the fee, the Managing Director of Fuel Communications Limited, Mr. Tunji Abioye, disagreed, saying: "There's nothing like our market not being ripe for the payment of 'pitch fee'. First, the fee idea is needed to inject some seriousness into the pitch process (which sometimes could be infested with abuse and mischief).
"Second, my view is that agencies (regardless of size and age) must learn to respect the ground rule on pitch fee."
He went on to point out that adherence to the rule was one of the many ways the industry can earn her respect. According to Abioye, if it is enforced, clients will acknowledge it and oblige.
Commenting on the rationale behind the issuing of memo in 2007 and the guide issued recently, on how brand owners can choose their agencies, the executive secretary of the AAAN, Mr. Lekan Fadolapo, said the new position was informed by the association concern over all sorts of pitches which were becoming unnecessary.
"If any brand manager arrives, he calls for a pitch, if a new marketing boss is appointed a pitch is called, if a person in power disagrees with any agency on principle, he or she call for a pitch. It is even more worrisome when many agencies are called.
"In recent time, we have seen pitches that have been thrown up perhaps to show that a new man or woman is now in control.
"It has been a sorry tale of mostly selfish clients, with people who do not value the essence of marketing communications, except seeing it as an avenue to enrich their pockets, manning their corporate affairs department. They want to get the best of their creative people, yet not ready to respect creative process.
"In all these, our agencies have a lot of blame because of how cheap they have carried themselves, how lily-livered they have accepted anything from their clients and how selfish and ignorant they have been in selling to their clients that they are of inferior value to their South African counterparts, even when they have to manage brands they know so much about.
"That is why our clients can pay any amount to get some cheap service from South Africa while they resist any fee from our own agencies a "favour".
One of the prices our agencies have paid and still paying is that of refusal to pay pitch fee for time spent on, sometime fruitless and spurious pitches." The executive secretary stated.
It is not only Fadolapo that blamed agency owners for their desperation, a brand analyst and the Publisher of Marketing Edge Magazine, Mr. John Ajayi, said the way some agencies make overture to clients as soon as they perceive a pitch is approaching could make clients look down upon them.
"Because of desperation for business, agencies that are not invited for pitch often force themselves on clients. They will want to appear by all means and when the client finally gives its nod, it's albeit reluctantly, how do we expect such approach to be respected?
"Of course, such agency would just be part of the crowd for nothing. In fact, it will be difficult to open mouth and ask for pitch fee when you gatecrash. I think what is needed to be done is for AAAN members to go back too and re-orientate their members on how not to pursue business." Ajayi said.
With many agencies struggling for survival under a harsh economy and silence on the part of the promoters of the proposition, many concerned analysts are worried if stakeholders in advertising and public relations industry are still keen about the payment of the fee.