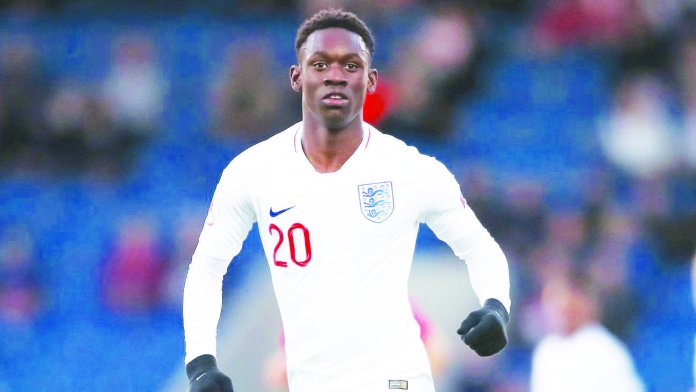 In spite of having capped for England at the 2018 UEFA European U-17 Championship prolific Arsenal youth-team striker Folarin Balogun is not ruling out the possibility of switching international allegiance to Nigeria
Born in New York and raised in the United Kingdom, Folarin Balogun is provisionally cap-tied to England as he represented the Young Lions at the 2018 UEFA European U-17 Championship, playing four games as England reached the semifinals, but the free-scoring Arsenal striker has hinted at switching international allegiance from England to Nigeria.
The 17-year-old has played for the United States U-18s in four friendlies, scoring two goals. ''I haven't yet declared who I will commit to internationally. I was born in New York, so can play for the USA,'' Balogun told arsenal.com.
''My parents were born in Nigeria and I have been in England since I was two years old, so I can play for both those countries too! 'I have several youth caps playing for England and I enjoy their style of play which is similar to Arsenal's. I will be discussing matters with my parents and will then decide.''
Balogun who was born on July 3, 2001, recently decided to pledge his long-term future to Arsenal by signing a new deal last month.
He has been with the Arsenal youth set-up since he was 10 years old where he has developed into one of the best-attacking prospects in England and Balogun stated the reason for signing his new deal and his ambition for the rest of the season.
On his new contract, he said, "It feels really good. I've been at the club since I was young, so I'm just happy that I've been given the opportunity to push on. It's been a rollercoaster of a journey with a lot of ups and downs, but I'm glad that my hard work has been noticed and it's starting to pay off."
He also stated that he is impressed with his season and is hoping to win the top scorer award with the U-18 team.
He said, "It's been a good season so far and I'm scoring a lot of goals, so I just want to keep scoring and continue helping the team week in, week out. Individually my goal is to finish the season as the top goalscorer in the U-18 Premier League."
Despite playing for several England youth teams, he is still eligible to play for the Super Eagles of Nigeria.
Meanwhile, Arsenal striker Pierre-Emerick Aubameyang has revealed his excitement about a Gunners academy prospect.
Aubameyang, who became Arsenal's club-record signing when he joined from Borussia Dortmund in January 2018, singled out 17-year-old Balogun for praise after scoring 22 goals in 23 appearances for the Gunners' academy team this term.
Balogun added: "Signing my professional contract was a proud day. I have been at the club for over a decade and it was one of the main targets that I was focused on. The real hard work continues and I want to keep progressing so that I can make it into the first team. The season is going really well. I feel I've become a more clinical finisher and have scored 22 goals in 23 games.
"I do a lot of work in training trying to improve and develop different ways of finishing so that when the chance comes, I'm ready to use whichever option is best. It also helps to keep defenders guessing. As the standard of the teams in which you play rises, you get less and less time and fewer opportunities on the ball. This is what drives me to be as efficient as possible in front of goal."
Last year August, Balogun was called up to play for the United States despite already featuring for England at youth level.
It was the first US call-up for Balogun, who was born in New York but grew up in London and played for England at the European U-17 Championship.
However, due to the Vaclav Jezek Youth Tournament not being listed as an official FIFA competition, there was no need to apply for a switch of associations.
"Since Folarin has represented England in an official competition at the youth level, in order to represent the United States in official competition he would have to apply for a one-time change of association," the federation said in a statement. "He has not done so at this point, but this does not prevent him from playing in friendly matches such as this tournament." The 17-year-old Balogun is viewed as one of the most promising young strikers in the Arsenal academy and was influential in the team's run to the FA Youth Cup final last season.