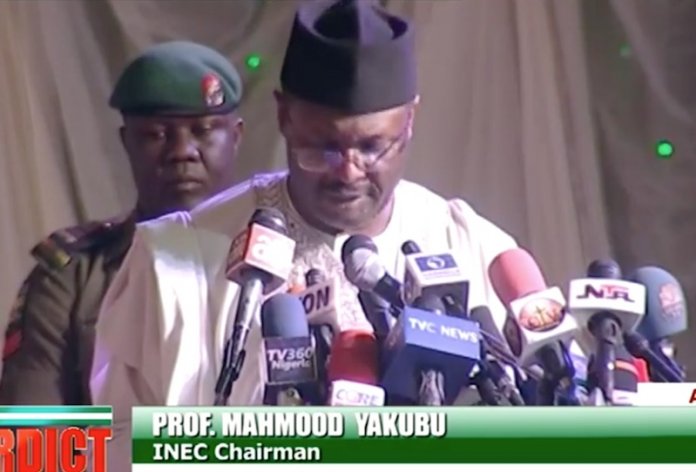 • Says only court can upturn its decision on Okorocha, others
By Adedayo Akinwale in Abuja
The Independent National Electoral Commission (INEC) has declared that the resumption of collation and announcements of gubernatorial election  results in Rivers would take place  between 2nd and 5th of April, 2019.
Disclosing this at a press conference Thursday in Abuja, INEC National Commissioner and Chairman Voter Education and Publicity, Mr. Festus Okoye, also said that the decision of the commission on the Imo West Senatorial district which the Governor of the state Rochas Okoroacha reportedly won  could only be upturned by a court of law.
The commission had on the 10th of March suspended all electoral processes in Rivers State having determined that there was widespread disruption of collation of results of the elections conducted on March 9, and after the invasion of the collation centre in Port Harcourt by soldiers.
The commission had set up a fact-finding committee to assess the situation and report back within 48 hours. The committee set up by INEC later established that the Governorship and State Assembly elections in Rivers state took place in most of the polling units and results were announced.
The committee also established that the results from 17 Local Governments out of 23 were available and  in the Commission's custody, adding that the declaration and returns for 21 State Constituencies out of 32 were made prior to the suspension.
The committee stated: "INEC expresses its displeasure with the role played by some soldiers and armed gangs in Rivers State disrupting the collation process and attempting to subvert the will of the people.
"INEC is committed to expeditious completion of the collation process where results of the elections have been announced."
The electoral body therefore assured that  it would issue detailed timelines and activities for the completion of the election on Wednesday, March 20th, 2019.
Speaking on Thursday, Okoye stated: "Resumption of collation and announcements of results in Rivers to be done between 2nd to 5th of April.  Supplementary election where necessary will now hold  on the 13th of April while issuance of all outstanding certificates of return will be concluded on the 19th of April".
Okoye added that the position of the commission is that it would  not issue Certificate of Return to Governor Rocha's Okorocha  in respect of  the senatorial election.
He stressed said that since the governor had taken the matter to  court,  it would be more prudent and more rational to wait for the outcome of the suit he filed in court before the commission would make any further comment.
Okoye noted, "When a matter is pending in court, the best thing to do is not to prejudge the matter that is already in court but to allow the judicial process to run its course. If at the end of the day, the court makes an order that we should give him the Certificate of Return, of course the commission will obey such a court order. If on the other hand the court makes a different position and make other consequential orders in relation to the conduct of election in Imo west, we will also comply with whatever the court decides."