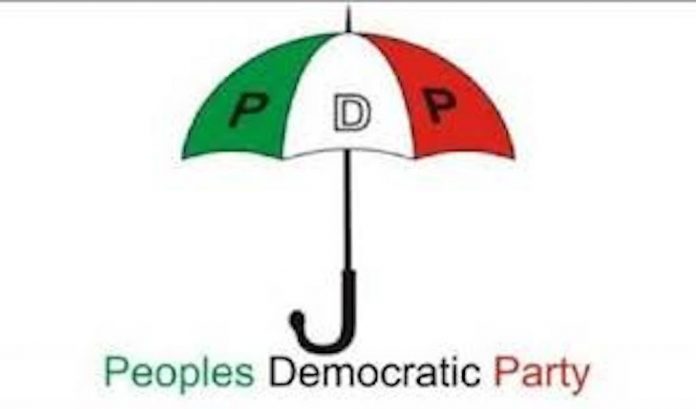 George Okoh in Makurdi
The People Democratic Party (PDP) has petitioned the Inspector General of Police(IG) over what it terms the activities of Senator George Akume and other the leaders of the All Progressives Congress ( APC) in Benue State.
The PDP Benue State Chairman, Mr. John Ngbede, while briefing journalists in Makurdi, said Akume at several meetings held with his party members and stalwarts alleged that result of the supplementary election to be held in the state will be declared in favour of the governorship candidate of his party, Emmanuel Jime, whether he wins it or not.
"He has assured his followers that such brazen rape of democracy will be made possible through collaboration he claims APC is enjoying with the Independent National Electoral Commission (INEC), and that Mobile Policemen and other security agents will be deployed, and with the help of thugs as well as militia, to hijack election materials for the supplementary elections, and thumb-printed ballots would then be returned and announced as the results giving victory to Jime," he said.
According to Ngbede, Akume particularly assured his followers that the national leadership of APC with the backing of the presidency has already infiltrated INEC, and Jime will be announced as governor of the state without the supplementary governorship election taking place, and that this will be achieved through already doctored results which will be compiled by INEC Returning Officers and staff who are already being posted to the affected polling units.
He stated that "as a direct consequence of the actions of Akume, the leadership of APC in the state has taken to airing views boldly in the public domain that the result of the March 23 supplementary election will be declared in favour of Jime, regardless of whether Governor Samuel Ortom of the PDP wins by another landslide as he did in the first round of the governorship election or not."
He said APC is not in any position to win the scheduled supplementary election, and claim by Akume and the party leaders that Jime would be returned as governor of the state at that election is only capable of breaching the peace and order of the state leading into the day of the election.
In its reaction, the APC described the PDP allegations as funny.
The Deputy Spokesman to the June Campaign Council, Kulas Tersoor, said it is a typical issue of a mad man picking your cloth while you are taking a shower. "Any attempt to come out naked to pursue or go after him for your cloth may make others confused on who is actually mad since both of you will be running naked."
He said he is surprised that PDP, a party synonymous with rigging especially in Benue State, would be alleging that a principled political party like APC is planning to rig an election.