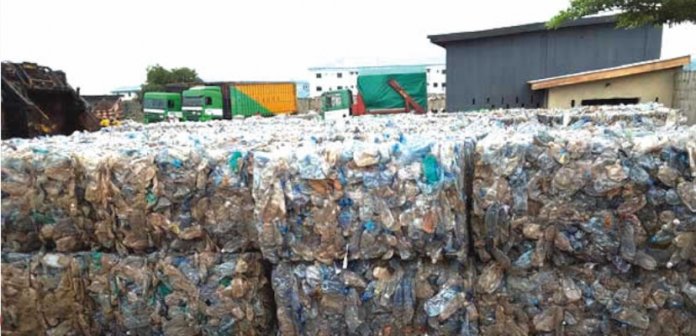 Jonathan Eze
The Executive Director of Lexsz Plastics Limited, Olufemi Akowe, has appealed to the state and federal government to create a conducive business environment that will enable business activities flourish.
He also called on stakeholders to double up their efforts in ensuring that waste to wealth recycling of plastics and environmental waste are economically utilised.
Addressing a press conference in Lagos, Akowe said his waste management company was committed to unlocking the economic potential in recycling plastic waste in the country by developing a robust partnership with private sector operators involved in packing and clearing domestic wastes from dumpsites, cities and villages.
He maintained that economic wastes recycled could also be sourced as local content by the manufacturing sector with the economic boost of backward integration.
Akowe, revealed that Lexsz, in its eight years of production had taken the lead in waste to wealth management by empowering public and private sector operators in clearing waste in the environment which are later bought and paid for by the company as raw materials.
Specifically, he noted that the company was building an expansionist market economy that would encourage businesses to thrive and to be competitive.
He added that Ogun State, where the company is based, offers a broad range of features that serve the numerous recycling sites in the surrounding area, stressing that, the company has over 400 local workers.
He added: "We rely on individuals who go round the cities and towns picking waste and later sold to us. We also help the governments in some south-west states to clear the state dump sites and even pay their agencies."
"We generate our own electricity through gas turbines from the NNPC and we have not only produced successful start-ups businesses in waste collections, but we have been critical stakeholders to Lagos State LAWMA, Ogun State Environmental Agency as well as Osun State.
"We pay taxes both to the federal and state government without any default on our part and very soon we shall be expanding the scope of our business to focus on other areas.
"The growth and development of Nigerian plastic is our concern and we are ready to invest in the market with a view to becoming the market leader. We believe very strongly in the growth of the Nigerian market and we are poised to take due advantage of the potential in this market. "With four production lines refining and processing, Lexsz is a leader in the entire West Africa largest recycling enterprise," he explained.