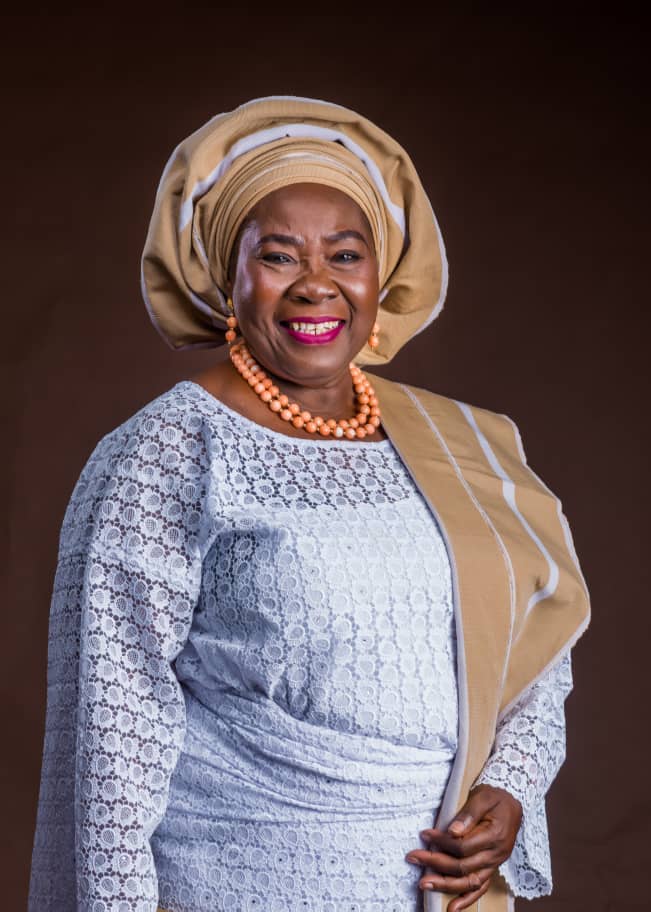 As an educationist par excellence, not one student she had taught can forget what Alhaja Wusamot Adedoyin Adegoke stands for. She is more than a teacher as revealed by one of her former students, Alhaji Rafiu Ebiti, a foremost accountant and CEO of Istabaraqim, who paid the legendary teacher, mentor and guardian tribute when she turned 80 on February 26. Writes Mary Nnah
As a young boy, Alhaji Rafiu Ebiti must have been taught by various teachers – from elementary school to the tertiary institution. As an impressionable lad, he could have had some favourite teachers. With the ebb and flow of time and life, one of them has remained constant in his memory like the northern star. As an adult reflecting on his childhood and time in school, Ebiti is more than convinced that one teacher's impact on his life was destiny-defining.
In one of his recollections with THISDAY, the accomplished accountant points to 1969 as a pivotal year in his life identifying Mrs. Wusamot Adegoke as an intrepid teacher that made a great difference, not only in his life but that of many other students.
In 1969, the young Ebiti was looking for a post-primary school that would allow him to actualise his intellectual endowment. The brilliant, articulate, diligent and rascally Ebiti's path soon crossed that of one-of-a-kind teacher: Mrs. Adegoke, who later became "a mother and mentor" to him. But time flies. It is 50 years now since that momentous encounter between a teacher and her student began. For both, life has brought shiny moments and fulfilled dreams.
Ebiti has excelled in his endeavours: first as a chartered accountant and now as an accomplished businessman who sits atop Istabaraqim Nigeria Limited, a chemical company that supplies chemicals to many conglomerates.
On February 26, Ebiti went down memory lane to honour his former teacher and mentor, who turned 80 on that day.
To celebrate the one-of-a-kind teacher, the Old Students Association of Ansar- Ur-Deen High School, Falolu Road, Surulere, Lagos 1969/1973 set led by Ebiti has lined up various activities to celebrate an untiring educationist.
A prayer was organised for her at Gbagada Central Mosque, Lagos. Also, subject to the approval of the Muslim Community, a hall under construction will be dedicated to her name. And in mid-April, her biography would be launched at a special luncheon.
"She has done well because about two or three students from her that she picked and are currently under our NGO, Ibeji Foundation, is sponsoring about two students who are almost through with their university education. As she turns 80, there are so many adjectives to qualify this woman. She is a mother. She is a teacher. She is a principal of repute; a mentor, a social activist, a kind-hearted and loving woman," Ebiti said.
What exactly makes the former teacher tick? Only Ebiti and those who had passed through her can confidently explain.
"After primary school, two secondary schools offered me an admission. One was the Military Secondary School, Zaria in Kaduna State and the other, Baptist Boys' High School, Abeokuta. But my mother felt I had to be under her purview. Though there was Lagos City College it did not appeal to me," Ebiti started off a story that spans many decades now.
"I have a cousin, Rilwan Etti, whose mother was one of our aunties. He suggested three Ansar-Ud-Deen schools for me to choose from. I ended up getting a link to Mama Adegoke who assured me that she would work on it. I got an interview date and went for an interview at to Ansar- Ur-Deen High School, Falolu Road, Surulere, Lagos.
Then, something dramatic happened."
Ebiti continued: "Surprisingly, after the interview, she excused herself from the panel of judges and accompanied me to the gate. I found that pleasantly shocking because it was the first time I would encounter such kind of courtesy."
So, eventually the young Ebiti got admitted into the school and from that moment until he graduated it was a lesson in life for him.
"She taught us English and Mathematics in Form One. But Mama Adegoke took special interest in me. This teacher, like a mother, would scold me and say, 'Rafiu', you can't do this!' The virtue and discipline she instilled in me have remained to date," the CEO of Istabaraqim noted.
Adegoke's relationship with her students went beyond the classroom – she was scholarly in thought and motherly in approach and conduct.
As Ebiti speaks about Mama Adegoke his eyes lit up as if he was seeing the past playing up. It is clear his favourite teacher went beyond her primary duty to give education to the young Ebiti.
"As a teacher, she went above her calling of being a teacher as she demonstrated her motherhood. She was tracking my progress, advising and counselling me. I can say that I am extremely grateful to God to have met somebody like that. And when the school certificate results came out in 1973, I came out with First Division", Ebiti explained further.
Till date, the chartered accountant has kept in touch with the 80-year-old. There is something else he remembers about the motherly teacher. "I remember as the head boy of 1969/1973 set, we normally had end-of-year party and I had insisted we were not going to wear school uniform. I wrote to the then principal, Alhaji S.B. Salem, who promised to look into it. I heard that when they got to the teachers' meeting she convinced the others to support my idea and they bought into it. Those at the meeting later told me jokingly: 'Rafiu, you can get away with anything'. For me, I felt we should do things differently."
Beyond Mama Adegoke's intellectual prowess, Ebiti lauds her thoroughness and homeliness.
"My school was a day school. I remember she would bring food from her house to distribute among students. It was a critical stage in the lives of children that many don't understand. Here was a teacher with a listening ear. She was somebody one could confide in regarding what was happening at home. When there were issues, this woman had followed some students to their homes to sort out that.
"The remarkable thing she did for me and my siblings is unforgettable. In those days, my father had five children that he would have to cater for in secondary school at the same time. Our (my siblings and I) own school fees were staggered as part payment. I remember the school would send a circular that if you didn't pay by so and so date you would leave school," Ebiti recollected.
Thanks to Mama Adegoke they never had to be sent packing from school.
The CEO of Istabaraqim explained why: "Mama Adegoke would go to the principal and stand like a guarantor for us. Though it was a small amount in those days may be one pound and 10 shillings but it was not easy to come by. I am grateful to this woman for her love and kindness."
Adegoke was born on February 26, 1939, to Dr. Abdulhamid Saka Tinubu and Madam Wulemot Agbeke Tinubu. Her father, Dr Abdulhamid Saka Tinubu, was a son of Alhaji Saka Tinubu, a prominent merchant and Muslim leader in the Lagos area. Dr Saka Tinubu is believed to be the first Muslim medical doctor in Lagos.
Dr Hamid Saka Tinubu spared nothing in ensuring that the young Adedoyin Saka Tinubu got the best of education, starting her primary education in 1945 at Baptist Academy on Broad Street, Lagos. She finished her primary school in 1952 and went on to attend Methodist Girls High School, Yaba, between 1953 and 1956.
After her secondary education, young Adedoyin expressed a desire to be a teacher, an ambition that her father found unacceptable; he tried to make her take an interest in some other professional course and sent her to study for her A-Levels at St Theresa's College Ibadan in 1957.
Several months later, young Adedoyin had not changed her mind about being a teacher, forcing her father to concede and lay the groundwork for her to attend a teachers' school in the UK. She left St Theresa's College before her A-Levels programme was over and sailed to the UK in 1959 to attend a private high school for girls in Durham where she earned her A-Levels in 1961.
Thereafter, she attended the University of Durham, UK, from 1961 to 1964 for her UK Teachers' Certificate. She later earned a BSc (Hons) in Biology from University of Lagos, Akoka, in 1972.
Following her graduation from the University of Durham, young Ms Adedoyin Saka Tinubu got a teaching job with Moss Nook Secondary School, Withenshaw, Manchester, UK, from 1964 to 1965. In 1965, she met and married Alhaji Jimoh Adisa Adegoke, an architect, in London and got a new job at Tower Hamlets Comprehensive School for Girls, East London.
She returned to Nigeria in 1966 and joined the teaching staff of Ansar-Ud-Deen High School, leaving the school temporarily in 1980 for New Era Girls Secondary School from 1980 to 1981 as the principal. She was transferred back to Ansar-Ud-Deen as the principal in 1981 and retired from the teaching service in 1991 whilst at Ansar-Ud-Deen.
After retiring from public service, Adegoke founded The First Step Child Care Centre, a crèche which she operated from 1991 to 2009, after which she dedicated her life to social causes and her faith. She plunged herself into humanitarian service in both education and religious circle. At 80, she is still active mentoring younger people, especially in the Ahmadiyya Movement.
She is passionate about girl-child education and it is little wonder that her foundation, W.A. Adegoke Foundation, would be formally launched in April.