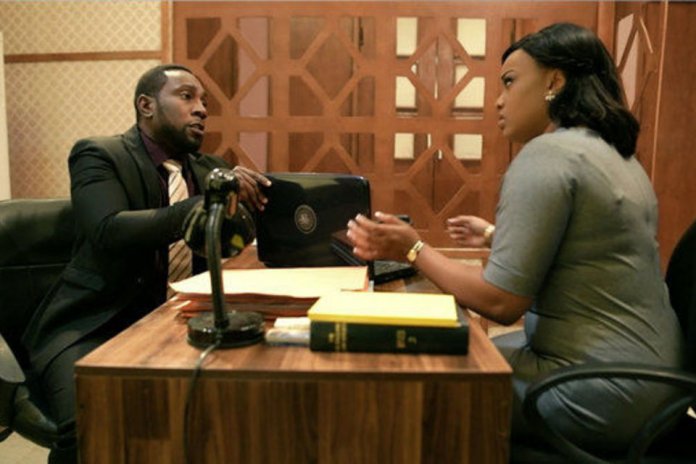 Yinka Olatunbosun reviews one of Nigeria's recent television drama series, E.V.E against its quintessential portrayal of legal practice interwoven with love and dangerous romance
A factor that made many popular television series in the 80s and 90s on Nigerian screen have a glue effect was the closeness to the truth about human nature. Intrigues are part of our daily survival as shown in this new drama on EbonyLife Television with a title that may seem ubiquitous, E.V.E.
It is followed by the Latin phrase, "Audi Alteram Partem" which means "let the other side be heard as well". Written by Victor Sanchez Aghahowa, the story is created by a lawyer, Uche Nwokedi SAN clearly to change the narratives for the way the legal process is portrayed by Nigerian film makers.
Lawyers, especially when they engage with the creative industry, often express their dissatisfaction over the ridiculous and poorly-researched representation of their world.
But beyond that, the stories in E.V.E rendered in episodes are just total human experience across disciplines. Office politics, office romance, god-fatherism, gossip and betrayal are commonplace realities which are embodied in the lead actress Ezinne Ezinwa (Ebenezer Eno)'s eye-opening encounter with her colleagues at the law firm, Eagle Crest Legal Practitioners.
The story is told from the perspective of a brilliant young lawyer, Ezinne with great credentials but low dosage of self-confidence which was quickly built upon the late arrival of her senior colleague, Adelomo (Patrick Diabuah) at a crucial matter which had a senior advocate as the lead counsel for the plaintiff.
In layman's language, Ezinne won the case, setting the motion for jealousy from her boss. Her mentor, Mrs Kemi Adebayo(Michelle Dede) who is in position to recommend her for a promotion decides to pick the office playboy Tobias Balogun (Paul Utomi) for the coveted role which qualifies a lawyer to apply for a car loan amongst other privileges.
Asides the overwhelming office drama, Ezinne has to deal with the toxic relationship with her boyfriend, Kalada (OC Okeje). He seems sweet, voluntarily driving her to and from work everyday. In time, Ezinne senses the strange vibes from his possessiveness which is borderline selfish in retrospect. The obsessed boyfriend plants a monitoring device on her phone and remains suspicious of her relationship with men.
Ezinne's UK returnee brother, Ugo Eazy (Jimmy Odukoya) is milking his foreign accent and 'swag' with his philandering acts. Supposedly engaged to Wendy (Chiquita Ezenwa), he is reluctant to marry because he is financially bankrupt, having lost his football contract with a European club.
He coerces the gullible women to gain access into their purses and between their legs with the fake prospect of returning with him to the UK. His mother (Gloria Young) is neck-deep in debt in preparation for the wedding.
Adelomo rocks the table by abandoning the Eagle Crest law firm and stealing a very wealthy client on his way to this new law firm alongside the secret of a scandal that can potentially send him and his protege, Tobias straight to prison.
The television series demystifies the legal practice regarding the various areas of specialisations in a typical commercial firm. Through the character of Ezinne, we see how litigation, which is the core of lawyering skills, is watered down by thelaw firm's snaky commercial interest and there are parallels to such practice in other professions.
Ironically, the law firm which ought to be a guardroom of trust is the bane of favouritism and scandals. The plot is tied with the string of new cases dumped on Ezinne.
E.V.E is remarkable for the use of proper costume, appropriate grooming, well-designed locations, proper language of the court and legal proceedings with subtle hints of humour.
For instance, a simple notice in a nearby 'Buka' (local eatery) which reads: "Keep your phone ooo" is a typical warning by a food seller like Iya Ibeji to serve as a disclaimer to customersin the event of the loss of mobile phones.
While it may be hard to keep a date with the actual viewing time on a weekly basis, the DSTV catch up takes away the burden of seeking for updates from a neighbour who is yet to catch this new wind of television series.