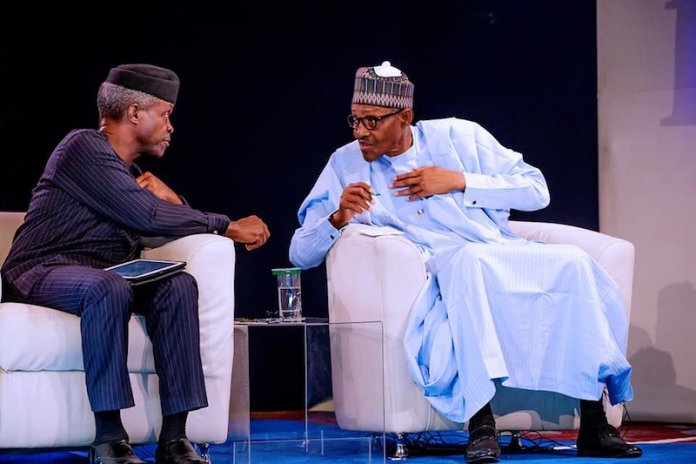 *President promises to engage all in open, inclusive govt
By Omololu Ogunmade in Abuja
President Muhammadu Buhari and Vice-President Yemi Osinbajo Wednesday in Abuja received their certificates of return from the Independent National Electoral Commission (INEC).
The electoral body had Wednesday morning declared Buhari as the winner of February 23, 2019 presidential election with over 15 million votes as against over 11 million votes scored by his closest rival and presidential candidate of the Peoples Democratic Party (PDP), Atiku Abubakar.
Presenting the certificates to the president and his deputy at the International Conference Centre (ICC), INEC Chairman, Professor Mahmood Yakubu, said the presentation was in line with a provision of the Electoral Act that certificates of returns should be presented to winners of elections within seven days of their declaration.
Speaking after receiving his certificate, Buhari who was accompanied to the ceremony by his wife, Aisha, and notable party men such as the National Chairman of the All Progressives Congress (APC), Adams Oshiomhole, and National Leader of APC, Bola Tinubu, said comments of both the local and international observers on the election, showed that it was free and fair.
According to him, the outcome of the election was victory for the country adding that the next administration would run an open and all inclusive government where all parties would be duly engaged.
The president further stated that it was only by running an open and all inclusive government that a country of "our dream" that is free from impunity could be built based on the principles of rule of law and hard work.
Buhari also said his search for the highest office in the land was not dictated by any other motive but the desire to serve Nigeria with his heart and might and consequently lay the foundation for a future that the next generation could be proud of.
The president who expressed gratitude to 15 million Nigerians whom he said voted for him during last Saturday's presidential election, also thanked them further for the confidence reposed in the APC.
Promising that his second coming would see the country moving towards the next level, Buhari added that the government would explore issues contained in the campaign manual and even expand them further to include what he termed other focal areas highlighted during the electioneering process.
He lamented the loss of lives during the polls. He said his heart went out to the families of those who lost their lives during the election and submitted that election shouldn't be a do-or-die affair as he congratulated other gladiators in the race, describing the conclusion of the election as another milestone for the country.