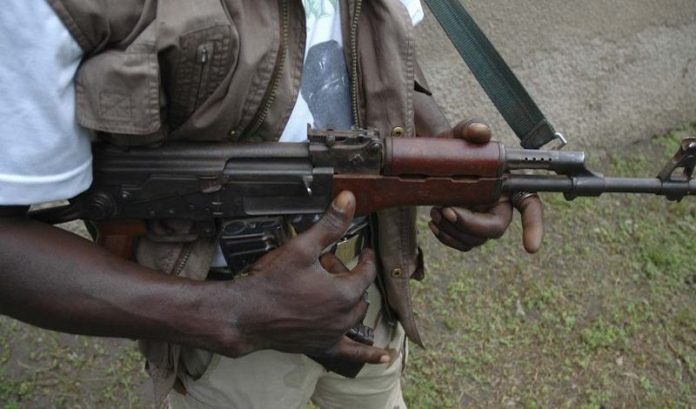 Kemi Olaitan in Ibadan
The presidential and National Assembly poll Saturday recorded its first known disaster around 2 pm on in Ibadan, the capital city of Oyo State after a school boy was killed by suspected urchins known as 'One Million Boys'.
THISDAY findings revealed that the incident happened during the collation of results at Ward 2, Ibadan South East Local Government, and was confirmed by former Deputy Governor in the state, Amb. Taofeek Arapaja.
An eyewitness account said the boy, Monsuru, who just finished his secondary education at St Luke's College in Molete, Ibadan was killed. Many residents believed the thugs belong to the group called 'One Million Boys'.
"Votes were being collated when the assailants came into Lako Compound, Kudeti, the same ward where Ambassador Arapaja voted and they started shooting sporadically. It led to the death of Monsuru."
account said indications that there would be trouble started manifesting when loyalists of Zenith Labour Party started removing the banners and posters of other political parties in the vicinity and replacing them with those of their candidates.
Speaking on the incident, Arapaja, a chieftain of African Democratic Congress (ADC), said security was not tight enough.
However, voting was marred irregularities in different parts of the state yesterday with former governor of Oyo state Senator Rasheed Ladoja, the governorship candidate of Zenith Labour Party, Mr. Sharafadeen Alli and his Peoples Democratic Party (PDP) counterpart, Mr. Seyi Makinde expressing disappointment in the conduct of the elections.
The trio expressed their feelings after they casted their votes in their respective polling units in Ibadan. They said there were complaints of card reader's malfunctioning, late arrival of voting materials and late commencement of voting.
Speaking shortly after he casted his votes at Ward 10 unit 13 in Ibadan North local government area of the state, Ladoja said with what happened the INEC still has a long way to go.
He said, "With what I saw and heard on the radio, up till 10, 12, 30 INEC has not show up in some polling units whereas they informed us that voting will start at 8am. Some polling units, voting has not commenced. Imagine someone who has being on the queue since 7 am.
"They may turn back. Thant means that some people would be disenfranchised. They will say they have tried their best. That means that INEC has to work hard. In many places there were complaints of card readers malfunctioning. In fact it was my firth finger that the card reader recognised.
"The first, second and the third fingers, it failed. Of was the forth finger that the card reader recognised. So, it means we still have a long way to go. In some polling units, card readers were malfunctioning. Many voters are set to be disenfranchised. In some places, many ballot papers were said to be missing.
"I learnt that some senatorial ballot papers were missing in Sabo. In some cases, they said that some people saw their names but were not allowed by the card readers. So, you can understand that a lot of things will be wrong".
After voting at Biro 1 in Ward 3, Oke Are, Ibadan North local government area, Ali expressed disappointment over the general conduct of the voting processes nothing that several complains from voters across the state called for concern.
According to him, it has been peace so far, but, there is a concern that voting materials arrived lately and voting proper started lately in many units. It is a little bit late in some polling units, and very late in some polling units.
In some polling units, Ali claimed that voting did not start at 12pm, saying there "is no security presence in some other places. And the officers are yet to arrive some areas and look at the time. just wan to appeal to our people that they should be law abiding."
After casting his ballots at Ward 11 unit 1 Iwo Road in Ibadan North East Local Government Area, Makinde also expressed dissatisfaction over the malfunction of card readers and the less presence of security personnel.
He said the card reader did not detect his fingerprint and that the electoral officials had to resort to registering his details before he could vote.
Makinde said, "Where I voted, I think the INEC officials are trying their best, but the card reader cannot authenticate my thumbprint. They had to write my name in the voters register and allow me to vote. The level of security is also low. We have made an observation and I think they are making arrangement to beef up the security."
A 75 year old woman, Mrs. Hannah Oyedeji who was not allowed to vote, expressed disappointment at the conduct of the elections, noting that she was not allowed to vote despite the fact that her name was in the voters list.