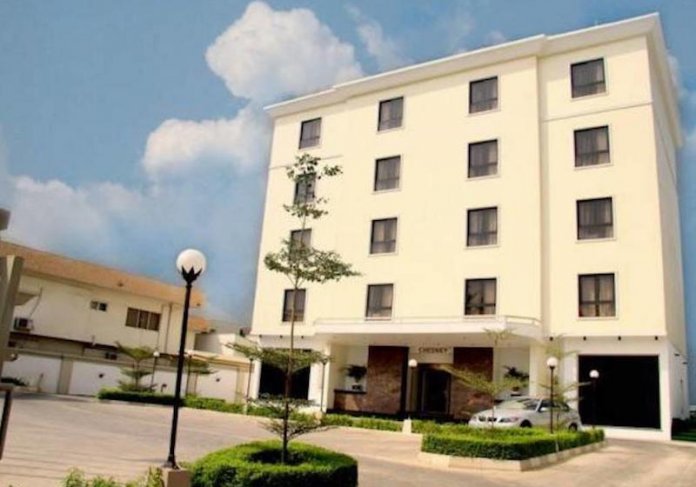 The Chesney Hotel Lagos has revealed that it would be undergoing significant upgrades of its facilities and services as well as opening new outlets.
This was revealed recently in Lagos at a reception to mark the Victoria-Island-based hotel winning the Entrepreneur Africa award for CSR Compliant Company of the Year as well as a nomination for the Hospitality Brand of the Year.
This is the latest in a series of recognitions like the Luxury Travel Guide Award for Africa and the International Diamond Prize for Excellence in Quality, among others.
According to Chesney's business development manager, Malvin Okorafor, "Next year is going to be huge, not just for our hotel but for Nigeria in general. For us, the most obvious change will be the structural change.
"Rooms will be renovated and modernised. We will also upgrade the poolside as well as the lounges. We will also add more options to our menu," he said.
"We're also looking forward to expanding the brand to new locations. This is a project that should have taken effect this year but we needed to be sure about every little detail because this is a brand that stands for quality," he continued.
The planned expansion will include another location in Lagos, as well other parts of the country as the hotel aims to be an indigenous hospitality chain that can compete favourably with international brands.
With a modern conference room that can seat up to 20 for corporate meetings, Chesney holds a special appeal for the business traveller.
The conference room is complete with audio visual equipment which include a built-in LCD projector & screen, plus complimentary wireless internet access.
Other pluses include shuttle services, complimentary breakfast for in-house guests and a swimming pool.
Explaining what sets the hotel apart, Okorafor stated, "Forget the building, forget the designs, what we're most concerned about is the passion of the staff. Chesney is as good as the energy and desire the staff bring to the workplace. This energy, which is channelled towards customer satisfaction, is what makes us different."
Nestled behind trees on the Akin Adesola end of Saka Tinubu, the hotel's tranquility is a far cry from the other end of the street it occupies which is a bustling, commercial area, with multiple electronic and gadget shops.