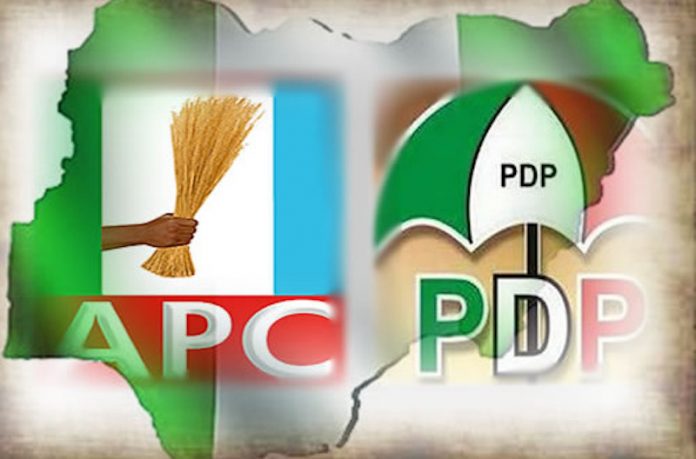 Adibe Emenyonu in Benin City
Candidates of the All Progressives Congress (APC) and Peoples Democratic Party (PDP) in Edo South Senatorial District of Edo State, Hon. Patrick Obahiagbon and Senator Matthew Urhoghide are trading blame over the destruction and defacing of their campaign bill boards in some parts of Benin City.
Obahiagbon in his usual flamboyant manner, fired the first shot when said he was flabbergasted beyond words that political opponent could still resort to politics of primitivism and crudity by resorting to billboard vandalism either directly or by proxies.
He stated that such bestial acts must be deprecated by all decent and reasonable men in any civilized society.
According to him, "It is a sign that those who are responsible for this animalistic action are already in a panic mood and are scared of interfacing with democratic parapets.
"I have resolved not to be distracted but to remain focused and stay on the campaign issues. My teeming supporters are advised to refrain from any reprisal and we must rise above such primitive political gambits," he said.
On his part, Senator Urghoghide said he was taken aback by the political intolerance being displayed by his opponent.
According to him, "You cannot see me retaliating. The electorates know who is serving them and I have told the PDP and my supporters not to retaliate.
"I am calling on APC and the Edo State Government to call their people to order. We need election to be conducted in a peaceful atmosphere."
The leadership of APC said it has noted with dismay, the ongoing and orchestrated attempts to undermine the efforts of the party candidates in the forthcoming elections.
The party which states this through its Publicity Secretary, Mr. Chris Azebamwan in a statement issued in Benin City, noted that some faceless and unscrupulous individuals have engaged in defacing the campaign billboards of APC Candidates in the state.
He described the act as unwholesome and uncivilized behaviour as cowards who feel intimidated by the unmatched achievements of the APC.
Azebamwan however, said APC as a political party, is not unmindful of recent attempts by certain individuals to rubbish the visible and laudable achievements the part and that of the governor, Mr. Godwin Obaseki, adding that the party will continue with its issue-based campaigns and leave the mudslinging and gutter tactics to our opponents and detractors.