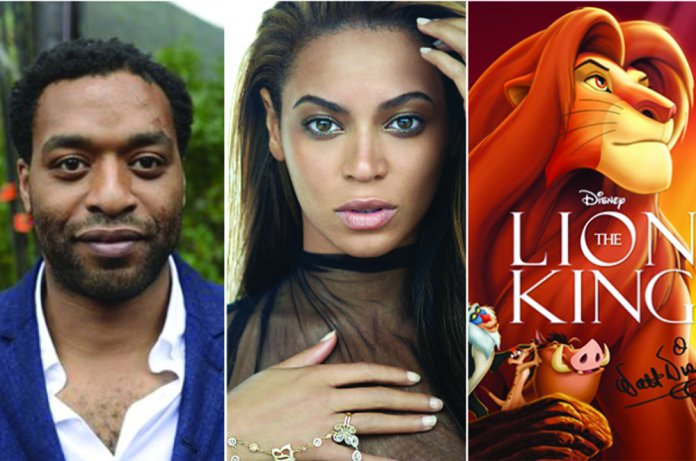 SUPERSATURDAY
Nigerian born British actor Chiwetel Ejiofor is playing Scar, the villainous lion in the adaptation of Disney's animated production, "Lion King", starring alongside superstar singer, Beyonce. Ferdinand Ekechukwu reports
From playing shoe-mad drag queen Lola, to his emotional and searing performance as Solomon Northrup in slave movie, Chiwetel Ejiofor, 41, has proved his pedigree as a great actor. He has also had a string of successes in film, TV and theatre, with his interpretation of "Othelo" earning him critical acclaim. The Nigerian born English actor, Chiwetel Ejiofor, plays Scar, while singer Beyonce, gets the role of Nala in the adaptation of Disney's animated feature "Lion King."  The first official trailer for the upcoming movie was released last week and is projected to hit cinemas in July 2019, according to The Hollywood Reporter. "Lion King" depicts the struggle of a lion cub, Simba who was challenged by a stiff opposition from his uncle, Scar, in a battle regarding who will rule the animal kingdom.
Ejiofor has taken on the role of Scar, the villainous lion and brother of Mufasa, who seeks to usurp the throne from his brother and ends up teaming up with the hyenas. In the same vein, Beyonce plays the character, Nala, the fierce lioness and Simba's childhood friend-turned-love interest. The Lion King marks the singer's first feature film role since she voiced Queeen Tara in Epic in 2013.
Other casts in the movie are Donald Glover, James Earl Jones, Billy Eichner, Seth Rogen, Alfre Woodard and John Oliver. "Jungle Book" director, Jon Favreau worked as the director for the virtual-production of the Disney's 1994 hit. The original "Lion King" grossed more than $968 million worldwide and featured memorable songs from Elton John and Tim Rice.
The award winning actor, Ejiofor had received numerous awards and nominations for acting, including the Academy Award, Golden Globe Award, BAFTA Orange Rising Star Award and Primetime Emmy Award.
He was also appointed Officer of the Order of the British Empire and elevated to Commander of the Order of the British Empire in 2015. The Disney's 1994 cartoon is the ninth-highest-grossing animated film of all time, and won much praise for its score by Elton John and Tim Rice.
It also spawned a stage musical that is still running in New York and London. Including global productions, the show has been seen by an estimated 95 million people. The Lion King is among almost a dozen big titles Disney is planning to release next year, including Tim Burton's live-action Dumbo, sequel to Frozen and Toy Story, and new installments in the Avengers and Star Wars franchises.
One of the biggest Hollywood stars of Nigerian descent, Ejiofor was born on July 10, 1977 in Forest Gate, London, England, to Nigerian parents. Ejiofor attended Dulwich College in South-East London. By the age of 13, he was appearing in numerous school and National Youth Theatre productions and subsequently attended the London Academy of Music and Dramatic Arts (LAMDA).
Ejiofor caught the attention of Steven Spielberg who cast him in the critically acclaimed Amistad (1997) alongside Morgan Freeman and Anthony Hopkins. He has since been seen on the big screen in numerous features including Stephen Frears' Dirty Pretty Things (2002) for which he won three film awards; Love Actually (2003), Inside Man (2006), and American Gangster (2007).
Ejiofor has balanced his film and television commitments with a number of prestigious stage productions. In 2008, his portrayal of the title role in Michael Grandage's "Othelo" at the Donmar Warehouse alongside Ewan McGregor was unanimously commended and won him best actor at the 2008 Laurence Olivier Awards. His other stage roles include Roger Michell's "Blue/Orange" in 2000 which received the Laurence Olivier Award for Best Play, and the same year Tim Supple's "Romeo and Juliet" in which Ejiofor portrayed the title role.
Following his television debut in the series episode Screen Two: Deadly Voyage (1996), Ejiofor complimented his film and theatre work on the small screen in productions including Murder in Mind (2001), created by the award-winning writer Anthony Horowitz, Trust (2003), Twelfth Night or What You Will (2003), and Canterbury Tales (2003).
Ejiofor also appeared in such notable films as Endgame (2009), Channel 4's moving drama set in South Africa for which his performance earned him a Golden Globe Award nomination for Best Performance by an Actor in a Miniseries; Roland Emmerich's action feature 2012 (2009), opposite John Cusack, Danny Glover and Thandie Newton; and Salt (2010), opposite Angelina Jolie and live Schreiber. In 2013, he starred in Nollywood Half of a Yellow Sun (2013) and 12 Years A Slave (2013). He had his first leading film role playing Nicky Burkett in Jeremy Cameron's It Was an Accident (2000).