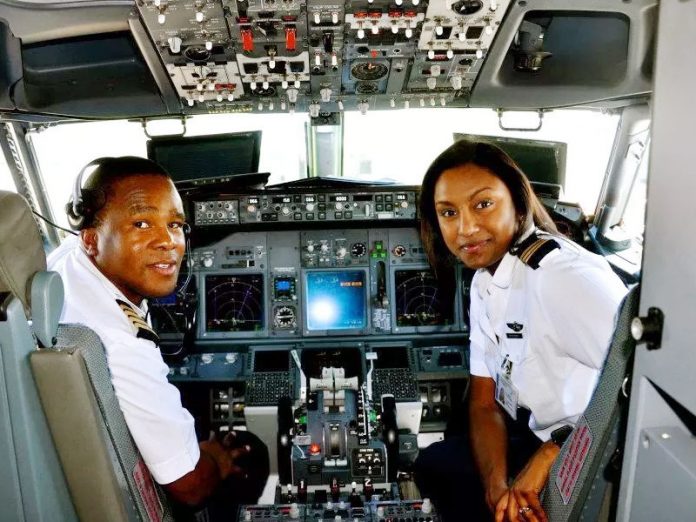 Nigerian pilots for some time have been demanding that they be paid in dollars and given the same treatment extended to their expatriate counterparts, but some industry players are of the view that such demand is outrageous, writes Chinedu Eze
In the aviation industry pilots are first among equals. The training they undergo, the precision of their job, which brooks no mistakes and the level of discipline and health status required of them, make it inevitable that they must be highly placed.
The rigour and the financial requirements before a pilot will become qualified to take airplane from one destination to another for reward, places them at the apogee of the industry. Everyone in the industry recognises that and pilots arguably may be the most regulated professionals in conventional jobs in the world.
This apparently could be the reason why Nigerian pilots recently started agitating that they be paid in dollars like their counterparts in some other countries and also urged that they be given incentives just like their counterparts in China, Middle East and other places.
Paucity of Pilots
Former inspector with the Nigerian Civil Aviation Authority (NCAA) who is also a seasoned pilot, Captain Uche Ojadi in reasoning with the pilots, told THISDAY that there should be international standard regarding the welfare of pilots because pilots can move from one country to another and pick jobs, so they have to be treated the same way they would be treated elsewhere.
"There should be international standards. You have to take cognisance that you are operating in a competitive environment and that there is scarcity of pilots, so if you don't treat them well they go to other places.
"Different companies pay their pilots differently. So if you wish to retain the pilots you pay them reasonably. Everything depends on the package," Ojadi said.
But the CEO of Aero Contractors, Captain Ado Sanusi, argued that the demand that pilots in Nigeria should be paid in foreign currency is not legitimate because they work in Nigeria and should be paid in the local currency.
He argued that such move could lead to the dollarisation of the Nigerian economy which the Central Bank of Nigeria (CBN) has been battling against.
"It is not a legitimate claim for them to demand to be paid in dollars. They are working in Nigeria and everything they want is here.
"If they want to be paid in dollars they should get work outside Nigeria. No industry can do it and survive even in the oil sector," Sanusi said.
He explained that Nigeria's currency is the naira and so the pilots should be comfortable with being paid with the currency of the country they are operating in.
In his contribution, the Managing Director of OAS Helicopters, Captain Evarest Nnaji, pointed out that every country uses its own currency to transact business and Nigeria should not be different.
He argued that any pilot that wants to earn salary in dollars should go to the United States.
"We should realise that there is no job now for many pilots so they should not be making such demands because you dictate where you have upper hand; you don't dictate in a situation where another pilot can be invited to replace you when you do not wish to continue with the job," Nnaji said.
According to him, pilots who are expatriate could earn more because they are not operating in their own country and such welfare would be extended to Nigerian pilots when they are working outside their country.
According to him, this takes care of the inconveniences of moving from one country to another and the attendant issues that go with that.
"The disparity in salary between expatriate pilots and Nigerian pilots has to be there. The expatriate pilots leave their country and face stringent conditions, so they deserve more. "Nigerian pilots cannot get what they are asking for because it is not possible. They are not being realistic and if they said that they should earn the same salary with expatriates I will work with the expatriates because when they come here they face the job and concentrate and do it.
"They wrap themselves around the job. They do not tell you they are going for burial or social outing or request for undue holidays," he said.
Disparity
Sanusi, also spoke on the disparity between pilots and other personnel in the airlines, saying the gap should be managed so as not to breed animosity among other personnel.
THISDAY gathered that aircraft engineers have also argued that their job is very critical to the safety of the aircraft and successful operation of flights.
According to them, there should not be such a yawning gap in welfare between the pilots and the engineers.
In addition, it was learnt that the cabin crew of scheduled flight service and others also believe that they work with the pilots who are the cockpit crew and their work is inseparable because they provide essential service for successful flight operation. They noted that while the pilots manage the equipment, the cabin crew manage the passengers.
"The disparity should be managed properly because it can cause misunderstanding with the rest of the industry.
"If you say China is paying so well and Middle East is paying so well, it does not make sense paying pilots humongous salary against others who earn less. The big gap can trigger animosity," Sanusi said.
Comfort
Spokesman of one of the major airlines told THISDAY that pilots are given pride of place in any airline because of the enormous work they do and the long time spent in training and huge cost incurred in doing so.
"We pay a lot of attention to our pilots. We have quarters for them, except those who do not wish to stay in the quarters. We provide them electricity 24 hours.
"If there is one minute of power outage they will become outraged. We provide them with vehicles that convey them to the airport. We provide them aides and cook for them. Besides fuel and maintenance, they take the third huge toll on the airline revenue.
"In fact, other staff earn peanuts compared to what pilots earn. So we spend millions of naira on their accommodation, their total upkeep and we pay them huge salary," the spokesman who pleaded to remain anonymous said.
However, a reliable source from another airline told THISDAY that the pilots that work in his airline have not made any agitation about being paid in dollars.
"I have not heard that from them; that they want to be paid in dollars. It is even against the law. It is only expatriates that we pay in dollars.
"Our Nigerian pilots never demanded that they be paid in dollars. We also have not received any grumble from other workers because everybody knows that pilots are paid specially. "They spend so much money on their training. However, cabin crew believe they are being cheated; that they are all crew, so they should be paid equally," the source said.
Bonding
Industry observers said that Nigerian airlines have faced a lot of challenges with indigenous pilots. There was a time domestic carriers relied more on expatriate pilots, which literally created a big hole in their finances because the foreign pilots would work for six months and spend another six months on holidays overseas, with the airline footing the business class ticket for their trips.
The country lacked young captains because there was disruption of training pilots beyond private pilot licence since the demise of Nigeria Airways Limited (NAL).
According to them, because of this the airlines depended on the residues from the defunct national carrier and augmented with expatriates. The airlines had also made attempts at bonding pilots, whereby they train them and after the training they spend specific time with the company before they would be legally allowed to leave if they wished to. But this was not successful because most of the pilots who benefited from that arrangement reneged, thus putting the airlines in a quandary.
THISDAY gathered that the airlines had sought the intervention of NCAA, which at a time said that despite the bonding arrangement, pilots cannot be stopped from moving to another company whether locally or overseas whenever they wished to. This has discouraged many airlines from training pilots, but very few still do, like Caverton Helicopters, Bristow and Air Peace
Foreign Jobs
THISDAY investigation also revealed that many Nigerians who travelled to the Middle East to work for mega carriers earn far much more than they do at home. But recently, a pilot disclosed that the airlines "delude" you into living a life of paradise because with the name of the airlines you get anything you want and pay for it thereafter.
"Before you know it you begin to live on credit and at the end of the day you realise that you have saved nothing. Those back in Nigeria are accomplishing a lot of things while we live big and earn big overseas. That is why some of us decided to come back," a pilot confessed to THISDAY.
It is also similar experience for some of the Nigerian pilots that travelled to other parts of the world. Some of them believe that coming back home help them stay with their families.
"Many Ethiopian pilots consider it an honour coming home to fly for Ethiopia Airlines, even if they earn less. There is inward satisfaction you get working at home.
"You look at whatever challenges in the face and solve them. Working overseas gives you a sense of international tinge though, but I believe you accomplish more when you are at home and you also help more people," the pilot also said.
Sometime ago the former Director General of NCAA, Dr Harold Demuren urged airlines to train more female pilots because female pilots don't move from one country to another as their male counterparts do. He said that female pilots are eager to settle down and they would like to stay in their country.
Outside world beckons on pilots and because they are always in high demand, they often succumb to the temptation of leaving their home country. Industry observers are of the view that the stringent condition is being given by some pilots to Nigerian airlines. But from all indications, the airlines are not likely to succumb to the pressure.