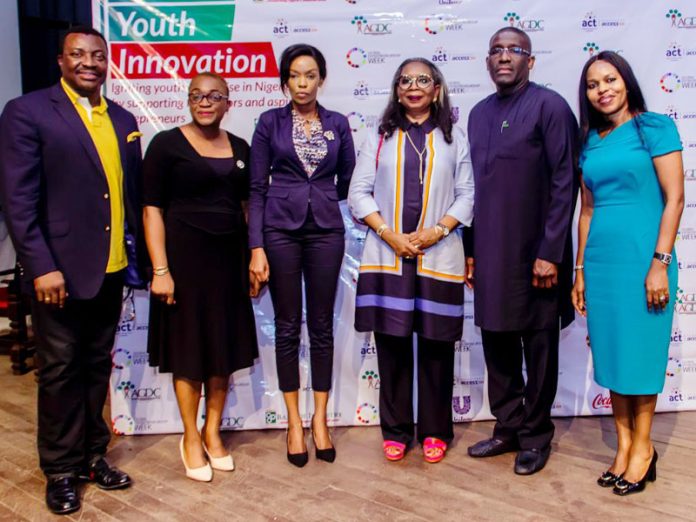 As part of efforts to support innovation and entrepreneurship in Nigeria, the Afterschool Graduate Development Centre recently organised the Ignite Youth Innovation in commemoration of the Global Entrepreneurship Week. Sunday Ehigiator who attended the event reports
The Global Entrepreneurship Week (GEW) is an international initiative that introduces entrepreneurship to young people in six continents. It began in 2008 as a result of Enterprise Week UK and Entrepreneurship Week USA, 2007. GEW is an annual event organised every November 12-18.
As part of activities marking the event this year, there was couple of competitions in 170 countries which was aimed at inspiring millions to engage in entrepreneurial activities, while connecting them to potential collaborators, mentors and investors.
The initiative was supported by world leaders and a network of more than 15,000 partner organisations, which included the Ignite Youth Innovation (IYI) in Nigeria.
The IYI Nigeria which is being organised by Afterschool Graduate Development Centre (AGDC), as part of its commitment to promote entrepreneurship and innovation.
The event which had in attendance large number of youths was held in Lagos.
In her welcome address, the GEW Ignite Youth Innovation, the Executive Director, Afterschool Graduate Development Center (AGDC), Mrs. Funmi Adeyemi, said in light of the recent economic downturn, development strategies that create new jobs and support the growth of businesses are of greater need than ever.
She also noted that micro-enterprises play a critical role in this quest as they account for a larger share of newly created jobs, adding that only a fraction of these start-ups survive for more than two years or even develop into the high-growth firms.
Adeyemi, explained that amongst the biggest barriers to confronting the sustained growth of micro-enterprises are lack of access to training, development support, and access to funding.
The AGDC ED further stated that the youth ignite project under the Bank of Industry's (BOI) Microenterprise Finance Programme (MFP) seeks to address the challenges highlighted above by supporting one million entrepreneurs to create 5,000,000 jobs over the next five years.
In his address, the guest speaker, Mr. Atunyota Akpobome, also known as Ali Baba, noted that passion is a necessary recipe that would make an individual to succeed in any chosen endeavour.
He also stated that in aspiring to become a professional in any field or career, an individual must set out target objectives of he/she needs to do to achieve such dream, adding that those objectives would drive the individual's passion.
Akpobome advised the youths to carry the necessary ingredients for success in a particular career or business, they want to venture into.
"When I decided I was going to become a comedian; you would think that it was my graduation examination. Not now, when you have comedy videos, books and everything to read; then the only thing that I could pick to read from my University then in Ekpoma was the encyclopedia Britannica or Americana Encyclopedia.
"Those were the Google and YouTube at the time. But now you have all of what you should use.
"The entertainment business is big. The truth is that if you become a comedian and you are very good, in less than one year you can buy yourself a N3, 000,000 car.
"If you become a musician and you are very good, you can buy a house in one year. If you become a film maker and you are good, you can buy a house and a car in one year. If you become a dancer and you are good at it, you can have a production and make a lot of money in one year.
"When I stepped on this stage in 1988, Bisi Olatilo introduced me. He said this guy here is going to change the face of comedy. This hall was filled and people were making noise, laughing and making jest of me.
"Despite the seemingly unfavourable atmosphere I was able to successfully turn the table around and make the crowd laugh," he noted.
He explained that whatever talent an individual might have in the entertainment business, may not be considered a talent until the individual is able to sell it, "once you sell it, then it becomes a service."
The Comedian advised the youths to package their talent as a service in order to use it to eke out a living, "if you know how to sing, until somebody sees value in that singing, it is worthless."
Akpobome, explained that there is need to learn money management especially if an individual is coming into entertainment, adding that the individual must not own certain things, therefore, he can lease and if he can't lease, he can borrow.
He further stated that for those in the fashion business, Instagram has made it possible for them to make it big, adding that it has huge potential for the fashion designer and they can make a lot of money from it.
He advised them to think about the business opportunities in the entertainment industry and avoiding going into the industry for fame as most people do.
According to Akpobome: "It is not all about the fame, you have to manage money. I have four children who are in the University, so if I am spending my money like a Wizkid does, how do I pay for their school fees?
"There are some comedians that actually run out of money because they compare themselves to other people.
"Also, be deliberate in the marketing of your talent, because even God said you should market him, when he said "go into the world and preach the gospel"; that's marketing.
"Let me teach you another style of marketing, sell yourself, don't say "they know that I have the skills" you will be broke!
"Always know that every time you have an idea, the competition will take it. That is normal. But the kind of place that you can get through with competition is great.
"And the only way you can go through them is to always be a step ahead in the competition. Once you find a problem, before you find a solution, you must study the market properly."
He said further: "You must understand timing. You must know the market, and you must know the people you are performing for. It is important for you to understand the business you are coming into, learn it properly, whatever technology is needed to grow it, apply it. You have to develop yourself and make sure you are needed at every time."
In her keynote address, the Chairman of AGDC, Mrs. Ibukun Awosika, noted the challenges the society, saying that individuals need to understand that there are core causes which are dependent on how the individual considers those challenges.
She also stated that if an individual learns to understand that opportunities represent solutions to problems, he/she would need to fix those problems as a measure to provide solutions.
"Truly, there are challenges but you know it's a matter of the core causes. How core are those causes depends on how you look at them.
"You can look at Nigeria and all you see are the troubles, you will be totally overwhelmed and burn out. But if you learn to understand that opportunities represent solutions to problems, therefore you need problem in other to provide solutions.
"What that then tells you is that, the state of Nigeria in the time and season that you were born does not make it a very fertile ground for you to do some amazing work; I am always about what do you see?
"So in the midst of the problem, there is order. And order is the ability to zero into the madness that you see, and find the pattern that is the solution. Provide solution that someone is able to pay you for," she noted.
Awosika further stated that every solution that an entrepreneur wants to create in business has to be solution centered.
She added: "Globally, seven out of 10 businesses die every two years. Those are global statistics. Because you know, everybody would rally around you for you to get started. But when your two years rent expires and you need to pay the next rent; if the business itself cannot generate the money to do it, you are dead.
"So it's not about you, but about the need you and how do you deliver it. You are not solving a need if you provide a facility that the people in the community cannot afford, so always put the people first and never doubt the power of humble beginnings."