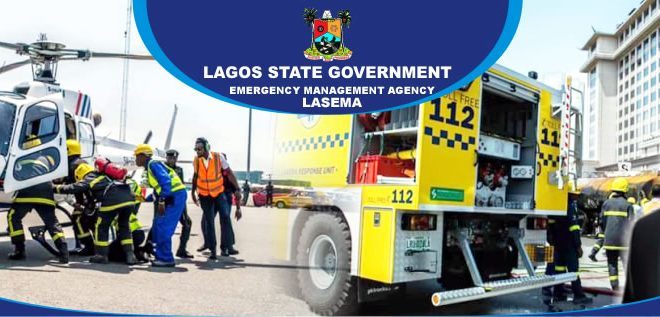 The Lagos State Emergency Management Agency (LASEMA) has urged Lagosians to be safety conscious to demystify the negative report about the ember-months of September to December periods of the year, said to be often characterised by major emergency/disaster such as auto crashes, fire outbreaks and other tragedies that often claim lives and properties.
Speaking in his office at the Secretariat, Alausa, the General Manager LASEMA, Mr. Adesina Tiamiyu, noted that the period is mostly characterised with so many activities and high vehicular movement of people and goods in and out of the state with the festive activities of Christmas and New Year celebration.
In a statement issued by LASEMA Spokesperson, Adebayo Kehinde, the general manager expressed the need for attitudinal change of the people, especially motorists/commuters who feel the ember months are the time to double their hustle.
He said in a rush to make more money and to get to their various destination at the least possible time at this period, these set of persons trigger major road accidents, which are caused by over speeding/reckless driving, drinking of alcohol and not adhering to traffic rules.
He emphasised that the ember months are just like every other month of the calendar year and as such, motorists are advised to ensure necessary safety precautions are strictly adhered to while driving, noting that erring offenders  would be prosecuted by the state government.
Tiamiyu stressed that LASEMA, Lagos State Fire Service, Lagos State Ambulance Service (LASAMBUS), Lagos State Traffic Management Authority (LASTMA), Nigerian Police Force, Nigeria Security and Civil Defence Corps (NSCDC) and all the other agencies that are important in the management of emergencies in the state have been put on red alert to secure and protect the lives and properties of people living and doing business in the state.
He attributed one of the major causes of fire outbreak during ember months to the air becoming dryer, which he said encourages chain reaction of fire.
He also cited cases of not switching off of electrical appliances when not in use, which he said sometimes results to electrical fire outbreaks in public places like markets, malls and homes e.t.c, which are often difficult to control because of the dry season.
He advised people to adopt electrical safety measures such as always switching off electrical appliances when not in use, avoiding naked wires, avoiding storage of combustible substances such as (PMS) petrol and kerosene to avoid fire outbreak.
Tiamiyu however hinted that in a bid to stem occurrences of major disasters and emergencies in the state, the agency as part of its advocacy programme will be embarking on road show to sensitise Lagosians on the Lagos State Emergency Toll Free Line  112/767 as well as jingles on various media platforms on emergency prevention/mitigation.
Finally, he re-affirmed the commitment to Governor Akinwunmi Ambode at providing the necessary equipment and support, as well as his agency's readiness in the management of emergency/disaster in the state through prompt intervention and extending its tentacles to all the nooks and crannies of the state.