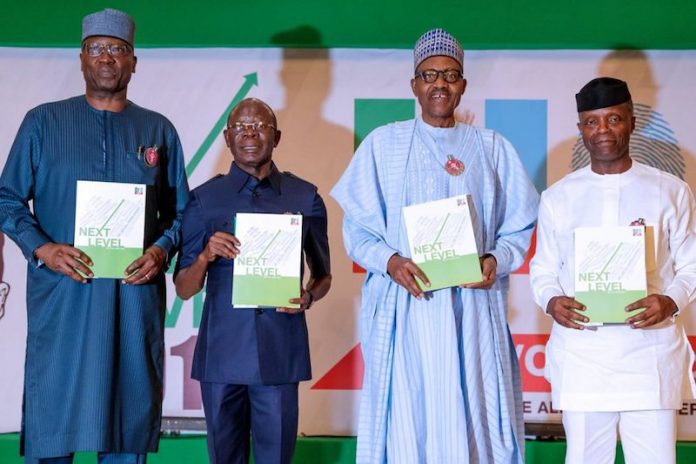 Hours after it launched its 2019 presidential campaign amidst pomp and circumstance, words came out that the 'Next Level' campaign logo might have been plagiarised from a British educational institute. Samuel Ajayi examines President Muhammadu Buharis government's perceived notoriety for plagiarism and why the latest development does not bode well for his second term ambition. And for his own campaign, the PDP candidate, Atiku Abubakar, has gone abroad to hire an advertising agency even when he promised to make Nigeria work again
After the Pomp Comes the Bomb
What was launched with pomp and circumstance may soon become a subject of litigation going by accusations of plagiarism as some have claimed that the 'Next Level' campaign logo of the 2019 Buhari Campaign Organisation may have been copied from an academic institute in the United Kingdom.
While many brand experts have been picking holes in the campaign and even the concept of next level, perhaps, the handlers of the presidents second term project have a bigger issue on their hands: accusation of plagiarism. Observers have indicated that the Next Level logo of the Buhari campaign is strikingly similar to that of the Rex Institute of the Winthrop University in the United Kingdom.
The similarities of the two logos were so glaring that even those who developed the APC/Buhari concept and those who commissioned them would be wondering if they did any check on the net before going to town with the slogan and logo.
For instance, the V and X letters in the two words, NEXT LEVEL, are connected by extending the right hand of the single V chevron to form the rightward crosser of the X in the NEXT word.
Rex Institute Re-affirms Logo Ownership…
Dr. Kelly M. Costner, Associate Professor and NEXT LEVEL Project Coordinator at the Winthrop University, which runs the Rex Institute, said next LEVEL (including the brand signature, colour schemes and creative concept) is the intellectual property of Winthrop University. According to Winthrop, it stands for NExT LEVEL: NETwork for Leading Education that Values English Learner.
The institution explained that NExT LEVEL provides professional learning opportunities for educators from pre-service to in-service to the district and higher education faculty aimed at meeting the unique needs of English Learners and their families.
Perhaps to affirm its ownership of this intellectual property, the university further stressed that "NEXT LEVEL is a project of the Winthrop University-School Partnership Network in collaboration with Fort Mill School District (York 4), Lancaster County School District, and Rock Hill School District (York 3). NExT LEVEL is a professional development programme grant funded by the US Department of Education and administered through the Office of English Learner Acquisition."
And Now, Threat of Legal Action
Acting through its lawyer, Sue Lavache, the Rex Institute has called on the leadership of the All Progressives Congress (APC) and the Presidency to stop the use of the logo forthwith. The lawyer wrote: Without prejudice, it has come to our attention that the All Progressives Congress Party of Nigeria has stolen the intellectual property right of our client, The Rex Institute. As you can see from the attached visuals, the logo your Party has just unveiled and which is being promoted by the Leader of the Party and the President of Nigeria on his Twitter feed is a direct copy of that of our client, with just a small colour change in the arrow.
However, every other element from the name, font and design is identical. In fact, in my entire legal career, I have never seen such a blatant piece of plagiarism. We, therefore, demand that you immediately cease and desist in any use of the logo and make every effort to recall and destroy all materials, which have already been disseminated, failure to do so within seven days will leave our client with no other option but to seek full legal redress via the Nigerian courts.
Buhari Not New to Plagiarism
Perhaps, it seems plagiarism is not new to the Buhari government. It is as old as the government itself. On September 8, 2016, while launching the new campaign on anti-corruption, Change Begins with Me, President Buhari delivered a speech that touched on the need to build a new Nigeria that would do away with pettiness and partisanship of the past. Here are his words: We must resist the temptation to fall back on the same partisanship, pettiness and immaturity that have poisoned our country for so long. Let and summon a new spirit of responsibility, spirit of service, of patriotism and sacrifice; let us all resolve to pitch in and work hard and look after, not only ourselves but one another. What the current problem has taught us is that we cannot have a thriving army of rent seekers and vested interests, while the majority suffers.
It was later found out that virtually every word of this excerpt of Buharis speech was not authored by him at all.
Writing on the speech, Adeola Akinremi, a columnist with THISDAY Newspaper wrote that Buhari and his handlers might have picked their words from a speech delivered by Barack Obama, former president of the United States of America when he was first elected in 2008.
On November 4, 2008, Obama had addressed a crowd of his supporters after the election and below was what he had to say to the ecstatic crowd on that fateful day.
Lets resist the temptation to fall back on the same partisanship and pettiness and immaturity that had poisoned our politics for so long. So, let us summon a new spirit of patriotism, of responsibility, where each of us resolves to pitch in and work harder and look after not only ourselves but each other. Let us remember that, if this financial crisis taught us anything, its that we cannot have a thriving Wall Street while Main Street suffers.
Buhari later promised to punish the presidential aide, who was responsible for the plagiarism. But it remains to be seen if anything was heard again after the initial furore had died down.
No Plagiarism, but Atiku Has gone Offshore…
While the APC and its presidential candidate, Mohammadu Buhari, are battling allegations of plagiarism, his Peoples Democratic Party, PDP, counterpart, Atiku Abubakar, is facing backlash from Nigerian creative agencies who are accusing him of going abroad to hire an agency to handle his presidential campaign. 
THISDAY checks revealed that two agencies, one advertising and the other public relations, had pitched for the job and they had submitted creatives which they had spent millions from. But to everyones shock, a foreign agency, London Advertising, was hired to handle the campaign. 
A top marketing communications practitioner told THISDAY that if Atiku really wanted to make Nigeria work again, then he should have trusted Nigerians agencies to handle his presidential campaign. 
He cannot be claiming to be trying to make Nigeria work again, yet he would not trust Nigerian agencies to handle his presidential campaign. It does not send the right message about his commitment to make Nigeria work again. There is no way a foreign agency will understand the local nuances needed to produce attention-catching campaign materials, he stated. 
Ironically, perhaps the best presidential campaign every run in the country till today was the MKO Abilola Hope 93 campaign and it was handled by local agencies. And these were Rosabel Advertising Limited and Eminent Communications Limited. They produced very strong campaign materials that made even the issue of Muslim-Muslim ticket thrown up become irrelevant. 
Efforts to reach the spokesperson of the Atiku Abubakar Campaign Organisation, Segun Sowunmi, did not yield any positive result as his phones, which were initially busy, could not be reached before going to press. However, sources close to the Organisation said he would have personally preferred a local agency was hired to run the campaign. Sources also told THISDAY that London Advertising is said to be looking for local agencies that could help it run the campaign. 
Plagiarism as National Embarrassment…
A top public relations professional, who did not want his name in print but whose agency has handled so many successful campaigns said the issue was a national embarrassment. He, however, said before the ruling APC and the Buhari Campaign Organisation were taken to the cleaners, a question must be asked about the professional capabilities of the agency that produced the concept. He also added that questions must be raised on how the agency if at all it was a Nigerian agency, came about the job.
Professionally, it is a very serious offence and morally it was unacceptable. Let me also say that it is a national embarrassment to us. I dont even know which came first. I don't want to believe that a Nigerian agency actually did the creative and this calls to question, issues about our home-grown talents.
Was that created by a Nigerian agency? If it was, do we know the agency? Before I criticise the client, which happens to be the APC now, I will, first of all, kill the agency that did such a job. And the reason is that in this situation, the client is even a victim. That is the point. If it was a Nigerian agency that did the job, how did it get the job? Was there a pitch?
He said the client, APC, is a victim, because of its lack of appreciation of talent. He added that even if you look at PDP, there was no creativity in the campaign. He lamented that the two leading parties always prefer foreign agencies that do not understand the nuances of the nations political environment.
If a president that wants to govern Nigerians and speak to the nation prefers to go and hire a foreign agency to handle its communications, what do we say to that? he asked.
Ganiyu Ajagbe, a creative artist based in Lagos, said the similarities were too striking to be ignored. The concepts were of same brand ideas, same brand typeface, same brand icon (i.e. letter v with an arrow pointing up) but different brand colours. While the university used black and magenta, Buharis campaign team adopted green and red colours. The similarities are just too many to be ignored.
Is Plagiarism Now a Way of Life in Nigeria?
After the uproar that greeted the latest intellectual faux pas on the part of the ruling APC and the Presidency, facts have emerged that plagiarism might have actually become an intellectual way of life amongst Nigerians, especially those in the academic sector.
Earlier in the week, a national newspaper (not THISDAY) had quoted a former Executive Secretary of the National Universities Commission, Prof. Peter Okebukola, as saying that over 60 per cent of project reports of Nigerian undergraduates are plagiarised. He added that the rate of plagiarism as a form of academic corruption at master's level was between 15 and 20 per cent and eight per cent at the PhD level.
Aliyu Maaji, a public affairs commentator said the rate of plagiarism in the country is alarming.
It is not about partisanship. It is a national embarrassment. Apparently, the quality of a country's graduates determines the quality of its intellectual output. And this also raises a question about the capacity of our leaders at the highest levels to source and exploit the right talents to help them run this country. 
As is now, it is only a matter of time before Winthrop University learns of this theft and sues.  Then Nigeria will be on CNN for all the wrong reasons once again