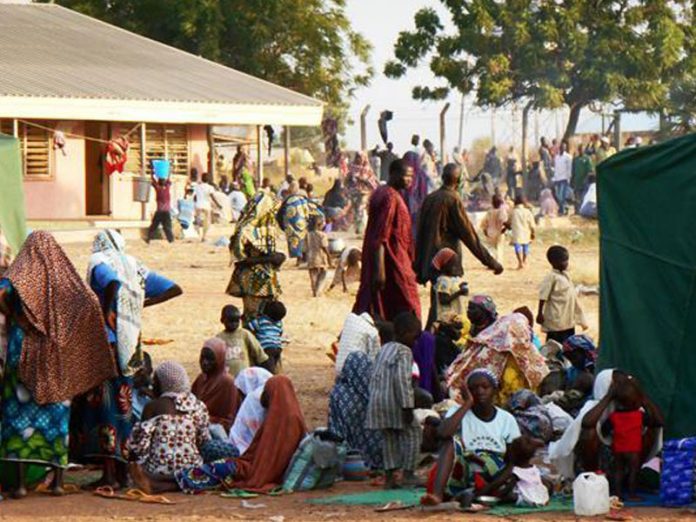 Sunday Ehigiator
The United Nations has partnered with leading Nigerian companies in the banking, energy, legal and consumer services sectors to assist the federal government to tackle the humanitarian crisis in the north-east.
The United Nations Nigeria Humanitarian Fund-Private Sector Initiative (NHF-PSI) was launched recently in Lagos, marking the first time that the private sector is collaborating with the United Nations through a country-based fund that pools resources to deliver humanitarian aid to people in need.
The crisis triggered largely by the ongoing conflict in Borno, Adamawa and Yobe States, have claimed the lives of 27,000 people in the last decade.
Today, more than seven million vulnerable women, men and children are in need of life-saving aid, such as food, safe water and medicine.
In his address, the Group Chief Executive Officer of Oando Plc, Mr. Adewale Tinubu, expressed delight in being part of the initiative, noting that it was a unique opportunity for the private and public sectors to collectively offer solutions to a local humanitarian crisis.
He also stated that the Nigeria Humanitarian Fund-Private Sector Initiative created hope for the disadvantaged citizens and also promoted social development for the nation.
Speaking at the event, the UN Resident Coordinator and Humanitarian Coordinator in Nigeria, Edward Kallon, said the initiative presented a unique opportunity to create a blueprint for future private-sector engagement in humanitarian actions across the globe.
He added that investing in the vulnerable people of the north-east was an investment in humanity that would last for generation.
In his address, the founder, Zenith Bank, Mr. Jim Ovia, stated that the private sector and the UN could take meaningful, high-impact decisions and actions, "merging our money and our minds, helping our countrymen, and building on the progress made so far."
At the event, 14 companies and groups announced their support for the NHF-PSI, and would join to form a steering group, the collaborative efforts of which would raise awareness and resources, while promoting innovative solutions, to support humanitarian action in the north-east.
Members of the Steering Group, co-chaired by Ovia, Kyari Bukar of the Nigeria Economic Summit Group, include Group Chief Executive of Oando Plc, Adewale Tinubu; Group Head Marketing and Corporate Communications, First Bank of Nigeria Limited, Folake Ani-Mumuney; Partner, Templars Law, Olumide Akpata; Managing Director, Ecobank Nigeria Plc, Patrick Akinwuntan; Group Managing Director, Access Bank Plc Herbert Wigwe, and others.