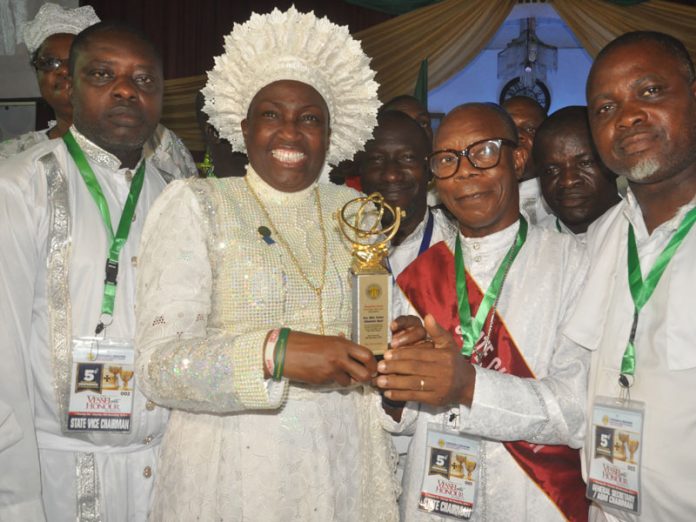 It was a truimphant gathering of saints as the members of the Cherubim and Seraphim Unification Church of Nigeria, Lagos State chapter, recently marked its fifth year anniversary
To celebrate it's fifth year anniversary, members of the Lagos State chapter of the Cherubim and Seraphim (C&S) Unification Church of Nigeria, recently converged on St. James C&S Church, Aboru, forthe annual general conference and thanksgiving ceremony, to chart anew course for the church.
When the Local Organising Committee (LOC) of the state chapter under thechairmanship of Dr. Joseph Adagba, chose 'Vessel unto Honor' as the theme of the ceremony, they never had an inkling of the impact such a topic will have on theparticipants at the conference.
For several months great efforts and planning were put in place toensure that the conference turned out to be a huge success, and it was. The conference was declared open on November 8.
Declaring the conference open, Apostle Dr. Emmanuel Omoniyi Owomoyela, Chairman, National Executive Council, C&S Unification Church of Nigeria representing the Supreme Head of the Church, Dr. Solomon Alao, congratulated the host state and church for the huge success of the event and the great role the chapter is playing in the
development of the church.
"We are proud and happy to be associated with this chapter and therole they have played over the years. This is the fifth in the series and by God's grace it has always been an event we look forward to. You can see for yourself the huge turn-out of Seraphs all over Lagosstate.
"This event was an avenue for seraphs all over the state to interact,exchange ideas and deliberate on how to move the body of Christ forward. The theme of the lecture "Vessel unto honor' was also an interesting one which was delivered perfectly. The theme could not have come at a better time as God is interested in what we make of
ourselves, so we must be something God will see and rely on. It was a call for re-awakening as Christians," he said.
His thoughts were also shared by the man of the moment and the LOC Chairman, who while delivering his keynote address called for a fresh awakening amongst seraphs all over the state and the country at large.
He said: "We still have a long way to go in Cherubim and Seraphim. I am a born seraph and I don't mince words to tell whoever cares to listen that, but I am not pleased with what I am seeing and it is time to change
the narrative and make ourselves useful to God and the theme "Vessel unto Honor" could not have come at a better time. I thought deeply before arriving at that theme. I want all seraphs to wake up, think
and start and get going because the journey is still very far."
He further showered encomium on the guest lecturer, Dr. Adebayo Adeniji, for doing a thorough job on the theme of the conference.
"I am happy that the lecturer did a great job on the topic for those who want to listen" he added.
Speaking on the journey so far, Adagba said it gives him great joy to see the successful outcome of the program. "Before our regime, there has never been anything like an annual general conference, there were other programs, but when we came in, we meditated and put our heads together and put this conference together and we thank God that since we started this, we have been calling churches together and the turnout has always been massive. Some
churches are still standing aloof, but I know that very soon, they will all come on board. It gives me great joy that we seraphs can come together and reason together and deliberate on how to forge ahead to
chart a new course for ourselves" he said.
Adagba also used the occasion to reveal that all plans have been put in motion to bring in every member of the church together under one big umbrella.
"We have set up a committee that is looking at bringing everyone under one roof, we called them the Planning Development and Research committee, they are going to the nooks and corners of the state to bring in churches who are still outside, they will surely come in as their coming in will be to their benefit".
He also called on Nigerians to vote their conscience and not be swayed by money or material things ahead of the upcoming general elections in the country.
"Our country has been going through a difficult period in the last few years. As true citizens, let us continue to pray for her, for those in authority and for all of us in Nigeria. I urge our members to perform
their civic responsibilities to the best of their conscience. Nigerians should not allow themselves to be swayed by money or material things ahead of the upcoming general election in the country," he admonished.
This assertion was also shared by the Secretary-General of the Church, Apostle Olatunde Ogunkunle. He said Nigerians should look out for the pedigree of each candidate and what they have been able to achieve before making a choice.
He said: "They should try and look at where we are coming from, so we may know where we are going to. I do not want us to vote based on propaganda and false promises that may never be kept. I pray that God will help us to
make the right choice at the end of the day."
He was full of accolades for the host of the event for the great job that was done. "This has always been a great event as the Lagos State chapter of the C&S Unification has always been our flagship chapter and it glorious that they are having their fifth annual conference and God has given them the grace to put an event of this magnitude together" he gushed. He also urged all members of the church to remain steadfast as God is able to do all things. He enjoined every ember to always ensure to make themselves vessel unto honour.
In her speech, Rev. Mother Esther Abimbola Ajayi said the conference affords every member of the church to take stock, appraise themselves and be reawakened to their roles and contributions towards fostering unity and upholding the objectives of the great church of God. According to her, "this event is another occasion for us to take a chance at stocktaking, internal appraisal, and the reawakening of our roles and contributions to fostering unity and upholding the objectives of this great church of God. Our image is a very important weapon of evangelism, many people can be misled or persuaded based on our image."
Ajayi who is the head Minister at the Love of Christ Generation Church, London, also enjoined everyone to support and those in the drive to take the church to the next level. She was also full of gratitude to the Lagos State Chapter for making her the special guest of honor at the event. The event was also an avenue to shower recognition on deserving individuals in the church who have contributed in no small measures to the development of the church. One of such deserving personalities was Dr. Oluseye Yomi O-Sholoye who was bestowed with an award for her tireless effort to chart a new course for young seraphs and every member of the church with her various empowerment programs through her New Seraph Initiative. Speaking after receiving the award, Dr. O-Sholoye, who said it gives her great pleasure to be a recipient of the award, noted that, "it surely feels so good to be appreciated and that our efforts in C&S are well appreciated and acknowledged, this will spur me to do more." She revealed that plans are already in the pipeline to bring the women empowerment program to the Good Women Congress very soon as a follow up to the existing programme, where over 100 women received funds to go into small scale businesses.
The chairman, Planning Committee of the conference, Dr. Rotimi Odugbesan was full of gratitude to God for the success of the conference and gratitude to everyone who made the event a success. "I give glory and adoration to God of heaven for making this event a success and for making it possible for us to assemble for the fifth time in the series of the annual general conference of the Lagos State chapter of this great church," he said. Speaking further, Odugbesan expressed his gratitude to Rev. Mother Ajayi for her support and involvement, and to Dr. Yomi-Sholoye for her kind gestures and support to the chapter as well.
"My profound appreciation goes to the great icons of the church, Reverend Mother Esther Abimbola Ajayi whose involvement in this year's conference contributed to the success and I cannot but mentioned Dr. Yomi-Sholoye for her kind gestures and support to the chapter" he concluded.
As we look forward to the next event, according to Dr. Adagba, it will even be a bigger, better and more befitting event with another captivating lecture