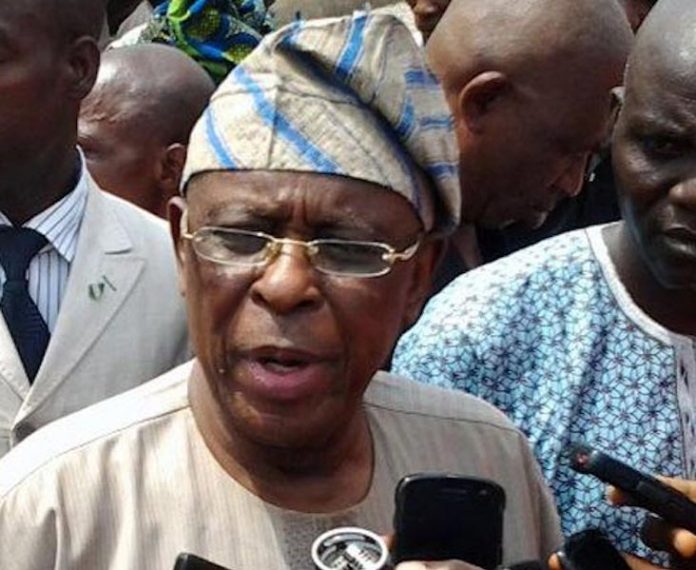 Onyebuchi Ezigbo in Abuja
Former Governor of Ogun State, Chief Olusegun Osoba, has given an insight into how state governors stood up to the former president, Chief Olusegun Obasanjo, at the advent of the Fourth Republic in 1999.
He said they were able to check the excesses of the Obasanjo-led administration due to the unity and solidarity among them.
Osoba's revelation came yesterday just as resource control resonated in Abuja at the launch of "It's Well with My Soul," a biography of former Governor of Akwa Ibom State, Obong Victor Attah.
Speaking on the intermittent face-off between the governors and the former president while in office, Osoba said the governors had to come together to confront the federal government in order to secure their rights.
He also gave credit to Attah whom he said stood his ground most of the time as the Chairman of the Nigeria Governors' Forum (NGF) to fight any perceived injustice against states.
He said, "I am happy to say that Obong Attah is from the PDP, I am from the AD. The AD group made up of the late Lam Adesina, Bola Ige and Bisi Akande, when we speak, to our surprise Obong, who is of the PDP will take it up from there, contributing intelligently to issues raised. It is on the ground of his style of leadership that we were able to cage former President Obasanjo."
Osoba hinted that Obasanjo's predecessor, General Abdulsalami Abubakar (rtd) left a huge sum of money that was to be shared to the new civilian governors but the former president seized it.
According to him, "The first thing Obasanjo did was to seize the money and use it to buy vehicles for local government councils. We kicked against it, went to court and we won. On the Fiscal Responsibility Act, he (Obasanjo) said he would not implement section 8, where all revenues were to go into an account from where it will be distributed according to the constitution.
"When it became almost impossible, we went to court and we won. In all of these, it was Obong Attah that was in the forefront of all these struggles."
Osoba, who recounted how governors in those days rallied behind Attah and other Niger Delta governors to agitate for resource control, expressed reservations on the quality and character of those aspiring to become governors these days.
"I want to appeal to all of us that we should go back to the characters that formed government in 1992 and 1999.
"About 26 years ago most of us, who were governors have had exposures, Chief John Odigie-Oyegun, was a former federal permanent secretary; I was former managing director of Daily Times; I can go on to give you backgrounds of all those who became governors in 1999 none of us were people you will say 'where are they coming from?' We need to go back to that. These days of governors of any kind should stop."
Also felicitating with Attah, President Muhammadu Buhari described him as an accomplished architect with versatile and global experience.
"I commend the strategic thinking and planning of yourself and members of your cabinet in shaping the infrastructural development of Akwa Ibom State, which still remain one of the most hospitable and attractive states for tourism in the country," he said.
Budget and Planning Minister, Senator Udo Udoma, who represented President Buhari, described Attah as a fearless fighter.
According to him, Attah and other top leaders from Akwa Ibom State at that time gave their best in the struggle to actualise resource control.
"I can say something about his character. He is somebody you can go into battle with because he is fearless and once he gives you his words, he does not turn back, no matter how fierce the battle," he said.
On his part, The Minister of Labour and Employment, Senator Chris Ngige, said he was the chief coup plotter in the emergence of Attah as NGF chairman.
"Attah's emergence as chairman of NGF was like a coup, we plotted it and told him to go away so that Obasanjo won't see him because if he sees him, he will not agree. So when we finished, I, James Ibori, Orji Kalu and the rest of us, we brought him to present to Obasanjo and he said oh, trade union is here, I won't agree," Ngige said.
Also speaking, National Chairman of the All Progressives Congress (APC), Mr. Adams Oshiomhole, said as the then president of the Nigeria Labour Congress, he convinced all other comrades across the country to support the struggle for resource control.
"In doing so, I believe that the strength of a country is judged by the extent of which it is prepared to give justice to the minorities in its fold and that Nigeria can't have peace, if it doesn't deliver justice to all manner of persons regardless of their locations," he said.
Making reference to Obasanjo's presidency, Oshiomhole said Nigeria was almost turned to a unitary state.
Former governor of Akwa Ibom State, Senator Godswill Akpabio, had kind words for Attah, saying Attah mentored him to become governor.
While extolling the virtues of the celebrant, Governor of Akwa Ibom State, Mr. Udom Emmanuel, described Attah as a visionary leader and a great asset to the people of the Niger Delta.
While expressing gratitude to God over the various heights he has attained in life, Attah said he had always savoured his experiences as governor.
"I tell people, I enjoyed being governor and sometimes they wonder why I say that. It is because of this kind of comradeship that is just fantastic working together with people with whom you can argue, reason and at the end come to a solution."
With fond reminiscences of what happened then during his election as chairman of the Governors' Forum, Attah said his emergence came as a coup and that his colleagues referred to him as "headmaster."
Attah said the book, "It is Well with My Soul," is specifically meant to address issues relating to his eight years in office as governor of Akwa Ibom State.
The book edited by a veteran journalist, Mr. Dele Sobowale, tried to compare Attah's administration with the subsequent ones.
Sobowale, who quoted figures of revenue earnings during Attah's administration and that of his immediate successor, Akpabio, said the latter failed to justify the huge resources that came to the state during his time in terms of improving the lot of the people.