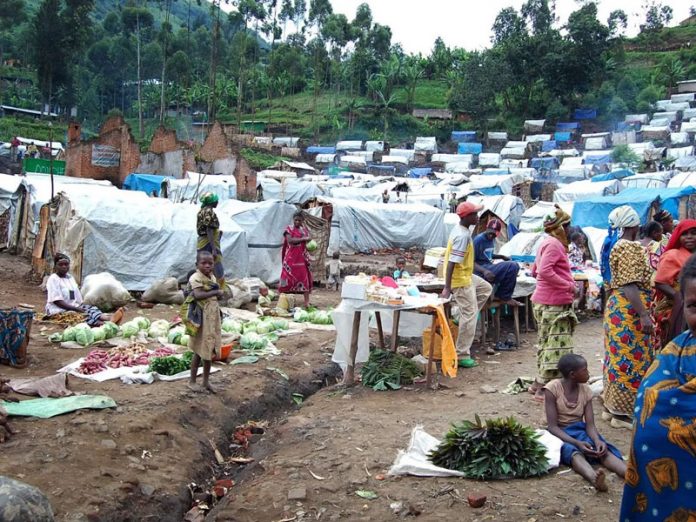 Hammed Jimoh urges more attention to the displaced in the society
They say when a nuclear holocaust destroys the world, only the cockroaches will survive. Yes! So we were told. This myth which comes into wide usage after the events in Hiroshima and Nagasaki where cockroaches were the only survivors following the United States atomic bombs on Hiroshima and Nagasaki in 1945 had it that the 300 million-year-old insects were among the razed Japanese cities' only survivors. During the Cold War, anti-nuclear activists and scientists spread the myth far and wide as a cautionary tale of the atom bomb's destructive potential. How long did it take to demystify this myth? Not long till it was established that cockroach can only endure intense nuclear radiation but it cannot survive at the long run. While verifying the mythical belief, the myth busters subjected German cockroaches to three levels of radioactive metal cobalt 60. The first was a baseline exposure of 1,000 radon units (rads) of cobalt 60, capable of killing a person in 10 minutes, and followed it up with 10,000 and 100,000 rad exposures. As a result of gradual destruction done to organisms on the cellular level, the myth busters monitored the radiated roaches for 30 days. After a month, half the roaches exposed to 1,000 rads were still alive, and a remarkable 10 per cent of the 10,000 rad group was alive. The results confirmed that cockroaches can survive a nuclear explosion but only to a point, as none of the cockroaches in the 100,000 rad group made it through.
The insurgence and resurgence that has gripped the Northeastern part of Nigeria for close to a decade now can be likened to a nuclear holocaust that aims at bringing every living creature therein to ash. Borno, Yobe, Adamawa and some part of Taraba have recorded scores of deaths that have been lost to this religious terrorism. Hundreds of thousands of innocent Nigerians have fled their homes to seek succour in camps that do not have the capacity to receive the influx of displaced persons coming therein. The displaced persons that survived the religious holocaust with the hope that they will be free afterwards are facing what is worse than death.
According to the 2017 Global Terrorism Index (GTI), Nigeria for the third year running remains the third most terrorised nation in the world. According to ReliefWeb, UN Office for the Coordination of Humanitarian Affairs, "In the three most directly affected states of Adamawa, Borno and Yobe, 7.7 million people require humanitarian assistance, including 4.3 million children and 1.6 million internally displaced persons, more than half of whom are children.
 "Ninety-two per cent of the internally displaced are located in the three north-eastern states. An estimated 400,000 children in 14 local government areas in Borno State will be severely malnourished in 2018" as proposed; five local government areas in Yobe State are experiencing global acute malnutrition rates of 10-20 per cent. An estimated 1.5 million people lack access to safe water (940,000 in Borno, 480,000 in Adamawa and 80,000 in Yobe). As a result, vulnerable children are becoming acutely malnourished after repeated bouts of diarrheal disease. Only half of the 755 health facilities in Borno State remain functional and nearly 1,400 schools have been damaged or destroyed."
These highlighted figures represent the philosophical cockroach of the Hiroshima blast. They have once survived the holocaust; they are being destroyed by minor acts carried out by unimaginable actors that sneak into their places of refuge both in night and broad-day light. These monsters have the women folks defiled and the men folks killed by a cleverly planned attack by these terrorist splinter groups or mistakenly bombed by the armed personnel of the Nigerian army. Amnesty International carried out an extensive investigation involving more than 250 interviews that covered satellite camps established by the military in seven towns in Borno State, Bama, Banki, Rann and Dikwa inclusive. The interview which was done with additional 48 women and girls released from detention and the review of video, photographic and satellite imagery reveal many of inhumane sexual abuses that these helpless innocent Nigerians are passing through.
Osai Ojigho, Director of Amnesty International Nigeria once talked about how men of Joint Task Force are sexually attacking the IDPs, stating that it is sex for food that has been the master policy on these camps. In Osai's words, "Sex in these highly coercive circumstances is always rape, even when physical force is not used and Nigerian soldiers and Civilian JTF members have been getting away with it. They act like they don't risk sanction, but the perpetrators and their superiors who have allowed this to go unchallenged have committed crimes under international law and must be held to account".
The women in these conditions have no choice because the men of the force use force to ensure they dance to their tune and not otherwise. Anytime journalists go to these camps, soldiers give strong warnings to these victims that their response to any question related to how they are treated should be "we are fine" and not otherwise.
A 14-year-old Falmata, one-time captive of Boko Haram shared her story of abuse by men of the Nigerian military. Falmata was raped simultaneously by two soldiers. In her words "They did it one after another. I'm not even sure those two knew about each other," she said. Another group of IDPs, under Knifar, a movement of women in the region said they were forced to deny the rape reports against men of the Nigerian Army published by Amnesty International.
The statement reads in part, "Investigate the soldiers who raped us when we were in Bama. Our children died because there was no enough food, unless we had sex with soldiers. We have said it before: we are ready to speak to any investigation team the president sends to us. We only ask it will not be led by soldiers as they are also the ones who abused our women."
The above is going on and one is left to wonder if sexual gratification should be what the soldiers crave at the time. One is left to query if Nigerian military has an iota of integrity left; perhaps the integrity has been replaced with war and sexual ammunition. The acting Director of Defence Information refuted those claims but also helped us to confirm it. He cited an example and if we have a case that he has cited, it means case of many other ones is inevitable. Brig Gen John Agim said, "While on deployment at one of the FOBs, a soldier lured a minor girl and defiled her in the process. The soldier was arraigned for defilement of a minor and he was sentenced to dismissal from service with ignominy and sentenced to three years imprisonment".
I believe the example the General gave while trying to glorify the military has further revealed how heartless these soldiers are towards the internally displaced persons (IDPs). A July survey carried out by Nigerian research organisation, NOI Polls, found that seven per cent of IDP camp occupants said they knew someone who had been sexually abused, with camp officials held responsible for two-thirds of the incidents. These cases have repeatedly been reported although both the legislative and executive arm of government have condemned it in its entirety but no serious action towards eradicating these social and sexual abuse has been reported.
While the insurgents continue to gather momentum for fresh attacks with new people getting displaced from Taraba, Adamawa, Jos and other areas due to one attack or the other, it is high time the government got serious and take proactive measures to see to the end of these ill-treatment or else we build a generation of bastards that are raised in hate who might grow up to be the enemy of the state in future.
  Jimoh is an Abuja-based freelance Journalist