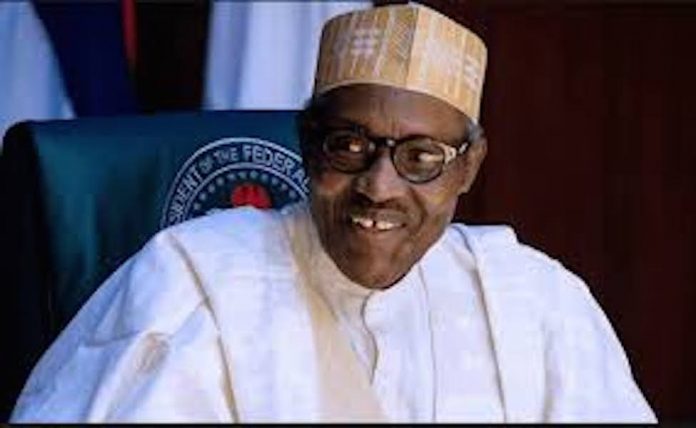 By Dan Ochonma
When you're fighting corruption that has got as close as being the face and very definition of your administration as President Muhammadu Buhari has done over the last three and half years, it becomes difficult to escape the sharpened knives of critics on the way and manner in which you  handle projects initiation, execution and final completion. Early enough fasten your belt with the fact that Nigeria is littered with abandoned projects-a roll call of almost every administration in Nigerians' recent memory.
With a pocket loaded with corruption demystifying bullets, Buhari has been accused by some, of being rather busy commissioning projects of his immediate predecessors rather than the ones he initiated. But the calculation of the man who made history of displacing an incumbent in power-first in Nigeria's history-, going by analyses provided by close Presidency sources has been double fold.
The recession which seemed to have ambushed the administration as soon as it came into power cautioned it enough on the futility of immediately lunging into several new projects- with the usually attendant huge but largely inflated billions involved in such projects-just as the past administrations before it. The script, largely unwritten as it were, has always been, discard every project once it has the signature of your predecessor.
Buhari, even for all his anti-graft virtues will never do that. There's always that lingering worry though that he has those game- changing moments, like reviewing the valuation of such projects and cancelling them. Again, not the retired Daura General.
So what is the reaction to the massive corruption with which these projects were awarded?
The anti-corruption stance of the administration and specifically of the Buhari persona- who is sufficiently aware of the 'corruption and inflated contracts' that usually trail the award of such contracts by previous governments, drew its steps back in plunging into such cesspool of corrupt and short-changing tactics. And with avowed financial prudency of the administration, the stage was set for 'behaving the right way in the economic recovery and growth of Nigeria'.
In a straight shoot therefore, the President, as a deliberately thought out policy, has been completing and commissioning projects either started or abandoned by his predecessors as 'part of agenda to right all the wrongs done by the previous governments before him'.
Yes. The President for instance in July 2016, inaugurated the Abuja-Kaduna railway for commercial operation-a project conceived and started by the erstwhile administration of President Goodluck Jonathan but completed by the current administration. As Nigeria's first high speed rail, that will run on speeds greater than 100 km/hr for both cargo and human coaches at an estimated value of $1.04 billion, would it have been better if the President and his administration had left the project to waste? In that case, there will be only one loser: Nigerians.
In the last three years of his administration, President Buhari has executed projects worth over $5 billion. These projects which are in the areas of infrastructure and human capacity development were done with the support of the Chinese. Speaking in Beijing China recently, the President said Nigeria's partnership with China through the Forum on China-Africa Cooperation (FOCAC) has resulted in the execution of vital infrastructure projects across the country, valued at over $5 billion.
According to the president, the Chinese support to Nigeria has also impressively addressed significant challenges in the areas of power, transport, agriculture and humanitarian assistance.
Again for President Buhari, what counts more than any other in the execution and funding of projects is the economic recovery and growth of Nigeria-much more than who initiated and who completed what projects.
He had said while dispelling insinuations about the so-called death trap by Chinese government on developing countries, insisting that Nigeria would be able to repay every loan she has taken from China.
These vital infrastructure projects synchronise perfectly with our Economic Recovery and Growth Plan.
"Some of the debts incurred are self-liquidating. Our country is able to re-pay loans as and when due in keeping with our policy of fiscal prudence and sound housekeeping," he had said while dispelling insinuations about the so-called death trap by Chinese government on developing countries, insisting that Nigeria would be able to repay every loan she has taken from China.
President Buhari said that,"Nigeria is leveraging Chinese funding to execute $3.4 billion worth of projects at various stages of completion.
These he said include the upgrading of airport terminals, the Lagos – Kano rail line, the Zungeru hydroelectric power project and fibre cables for our internet infrastructure. "Furthermore, less than three months ago, Nigeria signed an additional $1 billion loan from China for additional rolling stock for the newly constructed rail lines as well as road rehabilitation and water supply projects," he said.
This according to him is as an additional Chinese mechanism to build further cooperation in our quest for infrastructural and economic development.
When the leadership of Kano Traders Association led by Alhaji Ahmed Sani, Chairman of Kanti Kwari Traders Association visited him recently in Daura, Katsina State, President Buhari pledged that his administration would not relent in doing the necessary, to create jobs, expand trade and encourage greater productivity.
One of the best things any administration that is focused can do is to revive projects long abandoned by previous administrations.
President Buhari has among others revived $2.5billion Ajaokuta-Kaduna-Kano gas pipeline, which was abandoned by the previous administration. Commending the President for this, Alhaji Ahmed Sani, Chairman of Kanti Kwari Traders Association also applauded the Buhari administration for the ongoing works at river ports in Baro, Niger State, Lokoja, Kogi State and Oguta in Imo State which were abandoned for about a decade but would now be completed before May 2019.
Equally of note are some of the actions taken by the President on projects by his administration, suspected to have been in any way smeared by corruption. He has made it clear several times that that he will spare no one in the anti-corruption war. He kept to his words by suspending the then Secretary to the Government of the Federation, Babachir David Lawal, over allegations of financial impropriety. It is instructive to note that Lawal is one of the closest associate of the president and his suspension was a clear signal that in the anti- corruption war there will be no sacred cows.
On the anti-graft war and transparency in projects, the Buhari administration, set up the Presidential Initiative on Continuous Audit (PICA): PICA to strengthen con
trols over government finances through a continuous internal audit process across all Ministries, Departments and Agencies (MDAs), particularly in respect of payroll. Through the activities of PICA, more than 50,000 erroneous payroll entries have been identified, with payroll savings of N198 billion achieved in 2016.
Also, the Federal Ministry of Finance has set a target to ensure that the Federal Government's Payroll Platform — the 'Integrated Personnel Payroll Information System' (IPPIS) — covers 100 percent of MDAs by the end of 2017. Currently 60% of MDAs are enrolled on the IPPIS platform.
Ochonma, a banker and international finance expert, wrote in from England.