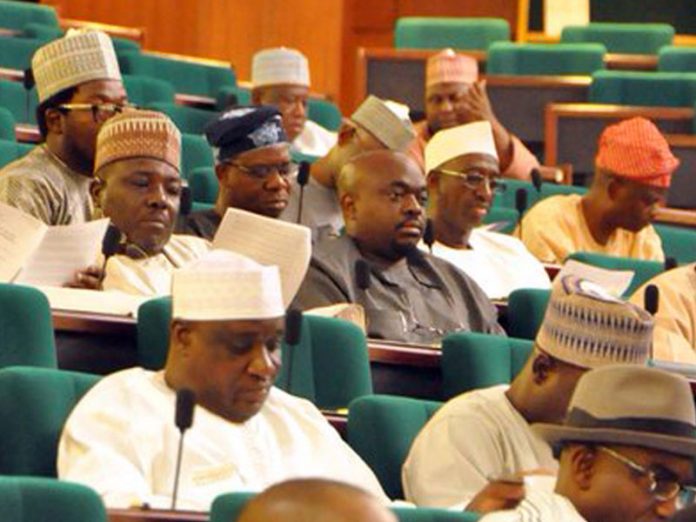 Shola Oyeyipo in Abuja
The House of Representatives Committee on Marine Safety, Education and Administration has expressed dissatisfaction over huge financial leakages in the Nigerian Maritime Administration and Safety Agency (NIMASA).
The committee Chairman, Umaru Mohammed, said the task before the panel was to investigate the allegations made against NIMASA and some firms in a petition alleging revenue leakages, round tripping and contract splitting.
The committee also called for questioning of some officials of some shipping companies, who allegedly did not remitting about $286, 636, 511 to the federal government between 2004 and 2018.
Recalled that earlier in the week, House Committee on Public Petitions had summoned the Director-General of NIMASA, Mr. Dakuku Peterside, and the Executive Secretary, Nigerian Content Development and Monitoring Board, Simbi Wabote, to give details of their involvement in allegedly awarding over N30.32billion contracts.
According to the House of Representatives Committee on Marine Safety, of the 12 companies accused of indebtedness that appeared before it, only six agreed to owing, and they insisted they are owing less than the amounts they were accused to have in their possessions.
Affected companies include GAC Shipping Nigeria Limited ($172million); Inchcape Shipping Services Nigeria Limited ($6million); Hull Blyth ($3.6million); Daddo Maritime Services ($34million); Maersk Nigeria Limited ($5.7million) and Blue Sea Marine Services ($31million).
However, Divine Marine Shipping Nigeria Limited ($10.8million); Transocean Support Services Limited ($9.7million); Al Raine Nigeria Limited ($5million); CMA CGM-DELMAS Nigeria Limited ($3.5million), Joe-Eboje ($3million) and Peak Shipping ($2.5million) were also named as debtors but they refused to turn up before the committee.
According to Mohammed, the petition and documents tendered by NIMASA revealed that some of the affected firms had closed down and currently operating with new names to evade remittance of government revenues with them.
"In the cause of the investigation, we found a very long list of debtors and these debtors have been holding federal government's money in their private accounts and doing businesses with it since 2004.
"You are a receiver company on behalf of other shipping companies, I see no reasons why a foreign company pays its dues into your account and it now takes you so much pain to pay Nigeria what is due to it," Mohammed said.
Assuring Nigerians that the investigation will follow the case to a logical conclusion, he said: "Honestly speaking, we are going to take it to the last point.
"Let me make this very clear that we learnt that some companies that we have invited closed companies and open new ones to continue with the same business."
We are going to invite the Corporation Affairs Commission (CAC) to unveil their seal of incorporation, and we will identify the directors of these companies, issue bench warrant to arrest them, and anti-graft agencies will be brought into this investigation."