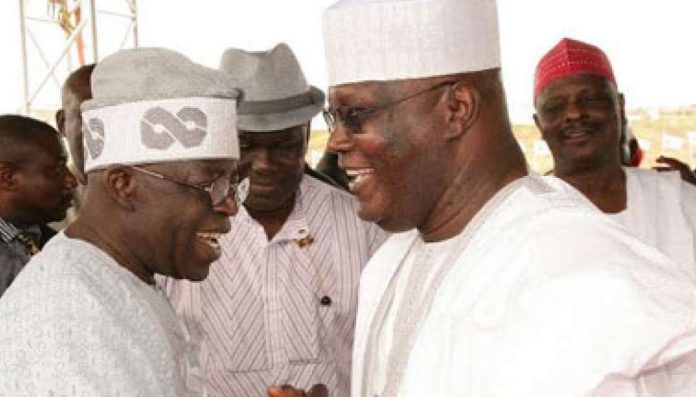 Shebi you people are watching. Anybody who has not bought popcorn and be watching this soap opera will really miss a lot. So the PDP oga has said that Asiwaju of life will be working for Atiku come 2019 and the APC has immediately denied it. The statement was issued by my friend and oga Tunde Rahman, but if you believe that, then you are a beginner in Nigerian Politics.
Me I am saying it here categorically that Tinubu will work for Atiku. What we have just seen is the usual testing of the waters to gauge reaction and then they will go back and strategize. Look, when I talk, you guys should listen. Apart from the fact that I am the Duke of Shomolu with a Master's degree in Political Science from The University of Ibadan, I really understand these things I tell you. Once I eat Afang, my eyes will just open.
Tinubu has no choice but to work with Atiku because who wants to risk a Buhari second term? My people, a Buhari second term will see many people cry o. When the man does not need to come for another election with all this talk of looters, hate speech, will you still be sitting there and be calling yourself Asiwaju of Bourdillon? I really do not envy Tinubu at this point because I will dare say that he is facing a lose-lose situation. If Buhari wins a second term what guarantees would he be given to Tinubu, and if Atiku leading a PDP government emerges, your guess is as good as mine. The baba is not sleeping again.
He has weighed the thing and seeing that he too is being faced with a lesser of two evil options and is now using style to dance to that other side. My candid advice: let him plead old age and health considerations and retire from politics and go on exile for a while and relax. He can also go to Israel na and be sending us pictures of him in the dead sea at peace with himself. He go tough for this 2019.