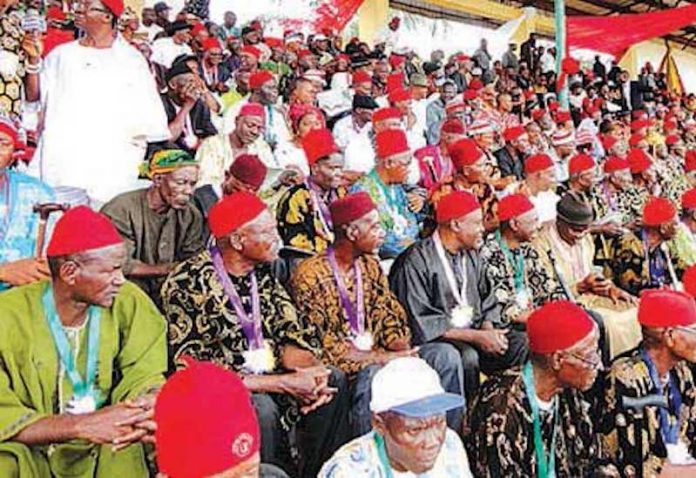 Deborah Orji
Major traditional rulers in the South-east region have announced date for the abolition of the controversial Osu caste system.
Targeted also for abolition on December 28, 2018, are the Ohu, Ume as well as the
Osu caste system which have taken roots in different parts of Igboland. The abolition will take place at the Nri Palace in Anambra State. Regent of the ancient Nri Kingdom, Prince Ikenna Onyesoh, in a statement issued yesterday said there would be far-reaching consequences for those wishing to continue the obnoxious practice after the symbolic exercise.
According to the Regent, "On December, 28, 2018, more stringent spiritual implications will be pronounced from Ikpo Eze-Nri against such devaluation of mankind after an extensive spiritual abrogation exercise."
He said it would be "spiritually suicidal for anyone to continue to hold unto these beliefs and practices after that pronouncement on December 28 as the oldest 'Ofor' (scepter of authority) in Igbo land shall be deployed for such pronouncements."
In the statement also, Nri traditional rulers said they were set for the abolition, and effect reparation for the ancient practice. The Osu caste system has stigmatised some sections of communities in the South-east region, depriving them of access to social interaction and marriages with the belief that any 'free born' that marries an Osu defiles the family.
This obnoxious act however leads to investigations by elders before any marriage is contracted between two families, especially when they are from different communities.
The Osu is allegedly dedicated to deity (Alusi) while Ohu is said to have inherited slavery as a socio-cultural placement in perpetuity.
According to the Chairman Of Eri Dynasty Traditional Rulers Forum, His Imperial Majesty, Eze Nkeli Nzekwe Kelly (The Great King Kelly &
Okalakwu Igbariam Ancient Kingdom) stated: "The whole world needs to witness what is about to happen in our land on December 28, 2018, "because such thing has never happened before."