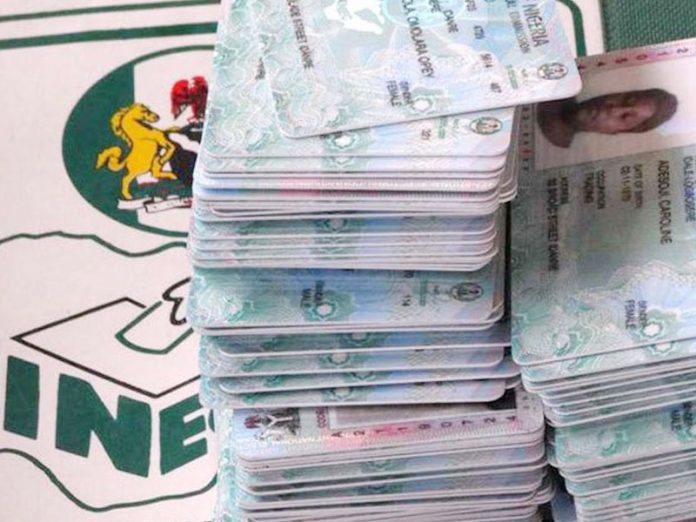 By Ibrahim Shuaibu in Kano
The Resident Electoral Commissioner (REC) of the Independent National Electoral Commission (INEC) in Kano State, Prof. Riskuwa Arabu Shehu, has said that over 688,972 registered voters are yet to collect their Permanent Voter Cards (PVCs), out of 5,459,914 eligible voters who are supposed to participate in the 2019 elections in the state.
Prof. Shehu also decried the menace of vote buying in the country's political setting, calling on all stakeholders to join hands with INEC to fight the ugly trend.
Speaking with journalists in Kano Tuesday, shortly after a stakeholders meeting with political party leaders at the Mambayya House ahead of the 2019 general election, Prof. Shehu said the uncollected PVCs as at 31st October, 2018, included the number of those registered in 2011, 2015 and 2017/2018 respectively.
According to him, "For those who registered from April, 2017 to date, we have 75,798 registered voters who have already collected their PVCs.
"However, for those who registered from the second quarter of 2018 to 31st August, 2018, their PVCs will soon be ready for collection, as we are still waiting them to arrive from the headquarters.
"Before 2015 elections, we had 4,994,913 registered voters who participated in the last general election. Presently, we have 5,459,914 registered and eligible voters who are supposed to participate in the 2019 general election.
"But I must say that this figure is tentative because we are still cleaning the register to ascertain the number of people who are no longer here as a result of death, relocation or what have you. At the end of the day, the number may reduce.
"Already, we have prepared the list of all the eligible voters whose PVCs are ready and they are yet to collect them.
"We have decided to decentralise the distribution. We are now doing it ward by ward. We have already mobilised enough staff to be stationed across the 484 wards in the state.
"We are also engaging traditional rulers, opinion leaders, religious leaders, as well as the media for proper sensitisation of the people on the need for them to collect their PVCs to enable them perform their civic responsibilities in the forthcoming general election."
He further stated that about 74 candidates from 32 political parties are contesting for the three senatorial seats in Kano, while 401 candidates from 38 political parties are vying for 24 seats of the House of Representatives in the state.
Speaking on vote buying, he said: "The menace of vote buying is a new phenomenon that cropped up after it is clear that it is no longer easy to rig elections in Nigeria. INEC will do its possible best to ensure that nobody buys vote in the 2019 general election."
Prof. Shehu said INEC has devised a new strategy to ensure free and fair elections in 2019.
"It is very disheartening that somebody would sell his civic right to vote for good leaders, just for a peanut of N5,000 or N10,000. I urge the security agencies, media and politicians to help INEC fight this menace of vote buying. The general public should understand the implication of vote buying," he said.
He also lamented the selling of Permanent Voter Cards (PVC), particularly in Kano, stating that: "We heard the rumour of selling of PVCs in Kano. We have reported it to security agencies and we are not taking it lightly."