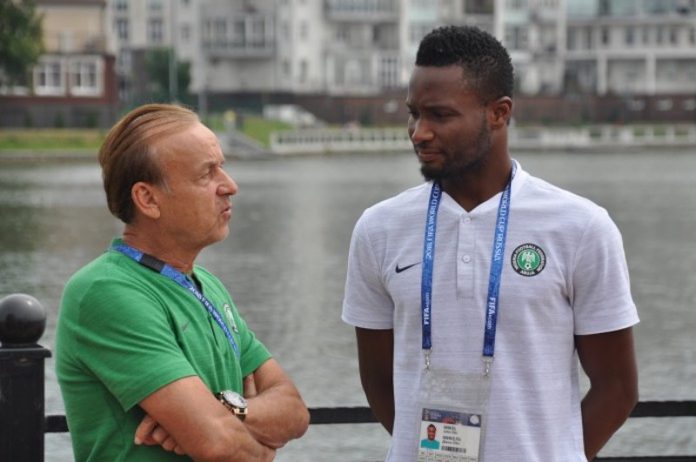 Though Nigeria national team Manager, Gernot Rohr is optimistic that Hoffenheim defender, Kevin Akpoguma, would one day opt for the Super Eagles shirt his decision still lies on German Coach, Joachim Löw inviting him to the Die Mannschaft
Last year, Nigeria national team Manager, Gernot Rohr had reiterated his optimism when he was in Europe to embark on a scouting mission where he watched the Bundesliga clash between Hoffenheim and Eintracht Frankfurt that the former German youth international would play for Nigeria as against his country of birth, Germany.
Rohr had revealed his delight after watching the central defender and said he plans to hold talks with Akpoguma over an invitation ahead of the 2018 World Cup in Russia.
''I watched him play for Hoffenheim against Frankfurt on Saturday. Kevin is an excellent match for the players we are on the lookout for. But he'll have to decide soon whether he wants to wear the colours of Nigeria and I'll call him in the next few days,'' Rohr had told SWR then.
The defender added that it's an honour to see Rohr showing interest in him but he is German and wants to represent the Die Mannschaft.
"That honours me, of course, but I'm German, I was born here, so I should play for Germany too,'' adds the former German U-16, U-17, U-18, U-19, U-20 and U-21 international.
Few days after saying he wants to focus on progressing through the ranks of Germany, Akpoguma said he had left the door open over a potential switch of allegiance to Nigeria.
He granted an interview on a sports programme in Germany, where he confirmed he was open to the idea of playing for Nigeria.
Akpoguma was said to have confirmed that talks would be held with Rohr who handles the Nigerian team, referring to him as a coach he respects a lot right from his days as director of youth football in Germany.
However, Akpoguma recently admitted to a Nigerian journalist that playing for the Super Eagles would be depending on whether or not he is handed a call-up by Germany's senior coach Joachim Löw in the coming years.
 "The thing is that I was born in Germany and I have played for all the youth teams of Germany and I am still a young player," Akpoguma told a Nigerian journalist.
"So, I want to leave it open because Germany can still call me. But if I have no other option to play for Germany, then I can consider playing for Nigeria because my dad is from Nigeria."
Akpoguma has also caught the attention of manager Gernot Rohr, and the former Bayern Munich defender was unable to sweet talk him into joining the Super Eagles.
"Gernot Rohr visited us here in Hoffenheim and talked a lot about the young team he is building. I saw it at the World Cup; there are very good players like Iwobi, Ndidi and Leon Balogun.
"He explained all the things because I had a good conversation with him. But as I said, I want to leave every door open. When the time comes, I will let the world know my decision," he concluded.
It has always been the dream of the Nigeria Football Federation President, Amaju Pinnick, to have youngsters of Nigerian descent doing well in European leagues wear the Super Eaglescolours.
"I am yet to see a Nigerian that is regretting being a Nigerian. No Nigerian, even if they have four or five passports, they are always excited being Nigerians. I can assure you that we shall get them to play for us at an appropriate time," he said.
In an earlier chat with THISDAY, the NFF boss said Alex Iwobi's decision to play for Nigeria as against donning the colours of the Three Lions of England earned him the respect he is enjoying at Arsenal today.
"Iwobi started earning respect at his English club after he was given a national team call-up. Calling him to the national team made Arsenal to respect him and that is the truth. Today, he is one of the key players in Arsenal and we are proud of what federation had been able to do for his football," Pinnick said.
Akpoguma was born on April 19, 1995, and has represented Germany at various youth levels. Akpoguma spent the 2016-17 season on loan at 2 Bundesliga side, Fortuna Dusseldorf.
He made his first appearance in the Bundesliga the following season on October 22, 2017, replacing Stefan Posch at half-time in Hoffenheim's's 1–1 draw with VfL Wolfsburg and four days later, he made his first start for the club, in a 1–0 away to Werder Bremen in the second round of the DFB Pokal.
Born to a German mother and a Nigerian father, he is eligible to play for Germany and Nigeria.
He was the captain of the German U-20 national team, helping the team reach the quarterfinals of the 2015 FIFA U-20 World Cup in New Zealand.