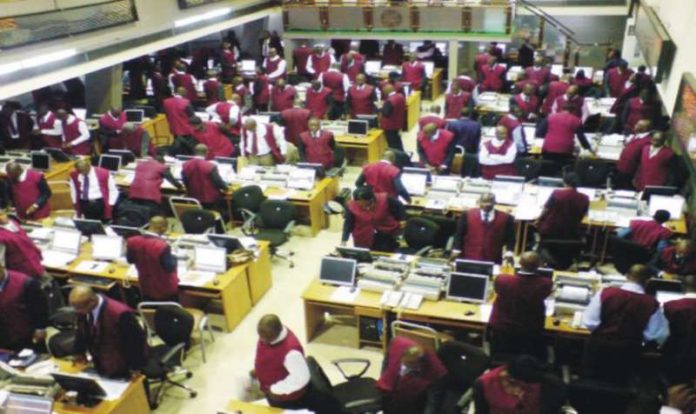 Maturing treasury bills worth N415.95 billion are expected to hit the market this week.
In addition, the money market will in the coming days receive inflow from the Federation Account Allocation Committee (FAAC) estimated to worth N698.71 billion.
This brings the total amount expected to hit the market at over N1.115 trillion.
All these are expected to boost market liquidity and moderate interbank rates.  
Also, the Central Bank of Nigeria (CBN) is expected to auction treasury bills worth N145.29 billion, viz: 91-day bills worth N9.54 billion, 182day bills worth N47.71 billion and 364-day bills worth N88.04 billion this Friday.
Analysts at Cowry Assets Management Limited, that disclosed this in a report at the weekend, anticipated higher stop rates given inflationary pressure.
However, at the close of last week, they were no auctions of treasury bills in the primary market, while in the secondary market, the central bank auctioned N186.02 billion worth of treasury bills via open market operation. The outflows worth N186.02 billion were offset by the inflows from the matured treasury bills worth N372.88 billion.
Thus, the Nigerian Interbank Offered Rates (NIBOR) moved in mixed directions across the tenor buckets.
For instance, the NIBOR for overnight funds and one-month fell to 10.33 per cent (from 13.15%) and 13.80 per cent (from 13.98%), while the 3-month and 6-month rose to 14.03 per cent (from 13.95%) and 14.87 per cent (from 14.72%) respectively.
However, the Nigerian Interbank Treasury Bills True Yields (NITTY) rose for most maturities tracked amid sustained sell pressure. That is, yields on 3-month, 6-month and 12-month maturities rose to 12.98 per cent (from 12.89%), 13.49 per cent (from 13.35%), to 16.39 per cent (from 15.89%) while 1-month fell to 12.85 per cent (from 13.41%) respectively.  
Forex Market
At the close of the trading week, the naira-dollar exchange rate remained unchanged at both the Bureau De Change (BDC) segment and the parallel (black) market to close at N359/$ and N362/$ respectively as the CBN's continued its weekly intervention.
The naira gained against the dollar on the investors & exporters forex window (I&E) by 0.05 per cent, to close at N363.84. But, it fell by 0.08 per cent to N362.82/$ on the interbank foreign exchange market despite weekly injections of $210 million by the CBN into the foreign exchange market via the Secondary Market Intervention Sales (SMIS) of which: $100 million was allocated to wholesale SMIS, $55 million was allocated to SMEs and $55 million was sold for invisibles.
CBN Governor, Mr. Godwin Emefiele, last week reiterated that the central bank's restriction of foreign exchange access to 41 import items, three years ago, was in national interest, explaining that it helped to save the economy from collapse. Emefiele, said although the policy was restrictive of trade, he explained that it was necessary to protect the economy from the importation of items that could dampen the local production and economic growth.
The CBN had in July 2015, restricted 41 items, including vegetable oil, poultry products, toothpicks, cosmetics, plastic and rubber products, among others, from accessing foreign exchange from the interbank foreign exchange market. Importers of the restricted items were asked to source their forex requirements from autonomous sources.
Emefiele noted that in today's world, countries have used trade protection repeatedly as a policy to resolve negative perceptions and shocks.
He added, "In other words, should Nigeria with insatiable taste for foreign goods to the detriment of the domestic economic realities (unemployment and imported inflation) throw its borders open to indiscriminate importation of goods and services."
Meanwhile, last week, most dated foreign exchange forward contracts at the interbank over-the-counter (OTC) segment appreciated – 1-month, 2-month, 3-month and 6-month gained 0.07 per cent, 0.06 per cent, 0.04 per cent and 0.07 per cent to close at N367.26/$, N370.69/$, N374.08/$ and N384.99/$ respectively; however, spot and 1-year rates depreciated by 0.02 per cent and 0.48 per cent to close N306.55/$ and N411.87/$ respectively.
"In the new week, we expect exchange rate stability in most market segments; howbeit, some pressure at the I&E forex window amid falling foreign exchange reserves," the firm stated.
Bond Market
Last week, the Debt Management Office (DMO) issued bonds worth N110.00 billion. A breakdown of this showed 12.75% FGN APR 2023 (5-Yr Reopening) worth N35 billion, 13.53% FGN MAR 2025 (7-year re-opening) worth N35 billion and 13.98% FGN FEB 2028 (10-year re-opening) worth N40 billion respectively.
The 5-year and 7-year bonds were auctioned relatively at flat stop rates of 15 per cent and 15.15 per cent respectively.
However, the 10-year bond was auctioned at higher stop rate of 15.32 per cent (from 15.25%) even as it was 127 per cent oversubscribed.
Amid higher primary market stop rates, the value of FGN bonds traded at the over-the-counter (OTC) segment fell for all maturities tracked amid sustained bearish investor sentiment. That is, the 20-year, 10% FGN JULY 2030 debt, 10-year, 16.39% FGN JAN 2022 debt, 7-year, 16.00% FGN JUN 2019 debt and the 5-year, 14.50% FGN JUL 2021 debt lost N0.19, N0.01, N0.10 and N0.12 respectively; while their corresponding yields rose to 15.23 per cent (from 15.19%), 14.71 per cent (from 14.71%), 14.38 per cent (from 14.28%) and 15.22 per cent (from 15.16%) respectively.